Dwight Howard staying -- for now -- means the Magic have to go 'all in' too
Dwight Howard is staying in Orlando for another year. That's great news for the Magic, but it also means it's time to get to work.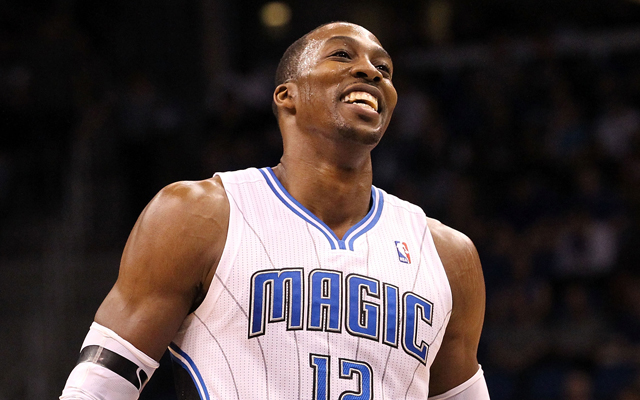 Dwight Howard apparently is a fan of procrastination.
And a flip-flopper unlike any politician we've ever seen.
First he was opting in. Then he wasn't. And now he is again. Officially,
he's waived his early termination option
.
With the trade deadline coming and rumors and chatter growing to a boil, Howard has basically postponed the drama another year. 
Waiving that option is essentially re-signing with the Magic for one more season. He says he got bad advice and now he's following his heart. Whatever. Who knows what's been going on in his world as he's tried to manage the biggest decision of his life. It's been a nightmare for sure. A Dwightmare.
He said he was "all in" for the rest of this season and to prove it, he threw away the leverage he had to get out of town. Now he's part of that team for the rest of this season for sure, with the rest of his future to be determined at a later time.
So what does this mean for the Magic? It's not over for Orlando. The nightmare has just been put on hold for a while. But to go from Howard requesting a trade a few months ago to now looking at having him for the rest of this season and next? That's quite a change in perspective for the franchise.
Everyone close to the Magic would tell you they knew this would happen. They thought Dwight was going to stay, was committed to the organization and wanted to build a winner in that shiny new arena. They'd tell you they knew his heart was in Orlando. But the reality that we've all seen, especially combined with about a billion reports suggesting it, is that Howard wanted to pair himself with another star in a big market. Most accounts had that market being Brooklyn, where the Nets are moving next season.
Instead, we're going to have to wait on that. What does this mean for the Magic
right now
? It means they've got to get to work. Did you know: The Magic are 28-16 and owners of the sixth best record in the
NBA
. I don't think anyone would make a strong case that the Magic as currently constructed are legit threats to either Miami or Chicago, but they certainly aren't just playoff fodder for the two top Eastern teams.
What this means for the Magic is that they have to get serious. Really serious. The team as currently constructed is solid, but not solid enough. They need more pieces, better players and more depth. They need to make a strong move to improve now and build. Players like Howard don't come along very often and whether it's just these next two months, the next season or the next 10 years, the Magic have to make every effort to win a championship with him. He's a championship caliber player. But he's got to have the teammates around him to do it.
Is that selling the farm to get Steve Nash for a couple seasons? Does that mean trying to figure out how to sway Deron Williams to come south this summer? Does that mean hunting down some better supporting players to strengthen the depth? Does that mean targeting Josh Smith, or maybe Monta Ellis in a future deal? Who knows what it means, but the Magic can't sit on their hands now that they have Dwight for a little longer. They have to act, and act quickly. They've been granted a reprieve by the governor. They're off death row for now, but they could certainly be walking the green mile again in another year.
If they can get Howard to waive an ETO to pledge commitment, something pretty much unprecedented, then you have to think they're far and away the leader in the clubhouse to get his signature in 2013. But they aren't going to get it unless they show that same kind of commitment back. Howard wants to win. He may love the organization, his teammates and his city, but I promise you he loves winning more.
It won't be easy for the Magic. Their roster has been in flux for three seasons now, with salary and cap flexibility a mess. Howard is making $19.5 million next season which means Orlando have about $60 million committed to only nine players. And that doesn't include money for Ryan Anderson who needs a new deal, or J.J. Redick's $6.2 million non-guaranteed deal. So not only do they face the challenge of improving the roster, they also have to try and keep it as good as it is now. The blood is on general manager Otis Smith's hands for his confusing moves including re-signing Jason Richardson, which ruined what little financial flexibility the Magic might've had.
Still, think about this. In a quick turnaround, we all went from picking Howard's new destination to looking at the prospect the Magic could once again keep him long-term. And now that prospect includes removing the prize of the 2012 free agent class off the market. Teams that have been positioning for Howard for years now have to go back to the drawing board. The Nets, who sold out for a Williams-Howard combo in Brooklyn. The Mavericks, who let Tyson Chandler and J.J. Barea walk to keep the window open. The Celtics, who are hanging on to the pipe dream.
But it's the Magic that are back to having the upper hand. They have Howard's heart. But now they have to return the favor. They've got to go all in. They've got a second chance. And they better not blow it.
Rap mogul supports the vision the outspoken father has for his brand and sons

Deciding who to watch on League Pass can be difficult, but these rankings promise to help

Veteran forward signed a one-year deal with the Knicks in offseason
Knicks forward had his truck stolen out of his driveway

The Celtics will send No. 34 to the rafters in Boston when they take on his old rival

It's never too early to look at June's NBA Draft