Dwight Howard tells Magic teammates he won't opt-out in 2012-2013
Orlando Magic center Dwight Howard has reportedly informed his teammates that he will not exercise his early termination option for the 2012-2013 season.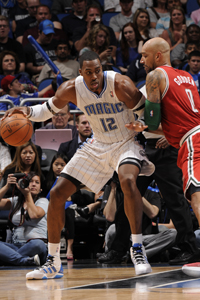 Dwight Howard wants to be in Orlando next year?
(Getty Images)
Another day, another twist in the Dwight Howard saga.
Orlando's All-Star center has made it known to teammates that he plans to be with the Magic next season, according to CBSSports.com's Ken Berger. 
Magic officials have been told that Dwight Howard informed teammates he won't opt out of contract in July, a league source told CBSSports.com.

Players who came out of meeting called by Howard today in San Antonio have given conflicting accounts about what Howard said, sources say.

Some came away thinking Howard said he was "all in" for the rest of the season, while others thought he meant next season, sources say.
WFTV.com in Orlando reported
 similar statements from Howard on Wednesday.
Yahoo Sports reported
that three players present for a team meeting on Wednesday morning said that Howard did not speak specifically about his plans for next season.
The site then reported
that Howard made an opt-in indication to teammates at a lunch afterwards.
Howard has a $19.5 million salary coming for next season if he chooses to stick around rather than exercising his early termination option so that he could become a free agent. Berger reported that the Magic are seeking a formal waiver of his early termination option, which would prevent Howard from becoming a free agent in the summer of 2012, as an assurance of his commitment to the organization.
This is the commitment -- in writing -- the Magic apparently need to suspend efforts to trade Howard prior to Thursday's 3 p.m. ET deadline.

The Magic would require written documentation that Howard will waive his early-termination option before deciding against trading him. The team has received no such documentation, which would need to be signed by Howard and his agent, Dan Fegan, source says.

Whether Howard and his agent, Dan Fegan, will agree to surrender their leverage in writing and call off the sweepstakes remains to be seen. Though some execs are skeptical Dwight will commit in writing, other trade talk seems to be cutting loose, league sources say. 

A person briefed on the conversation told CBSSports.com that Howard told a Magic official today he would sign the ETO waiver. The ETO waiver -- meaning Howard wouldn't opt out of his deal for next season -- is in Howard's possession in San Antonio, the person said. 

Howard, however, has not yet returned the document signed, which the Magic need to protect their interests, the person said. Howard's agent, Dan Fegan, who has not responded to requests for comment, also has to sign the ETO waiver for it to be valid.
The news comes less than 24 hours after Howard
told reporters on Tuesday night
that he hoped he would not be traded in advance of Thursday's
NBA
Trade Deadline and that he wanted to remain with the Magic for the balance of the 2011-2012 season.
"I told those guys and I've been telling them for the past two or three weeks now that I'm going to stay and finish the season," Howard said on Tuesday.
The timing of that declaration, after he
requested a trade
in December,
fueled rumors
that Howard planned to depart for the New Jersey Nets once he hit free agency this summer.
Howard, 26, is averaging 21.1 points, 15.0 rebounds, 2.0 assists, 2.2 blocks and 1.5 steals per game for the Magic this season.
The Warriors coach added there should be no shame in being picked last since everyone's an...

We've got all the scores, highlights and news from all of Saturday's games

The two teams have reportedly not had any substantial discussions to this point
Oladipo may be getting most of the shine, but this second-year big man has been phenomenal...

SportsLine's Mike McClure, a DFS pro with more than $1M in winnings, gives optimal lineup...

The Lakers were just 2-14 from the stripe