Dwight Howard won't try and recruit LeBron James, Carmelo Anthony
Rockets star says he won't try and get on anyone else's "plane."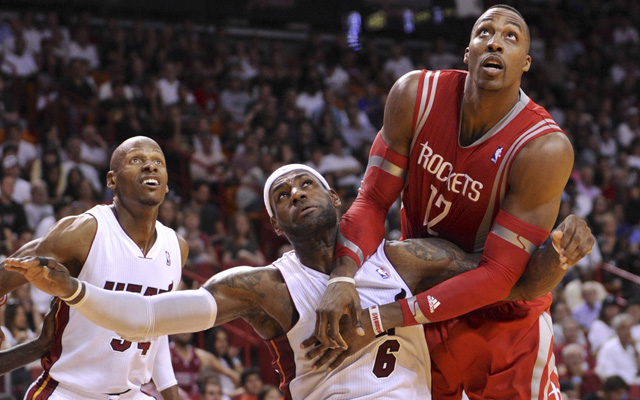 More Offseason Analysis: Coaching changes, news | Free Agency | Draft | Rumors
Despite the importance of other stars selling free agents on why their team is the best, and despite Dwight Howard's considerable value as a selling points to free agent stars like LeBron James and Carmelo Anthony, Howard told USA Today he won't get involved in the recruiting process. 
Howard doesn't plan on recruiting James, Anthony, or any other soon-to-be free agent personally, instead choosing to respect their personal process while they decide their respective next steps. In those days before he chose Houston, he was so overwhelmed by the endless opinions and chaos around him that he boarded a plane for Aspen, Colorado just to clear his mind.

He knows James could take them to the top if he decided to come their way, and he never forgot the time so many years ago when Anthony said in a media interview that Howard was the one superstar with whom he would want to play. They'll be as hungry as him if they come, Howard is sure, but this decision must be theirs and theirs alone.

"A great man once told me that this is my plane, I fly it where I want to fly it, I'll land it where I want to land it," Howard said. "I built it, and it doesn't matter what anybody else thinks. If I want people on that plane, I'll put them on there. If not, this is my plane. For 'Melo and all of these other free agents, this is their plane. This is their time to fly wherever they want to fly. They can't let anybody or anything get in the way of doing what's best for them."
via Dwight Howard, Rockets, aim to add another star.
It's a little surprising, given how much Howard has said he wants to win, and the need to add another star. After all, both James Harden and Chandler Parsons pitched Howard on joining the Rockets last summer. 
But Howard seemed to really struggle with the decision last year in free agency, ultimately joining the Rockets. It seemed to weigh on him and he was upset when word of his decision leaked to the media before he was able to speak to the Lakers. So his desire not to interfere with what those guys experience seems genuine. 
And after all, as long as he's not giving them the same speech about "showing them how to win" that Kobe reportedly gave him, silence and tacit assent might be the best tactic. 
Howard did say he was a huge fan of Carmelo Anthony. 
Our advanced computer model simulated Saturday's Thunder-Cavs game 10,000 times

The Jazz are reportedly looking into trading Rodney Hood before the Feb. 8 NBA Trade Deadl...

The Cavaliers are ready to reset everything if they have to. Their interest in Lou Williams...
It sounds like the Cavaliers are going to be active before the NBA trade deadline on Feb....

We've got all the scores, highlights and news for Friday night

George Hill, who is unhappy in Sacramento, could be a solution to Cleveland's backcourt si...