Dwight Howard wraps up final meeting, setting up coming decision
The Dwight Howard meetings have finally wrapped. Which means it's time for him to make a decision. Who's the leader in the clubhouse?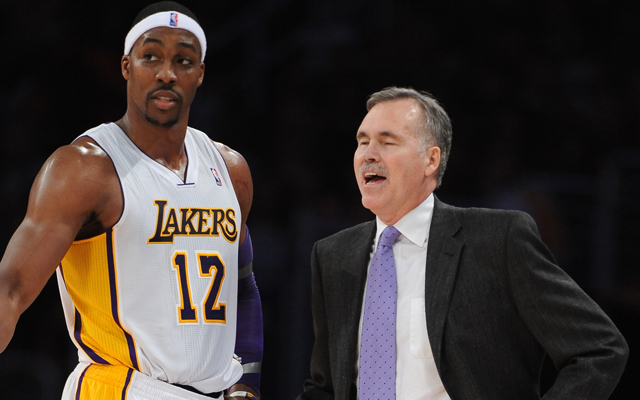 And now, we wait.

Dwight Howard has finished meeting with the five teams that have expressed realistic interest in him -- the Rockets, Mavericks, Hawks, Warriors and last and maybe least, the Lakers -- meaning a decision of where he'll sign should come somewhat soon.
(One report said it would happen by July 10.)
The Lakers released a statement following the conclusion of their meeting with Howard, with general Mitch Kupchak expressing what seems like guarded optimism. 
"Jim Buss, Mike D'Antoni, Kobe Bryant, Steve Nash, Tim Harris and I, along with representatives from our partners at Time Warner Cable SportsNet and AEG, met this afternoon for approximately two hours with Dwight Howard and his representatives Dan Fegan and Happy Walters. At the meeting, we told him how important he is to the Lakers team, franchise, fans and community, and why we feel this is the best place for him to continue his career. We are hopeful that Dwight decides to remain a Laker."
According to ESPN LA, Steve Nash and Kobe Bryant met separately with Howard and had an "honest" conversation about the issues from the 2012-13 season. 
Said Howard, via ESPN LA: "I had a lot of great meetings [today]."
The Lakers have done their part to try and recruit Howard, putting up billboards and creating hashtags. 
The Rockets met with Howard first, bringing along a contingent that included Hakeem Olajuwon and James Harden. The Mavericks had Mark Cuban and Dirk Nowitzki among others meet with Howard on Tuesday, the Warriors -- who would be offering a sign-and-trade deal -- met with Howard on Monday and the Hawks -- which is Howard's hometown team -- gave it their shot on Monday. 
According to Bovada, the Rockets are the favorite at 7/5, the Lakers are next at 9/5, the Mavs at 3/1, the Hawks at 19/2 and the Warriors last at 10/1. 
Who will it be? We should know soon. 
We've got all the scores, highlights and news from all of Sunday's games

The Rockets beat the Warriors 116-108 on Saturday night

The Cavaliers gave up 148 points in their loss Saturday afternoon to the Thunder
Blatt made the comment before coaching in the All-Star Game in Turkey

Is this rock bottom for the Cavaliers because it sure feels like it is

Wade, as he's done so many times in his career, threw it up to LeBron for the thunderous f...