Dwyane Wade and Chris Bosh want more than reported pay cuts
Heat stars not tied to reported figures of $12 million and $11 million respectively.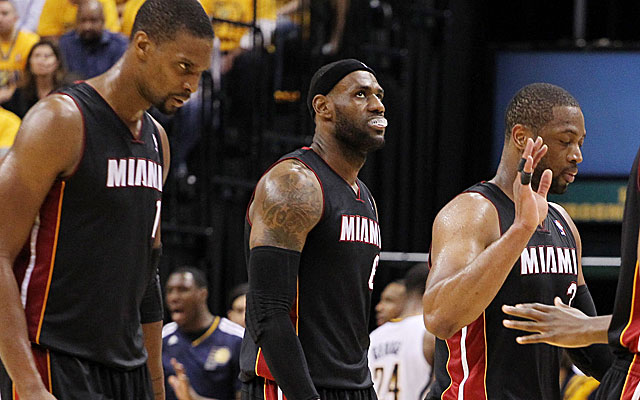 More Offseason Analysis: Updating Free Agency news | Top 40 free agents
Goes to show you how fast free agency rumors move. After reports surfaced that Dwyane Wade and Chris Bosh were looking at starting salaries as low as $12 and $11 million respectively, Ken Berger of CBSSports.com and the agent for both players confirm that those numbers aren't accurate. 
agree MT @EthanJSkolnick: Based on my info, the numbers being reported for Bosh & Wade are much lower than what I expect them to accept.

— Ken Berger (@KBergCBS) July 1, 2014
Agent Henry Thomas, on report clients Bosh & Wade will take $12M/per & $11M/per, respectively: "all the BS you are reading is just that."

— David Aldridge (@daldridgetnt) July 1, 2014
If those reports are inaccurate and both players will take more, the Heat could wind up with significantly less than the reported $12 million. That could significantly limit their ability to add free agents. The names on the Heat's list include Kyle Lowry, Luol Deng, and Trevor Ariza, all of which are expected to receive significantly more money per year than what the Heat could have in total. 
LeBron James is expected to take the max, starting at just over $20 million. With an estimated salary cap of $63 million, if Bosh and Wade take starting salaries in the $30 million combined range, plus the guaranteed money owed to Norris Cole and rookie Shabazz Napier, the Heat would have to use roughly $9 million to fill out the remaining seven roster spots. Even with several players on veteran-minimum exceptions, that could make things tough. 
The truth is no one knows how much the Big 3 are going to take yet, and if that's the case, it casts further doubt on Miami's ability to upgrade the roster from a team that lost the Finals in five games last season. 
SportsLine simulated Wednesday's Nuggets-Clippers game 10,000 times

Galin Dragiev has his finger on the pulse of the Lakers and just locked in a play for Wedn...

No more McNuggets allowed in the Barnes household
Leonard has played in only nine games this season for San Antonio

Pierce is set to have his jersey retired on Feb. 11, but there's been a lot of controversy...

Thunder will try to beat Lakers for 11th straight time at home