Dwyane Wade: LeBron James is 'on that level' with Michael Jordan
Miami Heat guard Dwyane Wade says LeBron James is "on that level" with Michael Jordan.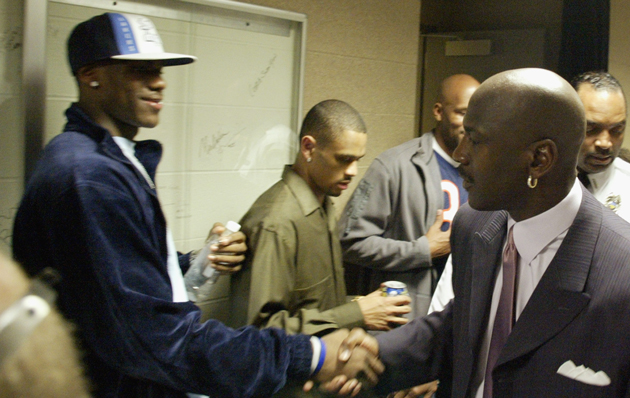 LeBron James shake hands way back in the day.

(Getty Images)
What did you do on your summer vacation?
In a span of just 51 days this summer, Miami Heat forward LeBron James was named the 2012 MVP and the 2012 Finals MVP while winning both his first NBA title and a gold medal at the London Olympics. To say that he scaled new heights would be a waste of words. Of course he did.
In the process, he has -- at least temporarily -- raised the comparative bar for himself. The conversation has turned noticeably from "LeBron or Kobe? Kobe or LeBron?" to "Is LeBron as good as Michael Jordan?" The answer to that question, of course, is a flat "no," but that hasn't kept various esteemed basketball personalities from weighing in on the subject.
The latest to take a crack at the comparison is Heat All-Star guard Dwyane Wade, fresh off the second title of his career thanks in large part to James, who carried Miami through the playoffs while All-Star forward Chris Bosh dealt with an abdominal injury and Wade was slowed by a knee issue that eventually required minor offseason surgery.
From the South Florida Sun-Sentinel, here's Wade take on the "LeBron vs. Jordan" debate. 
"He's on that level," Wade said, "but he has a lot more to do to get there. I think he understands he has an unbelievable opportunity to be one of the greatest to play this game. But that's when he gets done playing, he can say that.

"Right now, he has so much more to cover in his career. He's just getting started at the same time when Michael kind of just got started. We'll see how it all shakes out. I hope it shakes out the same way. I'll be a very happy man."

...

"Just watching LeBron play, I mean he's just playing at a different gear right now," Wade said. "That monkey is off his back and now he's just playing basketball. I think we'll continue to see a better LeBron James -- it's scary to say, a three-time MVP -- than we've seen."
Unlike John Salley, who earlier this week made an outlandishly stupid claim that Jordan wasn't even a top-5 player from his own era, Wade's viewpoint lacks any obvious cracks.
The easiest part of his statement to fact-check is the last. Of course James should continue to improve. Not only has he demonstrated the ability to add new skills to his repertoire -- a more developed post game, a better mid-range jumpshot, better shot selection, defending bigger players in the post in recent years -- James is also just 27 years old. Even with all the extra miles that come with entering the league as a teenager and being among the league-leaders in minutes played year after year, James is now fully in an upswing and should have a good half-decade of truly elite level play left in him. These next 3-5 seasons are the golden years for King James.
Wade seems to be referring to that next chapter when he says that James "has a lot more to do" to match Jordan's entire body of work. Most importantly, Wade is talking about rings. He's no dummy: he knows that James needs to close out his career with five or six titles to be in the discussion for Greatest Of All Time.  
But the first part of Wade's statement might be the most interesting and thought-provoking. After watching James dominate the best of the NBA during the playoffs and the best of the world during the Olympics, it's tempting to say that his summer was "Jordanesque." 
Wade isn't insane when he makes that claim. While advanced statistics can often create more arguments than they resolve, a comparison of the two players' overall Player Efficiency Ratings is particularly helpful here. 
Consider that Jordan led the NBA in PER for seven straight seasons, from 1986-87 through 1992-93. From his age-23 season through his age-29 season, nobody was better. James is in the midst of a remarkably similar tear. Over the last five seasons, since 2007-08, James has led the NBA in PER every season. In other words, from his age-23 season through his age-27 season, nobody was better. That's so similar it's freaky. And do you really expect anyone to post a better PER than James over the next two seasons? No way. 
Below is a graph that shows Jordan's PER year-by-year in red compared to James' PER year-by-year in blue (stats courtesy of Basketball-Reference.com). Remember that Jordan's career featured breaks for baseball and for a retirement, which explains why the red line isn't continuous left to right. James, of course, entered the NBA out of high school and therefore had a head start.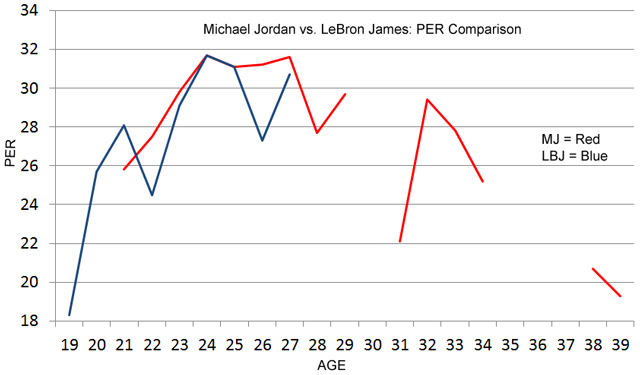 Michael Jordan and LeBron James have comparable advanced statistics.
(CBSSports.com)
Remember, James led the league in PER this year by more than three points, a whopping figure. Three points on this chart, of course, represents a major difference. James, for example, slipped three points in his first season with the Heat as he adjusted to new teammates, a new coach and new responsibilities. The most remarkable part about that: he still led the NBA that season.
The big takeaway from the chart is that Jordan and James have very, very comparable advanced statistics. James got the better of Jordan just once: age-21, his third season in the NBA and Jordan's rookie year. At age-24 and age-25, the players actually posted identical PERs. In many cases, when you compare the players at the same ages, Jordan has just a slight edge. Is James "on that level" with Jordan? When it comes to the advanced numbers, he's as close as anyone could get.
What we also see, though, is that age-27, the point at which James is right now, marked the high-water point for Jordan. It was all downhill from there, although it was a slow drop, as he was still absolutely phenomenal at age-28 and age-29. Then the sojourn to baseball. After that, he only approached big-time efficiency one more time, in 1995-96 when the Bulls won their record 72 games.
In other words, James has a shot to make his case from a numbers standpoint. Assuming he doesn't get the itch to swing and miss for the Birmingham Barons and assuming that he can continue his excellent string of good health, James will have the chance to put up a good 5-8 seasons worth of stats that best Jordan's at the same age.
If he manages to do that, and collect the requisite rings along the way, then we could truly have ourselves a real debate here. Until then, it's still M.J. all day.
Warriors' forward doesn't understand the reasoning behind the all-too-common double technical...

Hardaway Jr. gave a 'safe' call like he was an umpire in baseball

Barnes hits the trey with less than a second left to lift Mavericks to dramatic 95-94 vict...
Kevin Durant was once again back in Oklahoma City

Gregg Popovich has never seen an injury lead to the issues that Kawhi Leonard has been fac...

Kobe Bryant, of course, had his 81-point game against Rose and the Raptors back in 2006