Dwyane Wade opts out, will be free agent; Bosh undecided
Miami Heat star opts out of contracts, will be free agents July 1 along with LeBron James.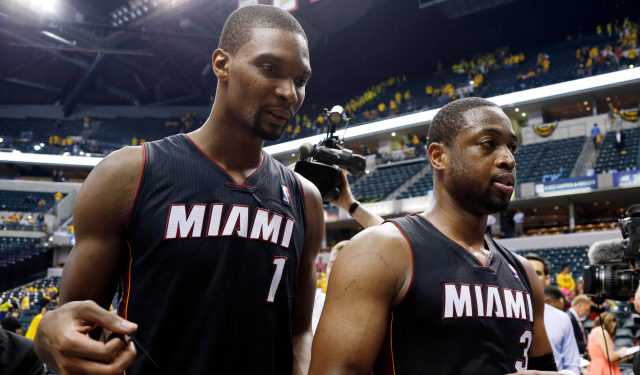 More Offseason Analysis: Coaching changes, news | Free Agency | Draft | Rumors
The Miami Heat confirmed Saturday that Dwyane Wade has joined LeBron James in opting out of the final year of his contract to become a free agent, which could open up cap space for the Miami. Contrary to earlier reports, CBSSports.com's Ken Berger reports that Chris Bosh has not decided whether to opt out of the remaining $42.6 million he's owed over the next two years, including $20.5 million next season. 
Dwyane Wade has opted out.

— Tim Reynolds (@ByTimReynolds) June 28, 2014
Wade was due over $41 million over the next two years under his current deal, including $20.1 million next season.  (Salary data courtesy of ShamSports.com.)
Bosh is 'expected' to opt out before Monday night's deadline, according to Yahoo Sports and ESPN. 
If Bosh and Wade both opt out, it opens up the possibility of James, who opted out last week, returning to the Heat along with the two other stars for lesser deals to make room to upgrade the roster and return to title favorites status after losing to the San Antonio Spurs in five games. It could also open the door to Carmelo Anthony joining them to form a big-four, but Bosh and company would have to take an even bigger discount to make room for that. 
There's speculation that Wade would not have opted out of the $41 million without assurances from James, who met with Wade and Bosh Friday, that he planned to return. But that will be the question. 
Pat Riley released the following statement after the news Saturday.
"Today we were notified of Dwyane's intention to opt-out of his contract and Udonis' intention to not opt into his contract, making both players free agents. Dwyane has been the cornerstone of our organization for over a decade, and we hope he remains a part of the HEAT family for life. Udonis has been the heartbeat of this team for 11 years. He has sacrificed countless times to make this organization successful, and he is the epitome of what this organization stands for. We look forward to meeting with Dwyane and Udonis and their agent in the coming days to discuss our future together."
Thomas took to Twitter to let the Celtics know he doesn't want to ruin Pierce's night

The Hall of Famer was a seven-time All-Star with the Celtics, and was MVP of the 1976 NBA...

It's rare to see a legit punch in an NBA fight, but this was definitely one of them
We've got all the scores, highlights and news from an NBA Tuesday

The former Slam Dunk Contest champion will take his talents to Tri-State

Do NBA players have look-a-likes from famous paintings? We found out on the new Arts & Culture...