Dwyane Wade says bad blood with Pacers won't affect Miami
Heat guard says that being the older team helps Miami stay out of the fray with the tensions with Indiana.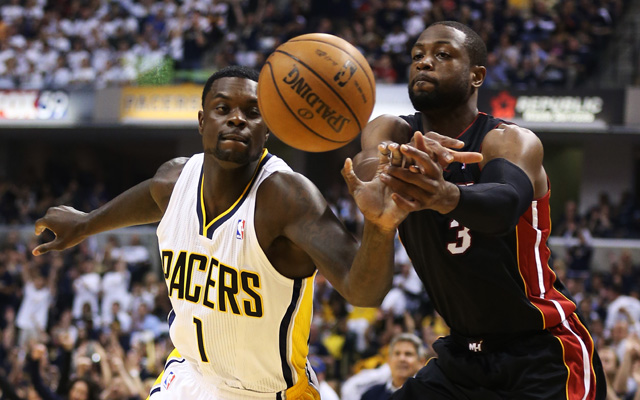 More postseason coverage: Playoff schedule, results | Latest news, notes
Miami Heat guard Dwyane Wade said Friday at Heat practice that the bad blood between the Pacers and Heat won't affect Miami, because they've learned not to let it. 
Heat shooting guard Dwyane Wade, healthy for this series after dealing with knee pain last year, said the bad blood between the Heat and Pacers works to the Heat's advantage.

"We're not a young team where dislike should get in the way of us winning basketball games," Wade said. "That's when you're younger and you're coming up. That's how Boston had us, where there was a dislike for them and mentally it got us off our games. We learned from that and we learned from them.

"No matter what goes on in the games, the chippiness, the back and forth, that's part of the game, but you got to keep your head in it and continue to move forward."
via Heat Check.
The big thing here is that the Pacers need to get into conflict while not getting ejected or supended, and Miami has to stay above the fray. As long as this series is about execution and not emotion, Miami has the advantage. If this gets into a battle of toughness and physicality, trash talk and scuffles that disrupt game flow, that plays into the Pacers' hands. 
Wade's comments are especially interesting since he and Lance Stephenson both picked up techs in a scuffle earlier this season, which later lead to the hot-headed guard being ejected for taunting Wade later in the game. 
The two are going to be seeing a lot of each other throughout the course of this series. How they both walk that line, what Stephenson can do without getting tossed, and how Wade responds could impact the result quite a bit. 
Beverley handcuffed Lonzo on the court, and the emotion carried into the locker room

Ball's eagerly awaited first NBA game didn't go the way Laker fans hoped

Griffin can still hand out posters with the best of them
The Knicks forward is a bucket-getter in the truest sense of the term

On the TNT broadcast, even Shaq finally admitted that he likes Joel Embiid's game

The Warriors new Nike classic uniforms will be revealed Thursday