Dwyane Wade says he got away from helping with Heat's moves
Miami Heat guard Dwyane Wade removed himself this summer from helping his team figure out what to do in free agency due to roster limitations.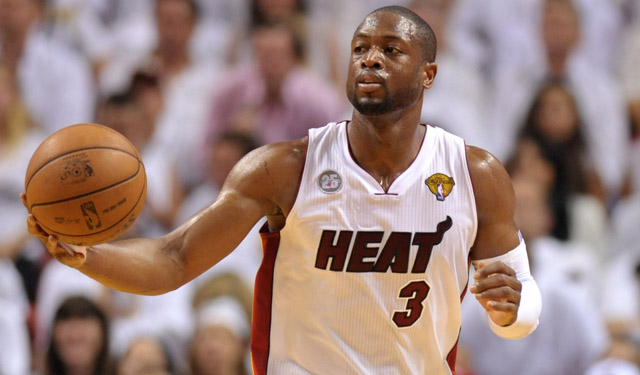 It's fairly common in today's sports world for the best players to recruit free agents in an effort to help their team acquire the top talent and improve their chances at winning a championship. For the Miami Heat, they have a history of this working out quite well. Dwyane Wade helped recruit LeBron James and Chris Bosh to the Heat in the summer of 2010 that changed the landscape of the NBA. It's resulted in three straight trips to the NBA Finals and two straight championships.
However, because of the Big 3 the Heat are able to boast on their roster, they don't have much flexibility in adding free agents this summer or possibly even next summer, depending on if James, Wade, and Bosh exercise their early termination options. The lack of flexibility with adding free agents to their roster this summer was a big reason Dwyane Wade decided not to help recruit potential signees. From the Sun-Sentinel:
Among the rumors swirling during free-agency was a clandestine meeting involving Dwyane Wade and Pat Riley with Lamar Odom. Not only didn't it happen, but Wade said he removed himself from the team's free-agent recruitment this offseason.

"I left that all to them," Wade said, aware of the luxury-tax limitations of the Heat's efforts. "I got away, understanding that we have little that we can do. And Pat Riley is the best at what he does, so he's fine. We all understand the nature of the beast, what we're dealing with."
The Heat's lack of flexibility due to the luxury tax penalties resulted in the team using their amnesty provision on Mike Miller, who was a big contributor in small doses during both of the Heat's title runs the last two years. And with the future of the franchise fairly unknown because of the possibility of LeBron James, Dwyane Wade, and Chris Bosh opting to hit the free agent market in 2014 or even 2015, it makes sense that we wouldn't see a push to add money to this already championship roster or see Wade truly involve himself in such minor moves.
There have also been unsubstantiated rumors floating around about Wade's future with the team. The idea is he won't be healthy or good enough in the near future to be the right hand man for LeBron James and the team might need to move him in order to bring in a running mate that James wants to play next to enough to re-sign here if he decides to become a free agent. It's possible that this played into Wade's decision not to be involved with the free agent moves, even as minor as they might be, but more than likely the CBA is restricting them from adding significant players and there's no sense in Wade involving himself in a waste of time like that.
(H/T: HoopsHype)
Warriors' forward doesn't understand the reasoning behind the all-too-common double technical...

Hardaway Jr. gave a 'safe' call like he was an umpire in baseball

Barnes hits the trey with less than a second left to lift Mavericks to dramatic 95-94 vict...
Kevin Durant was once again back in Oklahoma City

Gregg Popovich has never seen an injury lead to the issues that Kawhi Leonard has been fac...

Kobe Bryant, of course, had his 81-point game against Rose and the Raptors back in 2006