Early impressions: Is there hope for the Sacramento Kings?
It's just 3-1. What does that mean? Nothing. But the way it's gone down, and the vibe around the team is something else. Can this last? Does it matter?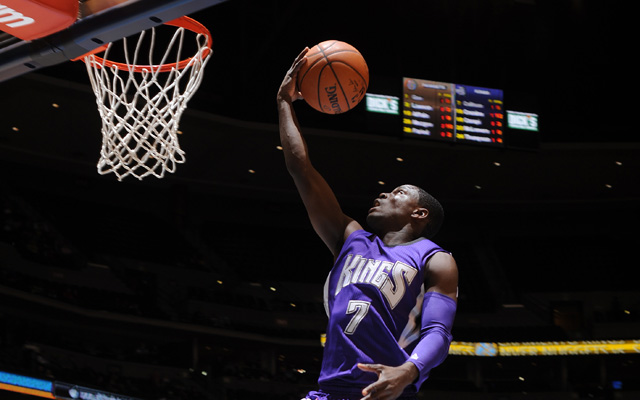 DENVER -- When is it OK to have hope? How soon is too soon to enjoy success? And if you have to start somewhere, why is starting anywhere seemingly less proof of basketball life than failing out of the gate. Welcome to life in the NBA when it comes to your 3-1 Sacramento Kings.
The Kings opened with a dismal loss to the Warriors and it seemed par for the course. A bad team whose offseason moves were panned (particularly the loss of Isaiah Thomas and the replacement thereof with Darren Collison) gets slammed against the locker by the division favorites, setting off yet another disappointing, if expectedly so, season.
And then a funny thing thing happened.
The Kings have rattled off three straight, yes, three whole games, but had this been an East Coast jaunt vs. the Sixers, Magic, and some banged up squad, it would be one thing. Instead, they knocked off the Blazers, then the Clippers, in Los Angeles. On Monday, they were stacked against the schedule: the dreaded back-to-back in the altitude of Denver vs. the Nuggets. That's a schedule loss. I know it. You know it. The teams themselves know it. You lose those games.
"It's funny, I said the same thing to my teammates this morning," Darren Collison said after the game. "I said 'We've got to figure out a way to win this game because most teams don't win games like this on the road, back-to-back, especially in Denver.'"
Kings 110, Nuggets 105.
Wait, what?
In an ugly, free-throw-drenched slugfest in Denver, the Kings scrapped out a win. I can use more euphemisms for the fact that neither team's offense was good, but the result is the same. Carl Landry, given a sizeable contract in 2013 and forgotten after an injury last year, came alive with 14 points. The bench units somehow kept them in it long enough for the starters to close. Whereas Sunday's huge win over the Clippers was led by DeMarcus Cousins, Cousins on Monday had a quieter night, but this is actually an important element. Cousins had 19 points and five rebounds. His quiet nights are like that now, on back to backs. That consistency is huge because it provides the team something to rely on and fall back on.
But while Landry's breakout, Reggie Evans' rebounding (14 boards) and Rudy Gay's clutch late-game post-up score soaked up a lot of attention, Darren Collison had 21 points on nine shots, four rebounds, six assists... and oh, yeah, Ty Lawson went 1 of 8 from the field for just nine points. He had 12 assists, but Collison's entire collective defensive effort set the tone for the team.
"Our defense starts on the ball," coach Mike Malone said. "Any good defense does. Give Darren Collison a lot of credit. He's done a good job as have our other guards of limiting guards getting into the paint."
"Biggest thing, DC is our floor general," Cousins said. "He's communicating with us, he's leading us every night. He's the head of the snake right now, and he's doing a tremendous job defending the basketball. Everybody's stepping up, everybody's buying in, everybody's locked in."
Through this extremely-too-small-to-take-anything-significant-from-it-but-let's-do-it-anyway sample, the Kings are 27.4 points better per 100 possessions defensively with Collison on the floor. Collison did tremendous work for the Clippers in last year's playoffs vs. Steph Curry, but a reputation of him being mediocre-to-bad defensively continues to plague him.
"I take pride in my defense," Collison said Monday. "I started to get noticed last year with the Clippers. But now to start this year, I've had to take on Stephen Curry, Damian Lillard, Chris [Paul] and now Ty Lawson, those are all great players, and I'm just glad we were able to get some of these wins. But I definitely take pride in my defense."
This Kings team is surprisingly fun. I termed them "rough and tumble" Monday night. It's not "grit-grind," not as nasty, not as, honestly, borderline insane as the Grizzlies' defense. But it is high on effort, high on scrap, high on chemistry, and despite not being pretty, kind of fun to watch. 
"Honestly, I can say it's the defense. We're playing some pretty tough defense. That's the start. On top of that we're playing so well together. The chemistry is coming together. One night it was Rudy [Gay], one night it was me, one night it was DC. That's just showing signs of us growing as a team. "That's just showing signs of us growing as a team, being happy with the main goal which is winning the game and not worrying about stats, or playing time or anything else."
And yet, it's just three games. Three measly games. The biggest response to this Kings surge? "The Sixers started 3-1 last year!" basketball-religious skeptics cry. And when you look into the start, it may not be as impressive as it seems. The Blazers have looked very shaky to start the year and are still finding their groove. The Clippers struggled with the Lakers and haven't been able to put the pieces together yet, either. And Denver lost to Oklahoma City Saturday, without Westbrook or Durant, and quite frankly, their shooters couldn't hit sand if they landed in Death Valley right now.
The Kings are not the Sixers (no actual basketball team is), but you can't even begin to say this team looks like a playoff team yet, much less is one. In fact, winning consecutive games against the same opponent, as the Kings will have to do Wednesday vs. Denver back in Sactown , is tough. The other team is mad you beat them, makes tactical adjustments, and tends to respond.
Then the Kings are on the road against: the Suns, the injury-depleted but at-home Thunder, the Mavericks, and Grizzlies. But hey, they get to come home and face... the Spurs.
It is not inconceivable that this team could be 3-7 in two weeks. Most would have to say at least 4-6 is probable. That's the reality of the Western Conference. So should anyone be excited? Team officials were steadfast in reasserting it's just three games. No one is putting up "Mission Accomplished" banners.
But for a franchise like the Kings, stuck in not mediocrity, but downright awfulness for a decade, you have to start somewhere. The Kings have started somewhere. The defense is sound. The chemistry is good. They have a superstar in Cousins, and a supporting cast playing well right now. If it falls apart, it falls apart, but you have to feel like you're going somewhere in order to make the wheels move.
I believe in metrics, and evidence, and sample sizes. But I also believe that how players feel about a team matters. And Cousins may have put how this team feels right now best on Monday night. Does this year feel different from the starts Sacramento has gotten off to?
"It does feel different," the man called Boogie said. "But it feels so amazing."
The big man paused.
"It feels amazing."
CBS Sports HQ Daily Newsletter
Get the best highlights and stories - yeah, just the good stuff handpicked by our team to start your day.
Please check the opt-in box to acknowledge that you would like to subscribe.
Thanks for signing up!
Keep an eye on your inbox for the latest sports news.
Sorry!
There was an error processing your subscription.
The Lakers are trying to zag while everybody else zigs

Keep checking back for the latest updates as NBA free agency continues

LeBron was on hand to support some of his new teammates in Vegas
Here are the top prizes left in the 2018 NBA offseason

All the info on the top names still on the market this offseason

Rivers lost his title as team president but says "I'm still involved in every decision, so...