East Conference Finals Heat-Pacers Preview: Of course it's down to this
No one should be surprised the two best teams in the East are set to face off in the Eastern Conference Finals. We look at the matchup.
More postseason coverage: Playoff schedule, results | Latest news, notes

Schedule:
Game 1 Sunday, May 18 3:30 p.m. ET, ABC
Game 2 Tuesday, May 20 8:30 p.m. ET ESPN
Game 3 Saturday, May 24 8:30 p.m. ET ESPN
Game 4 Monday, May 26 8:30 p.m. ET ESPN
Game 5 Wednesday, May 28 8:30 p.m. ET ESPN (if necessary)
Game 6 Friday, May 30 8:30 p.m. ET ESPN (if necessary)
Game 7 Sunday, 8:30 p.m. ET ESPN (if necessary)
Season series: The Indiana Pacers and Miami Heat split the season series 2-2 and it went exactly how you would expect. Both teams won their two home games and lost on the road. The Pacers won the ugly, grind-it-out games while Miami lost both games they failed to score 90 points. The Heat won both boatraces, as Indiana couldn't keep up offensively when the game opened up. 
The Pacers rode their dominant early-season winning streak to a win in the first matchup in Indianapolis, 90-84. It was a statement by the Pacers that they were ready to compete with Miami for the title. LeBron James and Dwayne Wade were held to 17 each as Roy Hibbert went off for 24. 
Their second matchup just eight days later in Miami turned things around, as the champs struck back, edging Indiana 97-94 by erasing a 14-point Pacers lead with less than five minutes left. The Heat just hit a flurry of shots and plays late in the game and left the Pacers stunned. 
Their third matchup wasn't until March 26 and somehow, despite not playing for four months, the two teams managed to get to like each other less. 
And then, as if this series couldn't get any more intense, Roy Hibbert got elbowed in the face ... by LeBron James. 
Ray Allen missed the game with an illness.
Even so, the Pacers edged the Heat 84-83. It was a huge win for the Pacers, who had been in freefall mode for two months and were expected to surrender their lead for home court in the East ... 
Which is exactly what they did against the Heat in their final matchup on April 11. Miami dominated the Pacers in that game at American Airlines, even without Dwyane Wade who sat out. LeBron James had 36 points, while Roy Hibbert had just five points and only one rebound. The Pacers' offensive rating with Hibbert on court was 78 in that game. 
But even after the Heat claimed the lead, they surrendered it with some late-season losses, setting up Game 1 in Indianapolis on Sunday. 
Overall, the Pacers stepped up when they needed to vs. the Heat ... and Miami responded each time. It gives you a sense of how tough these two teams play one another. 
X-Factor: C.J. Watson. The Pacers guard finished plus-11.2 per 100 possessions in three games vs. the Heat this season, the only Pacer to play more than 30 minutes and log an offensive efficiency over 100. 
The matchup is a big one because the Pacers' bench has been a nightmare, especially in the postseason. But with Watson getting matched up against slower Ray Allen and smaller Norris Cole at times, he's got a chance to make an impact. He can shoot from the outside, for a team that can barely do that at all. 
Watson needs to keep the offense afloat, because the Pacers' bench is in big trouble. Everyone likes to focus on Evan Turner's struggles, but Luis Scola can't keep up defensively or find any scoring opportunities. Watson is one of the few competent role players they have and they need him to have a big series. 
Narrative: Take your pick: Can the Pacers recover from their struggles, despite having made it to the Eastern Conference Finals for a second straight year? Are they ready to challenge the Heat, specifically, even if their overall play is underwhelming? 
Meanwhile, Miami has coasted for the most part. Can the Heat stay healthy in a seven-game series against the physical style of the Pacers? Everyone assumes they're a step above, but making the Finals four straight years is tough. 
But really, this is about the Pacers. No one believes in them, not after they went seven games vs. the Hawks and six vs. the Wizards. They would have to shock the world to win this series, despite being the No.1 seed. This is the weirdest season, ever. 
Prediction: Indiana, despite all of its warts, is still here. You can say it's because of how weak the East is, but they're still here. They made it this far. And they match up well with the Heat. They have designed their team to challenge Miami. They have size, speed and strength. They play defense first and have a better offense, despite their struggles, than the Bulls. 
But Miami has looked on another level. They have so much experience. They're missing Mike Miller, and that's huge. But they have always found ways to respond. And Indiana just hasn't looked good outside of maybe three games in the playoffs. You have to consider their matchup with Miami. But you also have to look at the overall play. 
And beyond that, maybe beyond everything ...
This is still LeBron's world. 
HEAT IN SIX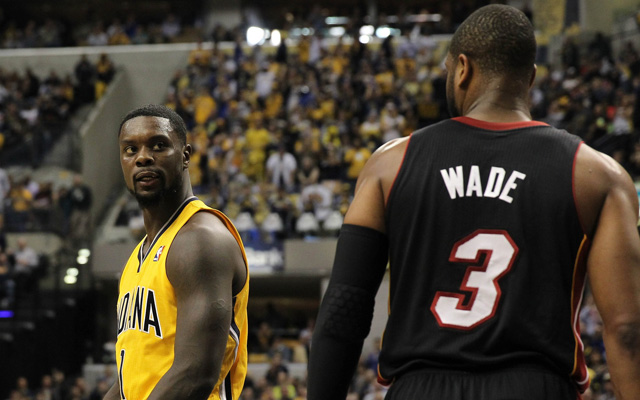 Is this rock bottom for the Cavaliers because it sure feels like it is

Wade, as he's done so many times in his career, threw it up to LeBron for the thunderous f...

The Warriors coach added there should be no shame in being picked last since everyone's an...
We've got all the scores, highlights and news from all of Saturday's games

The two teams have reportedly not had any substantial discussions to this point

Oladipo may be getting most of the shine, but this second-year big man has been phenomenal...