Emerging role players of the 2013-14 season
Two months into the season and we can already see some role players emerging around the league.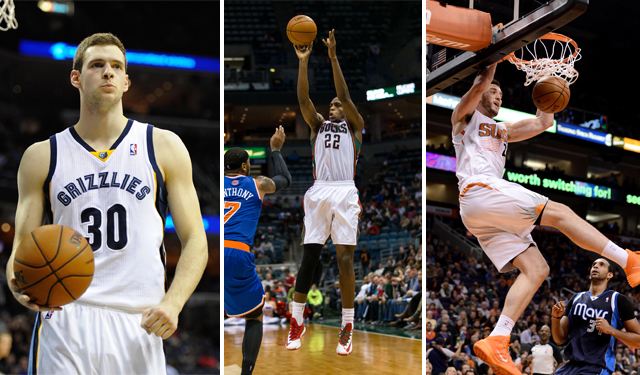 The NBA is mostly about the stars under the spotlight and the incredible things they can do. That's what sells tickets, jerseys, and television deals. Outside of the business aspect of the NBA, you get so many layers of the types of players you need to build a successful team. The stars and guys from the second and third tiers of players are certainly important. But maximizing cost effectiveness while finding role players in the place you'd least expect them is the key to long-term success. 
Two months into the season, there are a few players who have started to prove they belong in a much bigger role than we may have previously expected. Some are rookie players that are earning bigger roles as the season progresses. Some are guys we gave up on too early because of faults they hadn't corrected yet. The fun thing about emerging role players is they seemingly come out of nowhere. They're a nice surprise in a flurry of chaos throughout the season.
Here are my top emerging role players so far in the 2013-14 season.
Silver linings in dark places
Mirza Teletovic , Brooklyn Nets :
The Brooklyn Nets are a sad, broken place right now. It doesn't really seem to have much of a silver lining, other than the fact that the Eastern Conference is so bad the Nets will be playoff bound if they can put together one good stretch of basketball. That kind of situation doesn't exactly build fan interest in the team because with Brook Lopez out for the season, it's hard to feel like they'd matter in the playoffs anyway. The Nets also don't really have young prospects to tout on the floor either.
It makes what Mirza Teletovic is doing the one thing you can feel good about with this team on a nightly basis. In a league that has pushed far more toward the perimeter than the interior, Teletovic has become weaponized for the Nets. He could become a good role player and he comes at a fairly reasonable price ($3.3 million next season). The Nets have been mediocre on offense this season but the threat of Teletovic stretching the floor makes them roughly 6.5 points better per 100 possessions when he's on the floor. The reason for this is he primarily shoots 3-pointers.
Teletovic has taken 59.5 percent of his field goal attempts from behind the line in his two seasons. He's making 41.2 percent of them this season and 37.6 percent for his career. He can stretch the floor with the best of them right now and a contender looking to add a shooter could do a lot worse than trying to acquire this reasonable asset.
Tim Hardaway Jr. , New York Knicks :
It's very early in the career of Tim Hardaway Jr. and all of this could simply be a spike in productivity during a hectic season for the Knicks. However, the month of December was very kind to Hardaway and it looks like their gunning style of last season is made for what he brings to the table. On the season, Hardaway is up to 46.2 percent from the field and 42.2 percent from 3-point range. He takes 6.5 attempts per 36 minutes on the season and shot 46.2 percent from downtown in the month of December.
Ideally, he's not a better player than what JR Smith is for the Knicks, especially since the Knicks just committed to Smith (but sadly not his brother) through 2016. This season, it's hard to look at anything Smith has done and pretend it means more or has been more productive than Hardaway. If the Knicks knew what they had in Hardaway coming into the season, would they have allowed the circus of the Smith family to help cloud the beginning of this season? Probably. James Dolan was still involved and Smith was coming off the best year of his career. As of right now though, I'd much rather have the ball in Hardaway's hands with Smith struggling to turn things around.
Matthew Dellavedova , Cleveland Cavaliers :
I'm not typically one to overreact to a rookie in the first two months of a career, but the spark Matthew Dellavedova has provided in limited minutes off the bench for a really bad, dysfunctional Cleveland Cavaliers team has been nice. We've seen international type guys come in and provide a good spark right away until the league gets a scouting report on them. Happened with Omri Casspi in Sacramento and Alexey Shved in Minnesota. This could very well happen with Dellavedova as well.
Through December, Dellavedova is shooting 44.1 percent from 3-point range and he's been a pest on defense. Sometimes, that's all you can ask for when it comes to a role player in limited minutes off the bench. He's going to have to learn how to continue being productive in his minutes. Right now, he's giving his team some decent ball movement, good shooting, and a guy willing to slide his feet. Perhaps he's a diamond in the rough?
Khris Middleton , Milwaukee Bucks :
There isn't a lot to get excited about with the Milwaukee Bucks. Other than Giannis Antetokounmpo finally getting more of an opportunity and Larry Sanders returning from his injury, the Bucks are pretty hard to watch this season. Khris Middleton has at least provided a decent offensive weapon for a team that is devoid of offensive production. Middleton's shooting through the first 31 games of the season is deadly. He has a true shooting percentage of 56.0, thanks to 45.5 percent from the field, 45.0 percent from downtown and 88.7 percent at the line.
The team is 9.7 points per 100 possessions better on offense when he's on the floor and they're 4.0 per 100 better on defense. They're still losing when he's on the court but it's not the embarrassing debacle we've seen for much of this season. He makes the minimum through 2016 and it's not even fully guaranteed after this season. Middleton is one of the top bargains in the league at the moment.
Guys who are easy to forget but shouldn't be
Timofey Mozgov , Denver Nuggets :
Timofey Mozgov is no longer the guy that Blake Griffin destroyed while checking him for lice in mid-air. On a Denver Nuggets team that is sliding with their current eight-game losing streak, Mozgov has been one of the players that puts them in the best position to win. Only Nate Robinson has a better net rating (+6.5) for the Nuggets this year than Mozgov (+5.2). He provides a real defensive presence, someone that can help control the glass, and a guy that can finish inside. 
Instead of letting an insane feat of athleticism define his career, he's brushed that infamy off his shoulders and decided to not let it define what he is. Mozgov's per-36 minutes numbers are better than solid. He's giving them 15.2 points, 11.0 rebounds, and 2.1 blocks. He makes 52.5 percent of his field goals and 71.6 percent of his free throws. He re-signed for three years, $14 million this past summer and it's starting to look like a steal. If the Nuggets want to correct this poor streak, heavier minutes for Mozgov could help correct it.
Mike Scott , Atlanta Hawks :
Mike Scott has quietly been a really nice role player for the Atlanta Hawks this season. He gives them 18.0 points and 7.9 rebounds per 36 minutes and with Al Horford done for the season, they'll need to increase the time he has on the floor. He'll be much more in the rotation as he helps form a quartet with Paul Millsap , Pero Antic , and Elton Brand to make up for the loss of one of the top centers in the NBA. Scott's production has been good individually, but we'll see how legitimate it is as he is forced to help the team more than he has.
The Hawks have struggled defensively with Scott on the floor, nearly 10 points worse per 100 possessions when he's out there. At 6'8" and roughly 240 lbs., Scott is a bit undersized for the power forward position. He's finishing well in the restricted area (67.4 percent) and his midrange jumper falls at 48.7 percent. However, those are both small samples after just two months. If he can keep that production and help correct the defense of the second unit for the Hawks, he might start to garner a little interest if he becomes a free agent this summer (team option for the minimum).
Trevor Booker , Washington Wizards :
I've heard Trevor Booker described by writers and people around the league as NBA talent in a D-League body. While that might seem a little harsh, I think it actually shows just how impressive he has been the last two seasons. The individual numbers are there for Booker. He's averaging 11.4 points and 11.3 rebounds per 36 minutes. He also makes 52.4 percent of his shot attempts. The problem for him has mostly been the team gets shredded on defense when he's in the game. 
This could be a little skewed though. When Booker is on the floor with members of the starting unit, the team is at a loss (around -3.0 points when paired with a lot of the starters in two-man lineup data) but it's nothing egregious. When he's in the game with members of the bench or Nene, the team can't stop getting killed at all. The Wizards are 5-8 when he starts this season but they've actually won five of their last seven games. They're getting a nice rhythm with Booker in the starting lineup and bringing Nene off the bench. He's playing like a guy that will enter restricted free agency this summer.
Playoffs difference-makers
Steven Adams , Oklahoma City Thunder :
Part of me including another rookie in this column is a mea culpa for not believing in the Kiwi big man. When I saw footage of Adams in college, I honestly wondered why any NBA team would believe he can play in the league. I thought it was a flat-out mistake to draft him in the first round, especially in the lottery. Turns out I have no idea what I'm talking about with him. Adams has come in and been more than a competent big man. He's the best center on the Oklahoma City Thunder right now, except he has to suffer through the same Kendrick Perkins infatuation Scott Brooks has like the rest of us go through.
Adams is a tough defender, a good rebounder, and someone that can finish. He takes elbows to the face like they're butterfly kisses because he comes from a land where rugby rules. The offense suffers when he's in the game, but part of that is personnel he's playing with and part of that is he needs to get comfortable on that end of the floor. It can be tough for a young big man to do, especially when he's playing limited minutes. Two years from now, he'll likely be the starting center for a great Thunder team and the James Harden trade won't look nearly so bad.
Draymond Green , Golden State Warriors :
The shooting percentages for Draymond Green still aren't what you would like them to be, but his play this season has started to prove the playoff run wasn't a fluke. He doesn't finish in the restricted area all that well (56.4 percent) but it's not atrocious. His midrange jumper (43.5 percent) is falling and the team is waiting for those corner 3-pointers to fall (30.0 percent). Where Green really makes his impact is on the defensive end. 
The Warriors are the third best defensive team in the NBA and a lot of that is because the second unit doesn't let up when they come in the game. Green is probably the linchpin of the defense in that unit with his hustle and communication. There are few people who talk more on a basketball court than Green. Warriors are giving up only 92.3 points per 100 possessions with Green on the floor, the best mark on the team. It's even better than Andre Iguodala . He can play with the starters or the bench. He can play the 3 or the 4. He can just flat-out play.
Miles Plumlee , Phoenix Suns :
One of two Phoenix Suns on this list. Miles Plumlee has seemingly come out of nowhere on a team he probably wasn't expected to contribute on right away. Emeka Okafor and Alex Len are the guys you'd expect to be getting the bulk of the minutes on a young Suns team that wasn't supposed to win right away like they do. Okafor is still out after neck surgery and Len has been slowed because of an ankle injury. That leaves Plumlee who is throwing his athletic, 7-foot frame around the paint like he owns it.
He's averaging 10.0 points, 9.1 rebounds, and 1.8 blocks in 27.8 minutes. He's throwing shots and dunking on people's heads. His eye-popping vertical leap at the pre-draft combine wasn't a workout anomaly; it's something he's easily using in games. The Suns have him on a cheap rookie deal through 2016 and he's already proven to be a legitimate starting center in this league.  
Gerald Green , Phoenix Suns
I've been as hard on Gerald Green as anybody because he simply hasn't been a good enough pro in the NBA to warrant consistently getting a chance to play. That was until this year when the Phoenix Suns told him to start shooting more 3-pointers and just let it fly within the flow of the offense. The results have been stunning with Green proving to be much more of a player on the court than a dunker in a contest. He's taking 6.6 3-pointers per game and the 39.2 percent accuracy more than justifies this volume. His true shooting percentage is an insane 59.1 percent at the moment. 
It just shows the incredible coaching job Jeff Hornacek has done in his brief time as the head coach of the Suns and the intelligent philosophy of the organization. It's a very San Antonio Spurs -like approach of find what guys could excel doing and have them just do that. Green's emergence as a role player that doesn't hurt you and is actually the third leading scorer on a 19-11 team is a testament to the team's philosophy and Green's persistence in sticking around in the NBA.
Jon Leuer , Memphis Grizzlies :
Leuer was the inspiration for this post because his play has been so impressive over the course of the last two seasons. He's gone from a relative unknown and afterthought to emerging as one of the better role players the casual fan doesn't know. Leuer is like having a more aggressive, athletic Steve Novak . On a Memphis Grizzlies team that has struggled because of key injuries to Marc Gasol and Quincy Pondexter , Leuer's play is a bit of a bright spot. He can attack the basket if you close out too hard on him and you have to close out hard on him because he's a deadeye shooter. 
The odd thing about his shooting splits (50.0 percent from the field, 55.6 percent from three) is the Grizzlies simply don't find him in the corners. He's only taken two corner 3-point shots this season and missed them both. The rest of his makes are above-the-break, which is typically a much harder 3-pointer to make. If they could possibly use him with Marc Gasol's passing when the center is healthy again, you could have a nice floating perimeter option that hurts you from everywhere. Leuer's per 36 minutes numbers are 17.1 points and 8.4 rebounds. He's earning more and more playing time on a Memphis team that needs consistent bench play to survive in the West playoff hunt.
The three-year, $2.9 million deal Leuer signed this past summer makes the Grizzlies' front office look pretty good at finding role playing talent. As they retool this roster and pick where the next direction is headed, Leuer could end up being one of the cheaper and more valuable role players we see emerge from this season.
Irving has requested a trade away from the Cavaliers

The Lakers made a strong push for Rose, but he would have been a backup in Los Angeles

The small forward spent last season with the Sacramento Kings
Knight still has three years left on his five-year, $70 million contract

The Golden State forward is accused of assault, battery and making misleading statements

The Nets get their shooter a year later, and the Blazers reportedly will waive Nicholson