Emmanuel Mudiay has keys to the Nuggets, but is still learning to drive
Denver guard Emmanuel Mudiay is having an up-and-down season, but remains confident as ever about where he's going.
• 7 min read
Emmanuel Mudiay loves sports documentaries. The Denver Nuggets guard is only 19 years old, but he has seen tons of Michael Jordan and Magic Johnson footage. This time last year, Mudiay couldn't do much while nursing a right ankle injury in China, but he could still watch. 
"I've seen 'The Announcement' probably 15 times," Mudiay said, referring to the ESPN Films doc about Johnson telling the world he has HIV. "Muhammad Ali is my favorite athlete of all time, so the way he approached boxing, that's kind of how I want to approach basketball. Just mind, physically, everything. That definitely helped me out during the tough times that I went through."
The tough times are not completely over. Mudiay missed almost a month after spraining that same ankle in December, and, of all starting point guards, he has the lowest true shooting percentage and the highest turnover rate. None of this, though, will shake his confidence. When he's getting schooled by a more seasoned player, he keeps attacking. When he attacks, he is fearless. Ask Miami Heat center Hassan Whiteside or any member of the Indiana Pacers, victims of his monster dunks recently. 
Before Denver, before China, before even finishing high school, Mudiay was comfortable declaring that he wanted to be the best to ever play. He said that comes directly from documentaries about the greats. 
"They didn't want to just be in the NBA," Mudiay said. "A lot of this generation, we're just satisfied with being in the NBA, the NBA life. That's not what I'm about. I'm about the game. I love the game. I try to respect the game."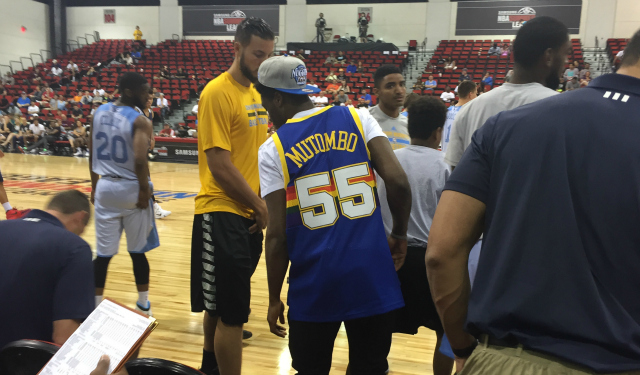 Back in July, the Nuggets held Mudiay out of their final Summer League game. Basketball history buff that he is, he cheered his teammates on wearing a Dikembe Mutombo jersey. After the buzzer, Denver general manager Tim Connelly took questions on two subjects: Ty Lawson's DUI and the promising rookie who plays Lawson's position. It was two days before Lawson was traded to Houston, and Connelly raved about how badly Mudiay wants to be a special player. Nuggets assistant coach Micah Nori insisted this was apparent after just a few games in Las Vegas. 
"On days off and times that he could be back in the hotel, he's over here watching the teams that we're getting ready to play, watching other opponents, learning from them," Nori said in Vegas. "He is a basketball junkie. The best part about him is not only is he a leader and he's a worker, but he wants to be great and he wants to put in the time to be great. It's not just lip service."
On the phone months later, Nori sounds just as positive that Mudiay will succeed. Before a walkthrough, he said, head coach Michael Malone asked the team to name the Portland Trail Blazers' starters, and Mudiay immediately rattled off all five. Nori described Mudiay as intelligent, easy to talk to and a good listener, noting that he is always asking Denver assistant coach Dee Brown about playing in the 90s.
Mudiay said it's "almost like therapy" to talk to SMU coach Larry Brown, who he was supposed to play for before eligibility concerns nudged him to China. As you might expect, Mudiay loves to ask him about Allen Iverson. Less typical, however, is that as a kid learning the game in Arlington, Texas, Mudiay used to pretend he was Derek Fisher. 
"I was little," Mudiay said, smiling at the implication that he had an unusual favorite player. "I just liked he had a headband. I respect Derek Fisher. When I went to work out with the Knicks, I had a chance to have dinner with him. He's a champion, man. Five-time. I respect it. You can't do nothing but respect it. Clutch shooter. But yeah, he was definitely one of my favorites when he and Iverson were going at it. I wanted to be left-handed growing up."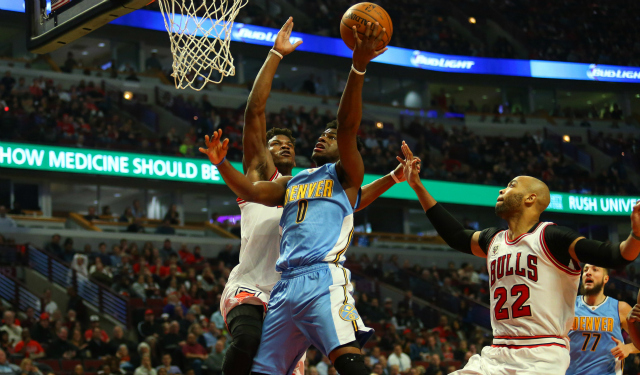 Nuggets guard Will Barton sometimes forgets Mudiay is still a teenager. Part of it is size and strength — Mudiay already had what scouts called an NBA body. Part of it is that "he never gets overzealous," Barton said. Then he raised his hand with his palm down and moved it forward in a straight line. "Just, smooth," Barton said. "He's just smooth sailing." Barton loves Mudiay's patience and playmaking ability, but his poise is what's so rare.
"He never gets rattled," Barton said. "He kind of has the same emotions the whole game. No matter if he's killing or he's playing bad. I've been impressed by that."
Mudiay has been hearing that he's mature for his age "my whole life, basically," he said. "I've always been around a lot of older people and my brothers always took care of me. Without a father, I had to grow up real fast."
He was only 1 when his father, Jean-Paul, collapsed at a barbecue and died in 1997 in Kinshasa, the Democratic Republic of Congo (formerly Zaire), where Mudiay was born. In 2000, surrounded by the violence of civil war at home, Mudiay's mother, Therese, flew to Texas. Her sister lived there, and Therese requested asylum. 
Mudiay and his older brothers, Jean-Michel and Stephane, were without their mother for more than a year. They stayed with their grandparents in Kinshasa, then with a relative in Zambia before they were eventually allowed to move to Arlington. Mudiay calls being away from Therese the biggest obstacle he has ever overcome.
"She's the rock of the family," he said, adding that she now flies back and forth between Texas and Colorado. "She's my No. 1 coach. She's my life coach."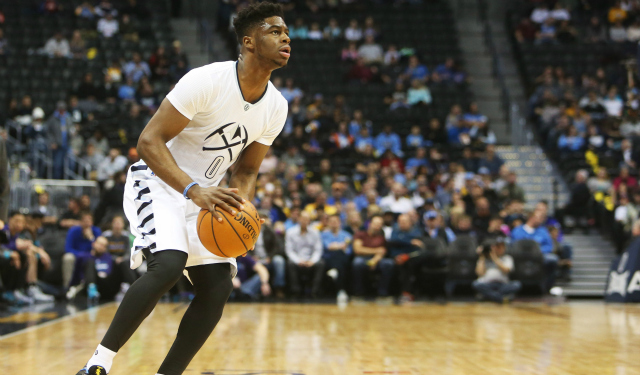 Mudiay's coaches in Denver appreciate his attitude and his aggressiveness. They want to see him get his teammates involved, learn where to get his shots and take pride in defense. He said the most difficult part is figuring out when to look to score and when not to. That is tricky with opponents sagging off him and teammates wanting touches. Nori said Mudiay makes passes other players don't even see, and he will naturally improve when it comes to running the team.
"When you're out there and you're 19, playing against the best players in the world, you're just trying to keep your head above water," Nori said. 
Until Mudiay's jump shot improves, defenders will play him for the drive and go under screens. He's gifted when it comes to getting in the lane, and his jumper suffers from a low release and inconsistent balance. The Nuggets can't break it down during the season, though, so Nori said he expects to see "huge jumps" in the offseason. In the meantime, Denver will keep trying to help him by setting screens lower and re-screening for him. 
"It's kind of what Tony Parker faced when he first came into the league," Nori said. "Now you see how much of a better shooter he's become just through sheer hours in the gym and working on it. And I think that Emmanuel will get there."
Frustration is occasionally evident when Mudiay drives to the basket, takes a hit and doesn't get a call. It can also come out when he tries to make a pass, and then suddenly the gap closes, resulting in a turnover. For the most part, though, mistakes don't affect him. When he throws the ball away, the Nuggets just want him to know why it happened. That is part of why Jameer Nelson is around, but while the two of them talk often, the veteran made it clear that he's not Mudiay's around-the-clock advice machine. 
"You can't script something out for a guy and say this is what's going to happen, that's what's going to happen," Nelson said. "He has to go through some of the situations, some of the trials and tribulations 'cause that's what's going to make him who he's going to be."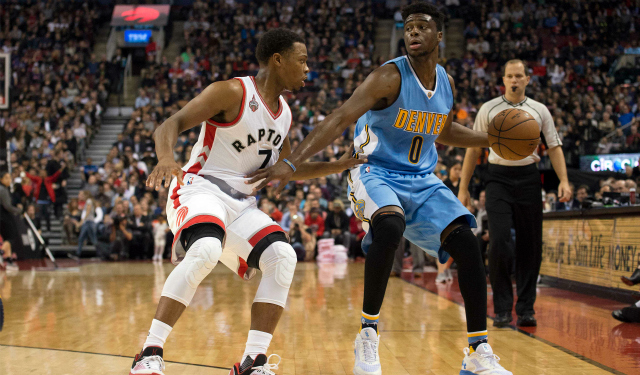 After Kobe Bryant announced his retirement, Mudiay Instagrammed a photo of Bryant guarding him from a game in November. He'll never get to go up against MJ or Magic, but Mudiay is grateful that, for now, Bryant is a peer as well as a legend.
"He doesn't know it, but he's helped me out tremendously," Mudiay said. "Just watching him, his killer mentality, that's how I like to approach it. I might not show it all the time, but inside that's kind of how I am."
At 17-27, Denver is almost certainly going to miss the playoffs for the third straight year. The hope is that, when the Nuggets return there, Mudiay will be leading them. He has the tools and the personality to be the face of the franchise, and there's a reason he owns that Mutombo jersey.  
"I gotta be emotionally involved, emotionally dedicated to this team, this franchise," Mudiay said. "The fact that they just kind of gave me the key, I guess you could say, to come out here and just play, it means a lot to me."
Mudiay is well aware that a lot has been thrown at him in the last few months, but this is what he wanted. When he says confidently that he'll keep developing and the ups and downs will go away, it's hard not to believe him. Every game, though, someone like Stephen Curry or Russell Westbrook is on the scouting report, matched up with him. What goes through his head when he sees those names?
"They gotta guard me, too," Mudiay said.
Bryant will have both No. 8 and No. 24 raised to the Staples Center rafters on Monday

The Lakers will be retiring Kobe Bryant's No. 8 and No. 24 jerseys at halftime

The Nuggets will look for their second-straight win with Nikola Jokic back in the lineup
This composition is absolutely amazing

Stephen Curry, who grew up in North Carolina, wants to be part of the next Panthers ownership...

Vince Carter is destined for a Raptors reunion; he doesn't know when it'll happen