EOB Q&A: DeAndre Jordan and the evolution of an NBA big man
Can DeAndre Jordan be the key that unlocks a Clippers title? The LA big man talks verticality, rebounding, and dunk pity.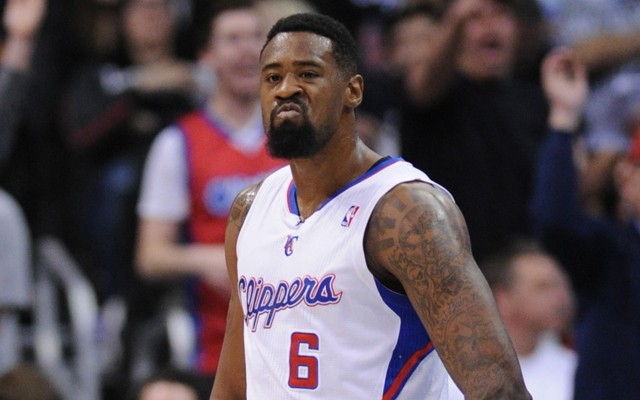 The Los Angeles Clippers go as far as DeAndre Jordan takes them.
That's a strange reality for a team that features Chris Paul and Blake Griffin. The Clippers two superstars are what they bring to the table. Their outside shooting is their calling card (outside of the lobs -- no matter how much talk of Lob City being over there is). But the 25-year-old, 6-foot-11 Jordan is the linchpin of their ability to reach their ceiling.
Jordan has the potential and talent to be the defensive difference maker they need. The Clippers defense continues to struggle at times (despite gaudy numbers) in part due to Jordan's continued development. Most modern NBA defensive centers don't reach their true potential until they are 26 or 27. It's forgotten now, but it took Dwight Howard several years to evolve under Stan Van Gundy into the perennial Defensive Player of the Year he became, and even Howard was ahead of schedule.
And he's putting in the work. A huge knock on Jordan last season was his rebounding trouble. Jordan has doubled his rebounds per-game numbers to 14 this season, making him one of the league leaders. His rebound percentage, which factors how many available boards he snags while on the court, has risen from 17.6 percent to 21.7 percent. Don' take these numbers lightly. This was a major weakness in Jordan's game, and he's made huge strides this season. There's reason to believe he'll continue to make the improvements defensively to get where the Clippers need him to go.
Meanwhile, Jordan's becoming one of the most engaging personalities in the league. Charismatic and engaging, the Clippers star has appeared on Jimmy Kimmel along with Paul and Griffin, has visited ESPN for the day, and of course, has become notorious with hardcore fans for killing Brandon Knight for his emphatic dunks.
Jordan sat down this week with CBSSports.com to talk about his continued evolution, the confidence Doc Rivers gives him, the verticality rule, and if he's ever pitied one of his dunk victims.
CBSSports.com: Did you watch the Super Bowl?
DeAndre Jordan, Los Angeles Clippers: (Jordan nods, raises his eyebrows to indicate "What a beatdown.") It's like I was taught and I'm always saying it. Offense wins games, defense wins championships. Peyton didn't look comfortable at all. I love Peyton, but then, I'm a Cowboys fan so I didn't care either way.
CBSsports.com: Your rebound rate has skyrocketed this year. Was this something you focused on in the offseason, something that's the product of where Doc (Rivers) is putting you in the scheme, or just effort?
DJ: It's a little bit of everything. Last year that was kind of a knock on us, that we didn't rebound well enough to beat teams and that that was going to be our Achilles heel. So that was something I really worked on. Especially not giving up second-chance points to teams, especially a team like Memphis because those guys are so big and they go hard every time. That was a team that motivated me to do it more. With the way our defense works this season, I'm in the right spots to be successful. And offensively I just try and tell teammates that if I can get a hand on it I'll try and tip it either to them or out towards midcourt. The key there is it helps get our transition game going.
CBSsports.com: Have you focused on trying to do the same with your blocks as well?
DJ: Yeah, because my first couple of years I was just trying to knock it to (Section) 124. Now I'm more trying to either grab the block or tip it to someone I see or tip it to myself. The big thing there is it lets us get out on the break.
CBSSports.com: You're one of the guys I point to when I try and explain how young guys can get so much bigger because of the strength and conditioning programs in the NBA. What's that process of building strength been like for you?
DJ: I didn't really lift consistently before I got to the NBA. In college, I would skip out on it or not do as many reps because, honestly, I didn't like it. I was like "Man, I'm not going to put on weight, I'm always going to be skinny, I'm not going to be big as the sky."
But once I started to do it and I saw it was going to help me out, I started to love it. I'm still not a 'big' guy but you can add strength and be able to play with whoever underneath.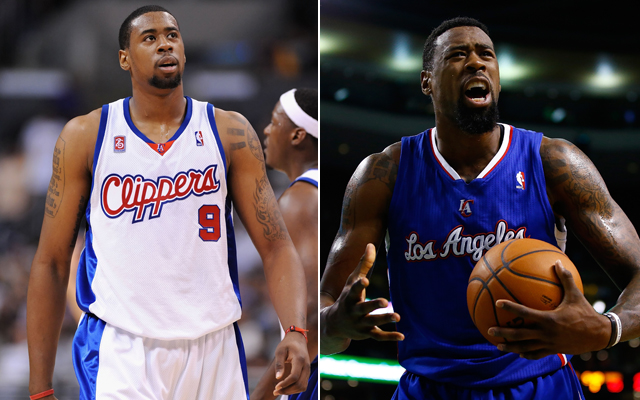 CBSsports.com: Doc has been really adamant in trying to get you into the All-Star game. What kind of impact does that have on you?
DJ: I love that man. As soon as he got here, I could tell that he was an open and honest guy. He really doesn't care about how much money you make or how many times you've been an All-Star. He cares about winning and about championships and everyone being held accountable. You can only respect that.
He's helped me out so much with my confidence and being comfortable out there.
CBSSports.com: Often times a player will improve on defense in ways you can't really see in the box score and that may not even be on actual shot attempts. What are some things you feel you're making progress in.
DJ: Impact on the ball in pick and rolls. Also in altering shots. You may not get a block, but if you make someone (/motions having to twist sideways), that's only going to help). Mostly I'm just trying to control the paint.
CBSSports.com: What are your thoughts on the verticality rule?
DJ: Those are really tough. If you jump straight in the air, and I hit you in the stomach, you're going to go like this (/motions bending at the stomach, arms going forward). So when the guard comes in and I'm vertical and someone bumps into me and my arms go down, because that's just what's going to happen, that's just your reaction. And sometimes it's a foul and sometimes it's not. That's really tough.
So now you've got to think about actually putting your arms back behind you before you jump so that when you get hit, they don't go down. It's a tough rule, but I think Roy Hibbert does it the best.
CBSSports.com: What's been the key to the team's success with Chris (Paul) out (with a shoulder injury)?
DJ: Just everyone knowing they have to pick it up even more. Blake, myself, everyone. We're not going to be able to replace him. He's the general out there, he's the leader. He's one of the smallest guys but he's the biggest voice. Even when he's not playing he's still coaching. (Darren Collison's) done a great job.
CBSsports.com: OK, last question. Have you ever dunked on a guy so hard you actually felt bad for him?
DJ: (Immediately:) Yeah. (Pause.) Oh, yeah. (Laughs.)
CBS Sports HQ Daily Newsletter
Get the best highlights and stories - yeah, just the good stuff handpicked by our team to start your day.
Please check the opt-in box to acknowledge that you would like to subscribe.
Thanks for signing up!
Keep an eye on your inbox for the latest sports news.
Sorry!
There was an error processing your subscription.
SportsLine's Mike McClure, a DFS pro with more than $1M in winnings, gives optimal lineup...

Turner and the Pacers have until 6 p.m. on Monday evening to finalize the extension

Galin Dragiev has his finger on the pulse of the 76ers and Celtics
The Clippers will then subsequently waive Ajinca, along with Jawun Evans, to get down to 15...

It is reportedly a one-year, veteran's minimum deal for Crawford

Make sure you know when your favorite team is tipping off for the first time this season