EOB Q&A: Two years after heart surgery, Jeff Green reflects
Celtics forward reflects on life in the NBA after heart surgery, how he improved his three-pointer, ninjas, and Beyonce.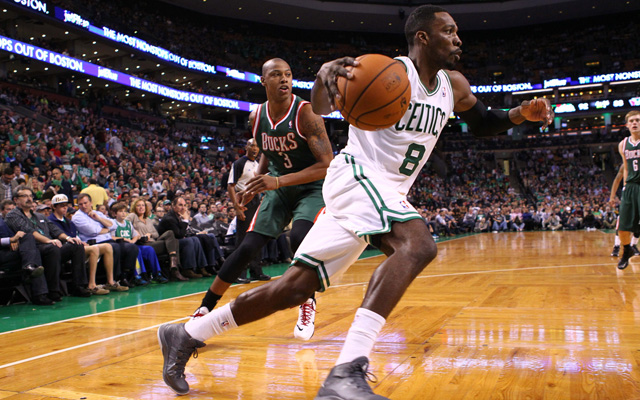 The Boston Celtics' Jeff Green shouldn't even be here, really.
Green remains one of the polarizing figures in NBA discussions, an intriguing but frustrating player at age 27. 6-9, 235 with great length and athleticism, able to slice through defenders for dunks and ably if not effectively defend the superior wing players in this league, Green has developed his outside shot (he's shot an average of 38 percent the past two seasons) and become a solid veteran role player. 
In Oklahoma City, he was part of a young core that at this point, featured four players franchises have built around to certain degrees: Kevin Durant, Russell Westbrook, Green, and James Harden. Green frustrated critics in Oklahoma City for being an undersized four who didn't shoot especially well and didn't rebound well enough for a power forward. Eventually, Green was traded for Kendrick Perkins in 2011. 
(Side note: One of the most fun thought exercises is to think about what would have have happened if the Thunder had had Green to throw at the Heat in the 2012 Finals on both ends of the floor instead of Kendrick Perkins. The Thunder made a move they remain steadfastly happy with because of Perk's attitude, but it was also a move predicated on a league structure that shifted dramatically when teams like Miami started going small. Green would have helped the Thunder in that series, of that there can be no doubt.)
In Boston, he's shown flashes, but never become "the guy." There are two things stunning about this. 1. The fact that Green can be moderately productive (15.9 points per game on 49.5 effective field goal percentage, 4.6 rebounds with a 14.0 PER) with almost no help talent-wise on the Celtics, in a role which it's clear he should not be in, and still draw such criticism. 
And 2. that Jeff Green is doing this, playing in the NBA at this level, two years removed from major heart surgery. After the 2011 lockout ended, during a routine physical, it was discovered that Green had developed an aortic aneurysm. He missed the entire 2011-2012 season. Yet here he is. 
In an interview with CBSSports.com this week, Green talked about what's plaguing the suddenly free-falling Celtics, how he improved his three-point shot, and what it's like living each day in the NBA after heart surgery. Plus ninjas and Beyonce. 
CBS: Your three-point percentage is up for the second year in a row since you came back. 
Jeff Green: Really? I hadn't even seen that. 
CBS: Yeah, I was wondering if you had rebuilt your shot at all, or if it was just repetition. 
Green: Just repetition. I didn't work on changing it at all. While I was away, I realized I needed to add that to my game, because defenders were just playing back off me. So now I'm getting to the point where I can hit those shots and it opens my whole game up. 
CBS: When you look at your team right now, what do you think is the difference between how you guys were playing earlier this season and now?
Green: Right now our defense is getting smoked. Even though we're tenth in the league in defense, I think our main focus hasn't always been defense. That's why we need to get stop and get out in transition. I think our defense is the key to everything we do.
CBS: Are the issues with consistency, quarter to quarter?
Green: We come out great. We come out with great halves. It's always third quarters, start of the third and start of the fourth that we lack focus. I don't know if it's halftime or what. But that's every team, though. You're always going to go through streaks where your focus isn't always on point. WIth our personnel, with the guys we have, our focus has to be on point all the time. We don't have the ability to go through lapses without focus and come out on top.
CBS: You mentioned after the loss to the Thunder that the team was "staying too attached to their man." What do you mean by that?
Green: Communication. When you're on defense, it's definitely communication. You gotta have the next man. There's only one ball. If the ball is oppposite of you, the object is to stop that ball. If I help, my teammates gotta help that the next teammate so that teammate can help me.
CBS: The anniversary of your surgery is coming up. Do you have anything planned? 
Green: I'll just reflect. It means a lot. To look back on that day January 9th and me being in a hospital bed and waking up from being put under for having heart surgery, its big to still be able to play this game that I love at this level. So I'll just try and enjoy it, because that day I could have lost my life.
CBS: Are the memories of that experience still with you, consistently? 
Green: Most definitely. It's with me every day. When I look in the mirror, when I take a shower, I see it. That's my memory of everything I've been through and everything I've gone through to get back.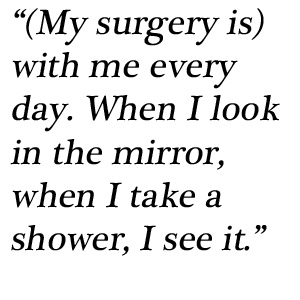 CBS: I read an interview when you first got back and you actually said that your first reaction was that you felt bad for not being able to be there for your teammates. I couldn't believe that. Here you are, you just found out you need heart surgery, and you feel guilty for not being able to play. 
Green: To me, this is a brotherhood. When you get to a team whether you're traded, drafted, or signed, you owe it to the organization and your teammates to give it your all. I was coming off the lockout, I'd worked really hard and just signed a one-year deal with the team. And I felt like I owed them a lot to be on the court and do what I can and try and help them win a championship. And me having surgery and being off the court, I wasn't able to help at all. I felt bad becasue they had a lot of injuries. They were a few minutes away from going to the Finals that year and I feel like I could have helped. I felt like I let them down. But health comes first, everybody's glad I'm healthy but I still wish I could have been out there.
CBS: I remember covering you in a preseason game years ago, back when you and James were still with the Thunder and I remember how young you guys were. James (Harden)'s beard wasn't even grown out. Do you ever look back on that time and where you are now?
Green: Everybody was fresh to the NBA. Everybody was fresh, so we didn't know what it took to win a championship. But we had great talent, which allowed us to be good. If we had the mindset we have now, with the same team, it'd be a no-brainer that we'd win a championship.
CBS: You and (Strength and Conditioning Coach) Bryan Doo have this pre-game ritual where you take this fighting stance. Where does that come from?
Green: He's the one I owe a lot to for getting my health back, my body back right. We have a little handshake we do. We're ninjas. We do a litle chestbump and ninja pulls. It's about being guys who work hard and are devoted to their craft. He's devoted to training, I'm devoted to basketball. So that's a ltitle something we have going on.
CBS: What's the most competitive you've ever been in a game? 
Green: My first year in Seattle, it was the last gmae of the year against Dallas, it was the last game in Seattle. As a team we wanted to win it for the city. We ended up winning ,which was good, but that was the first time we were all like "We gotta win this game, we have to do evertyhing we can to win this game. We have to win this.
CBS: Finally, what's the last great album you bought? 
Green: Beyonce. I love it. Big Beyonce fan.
CBS: You know, Jimmy Butler just had a video posted of him dancing and singing to Taylor Swift. You should try and top that with some Beyonce moves. 
Green: Nah, I'm not that competitive.
The Pacers traded the forward to OKC for two former lottery picks who have yet to reach their...

Gilbert said what was expected, but didn't necessarily sound all that confident

Altman addressed the media about Irving during his introductory news conference
Toronto's center has an uncertain future; can we still talk about this 25-year-old's poten...

Oakley was vague with his response on when he'd attend another Knicks home game

The NBA commissioner said expansion is 'inevitable,' but not a priority right now