Eric Gordon out 'indefinitely' with knee problems
The Hornets have listed Eric Gordon ''out indefinitely" with continuing soreness in his knee.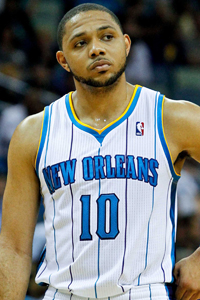 Gordon out indefinitely. (US Presswire)
The New Orleans Times-Picayune reported on Wednesday from Hornets practice that star shooting guard Eric Gordon, who finally practiced for the first time on Sunday, is now listed as "out indefinitely." 
Not good. From the Times-Picayune: 
New Orleans Hornets shooting guard Eric Gordon will be out indefinitely, Coach Monty Williams said Wednesday morning, though neither Williams nor Gordon could shed any light on the severity of the right knee problem that kept the team's max money player sidelined through the entirety of training camp.

New Orleans Hormets shooting guard, pictured earlier this preseason, will not play in the team's opener Wednesday night against the San Antonio Spurs.

Gordon was instructed by a member of the Hornets' media relations staff not to speak with reporters and was escorted to the locker room after shootaround by the team's security chief.

"He's going to be out," Williams said. "The way I understand it, he's going to be out indefinitely until we get some more clarity on what's going on so I don't have to answer these questions every day and give you guys the update. We'll just go from there."
via New Orleans Hornets guard Eric Gordon out indefinitely with recurring knee problems | NOLA.com.
So, that's pretty much awful. The Hornets keeping Gordon away from reporters is not a great sign, either, though not unexpected for a team that falls from the Spurs tree. 
The Hornets matched a four-year, $58 million offer from the Suns to keep Gordon this summer and are relying on him to anchor the offense. By anchor, I mean carry. And by carry, I mean "do all of it except throwing lobs to Anthony Davis." 
The Hornets' offense looked dreadful in preseason and, while defensively, Williams will have them ready each night and be able to compete with the athletes they have, there will be major problems offensively unless Austin Rivers shows something he has yet to in his career. 
Indefinitely could be a few days, a few weeks, a few months. But with Gordon having undergone so many problems over the past year, when the same injury essentially ruined his entire season in 2011-12, this is going to send a shiver down the spines of Hornets fans who are counting on Gordon to be the star they bargained for in the trade of Chris Paul. Gordon was held out of preseason for the same issue, only returning to practice Sunday.
We'll keep you updated on Gordon's status. 
Noel, now being represented by Rich Paul of Klutch Sports, reportedly feels he's worth a max...

Steve Kerr opens up about his back issues and more

OJ Mayo, banned from the NBA for positive drug test, is considering playing overseas
The King? 'LeBron, it turns out, is Aquaman,' or so the account via Dwyane Wade's wife goe...

From Penny to Thunder Dan to Pistol Pete to Agent Zero, guys who would be better in 2017

Griffin said recently he thinks it's more likely that LeBron James goes to New York than L...