Erik Spoelstra: 'Game will dictate' whether Greg Oden plays Game 3
Miami Heat coach Erik Spoelstra may give Greg Oden minutes in Game 3 against the Indiana Pacers if the game dictates he should.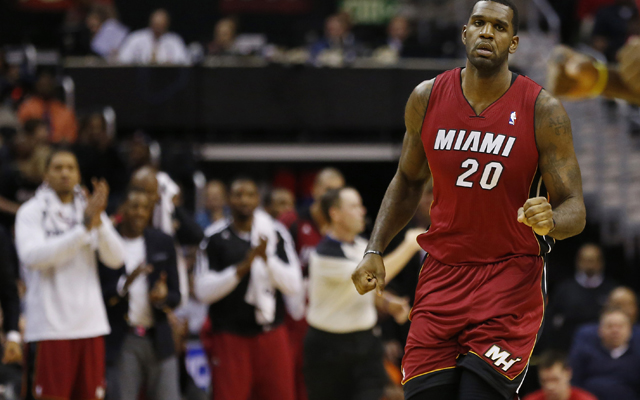 More postseason coverage: Playoff schedule, results | Latest news, notes
Miami Heat backup center Greg Oden has been working back toward being a contributor any NBA team, especially the Heat since he worked his way back onto a roster last year. When he signed with the Heat, it was expected he was going to be a method for slowing down the Indiana Pacers' frontcourt. He wasn't going to be the main center right away for the Heat, but if needed he'd be a big body to throw at Roy Hibbert and David West in the playoffs.
After not playing a single possession in the first 11 games of the latest playoff run for Miami, it's very possible he'll get some action on the court in Game 3. Erik Spoelstra told the media that the "game will dictate" whether or not Oden sees minutes against the Pacers Saturday night.
Spo says "the game will dictate" whether Oden plays tonight. He's not pre-determining.

— Tim Reynolds (@ByTimReynolds) May 24, 2014
Any time in this game or any game in the playoff run would be the first playoff minutes of Oden's career. During the 2013-14 season -- his first season since 2009-10 -- Oden played in 23 games and averaged 9.2 minutes, 2.9 points, and 2.3 rebounds. He even started six games during the season. Recently, Oden talked about how playing only a few minutes in garbage time here and there often wasn't worth it because of the preparation and recovery needed to get his body in proper health.
During the Eastern Conference finals, Hibbert averaged 22.1 points, 10.4 rebounds, and shot 55.7 percent from the field against the Heat's small frontcourt. He's averaging 15.5 points and 11.0 rebounds while making 45.7 percent of his shots in the first two games of this year's conference finals. 
Leonard's relationship with Spurs also reportedly strained because of how injury has been...

San Antonio hasn't missed the playoffs in 20 years, but the road is rocky this season

Last year's MVP finalist has missed all but nine games this season
The design for the patch is still being worked on

The explosive forward and upcoming free agent is having a career year

Cuban said on Dr. J's podcast that losing is Dallas' 'best option'