Erik Spoelstra says Heat went through 'madness' after James departure
Heat coach describes the chaos in the wake of LeBron James' decision to return to Cleveland.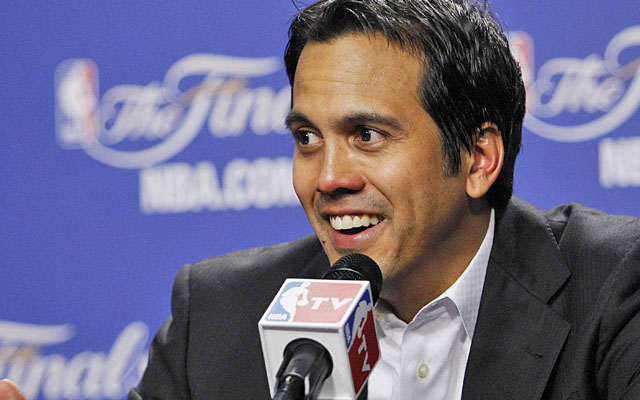 LeBron's return: James chooses Cleveland | Doyel: Welcome back to Ohio
Miami Heat coach Erik Spoelstra spoke to reporters Wednesday for the first time since LeBron James decided to join the Cavaliers and leave Miami. The young coach admitted that in the hours after James called the team to notify them he would not return, the team went into "panic mode" before they figured some things out. 
The Heat were in panic-mode for about "two or three" hours after the decision. Spoelstra met with team President Pat Riley and General Manager Andy Elisburg to discuss their options. He described it as a scene from the movie Jerry Maguire, with each making countless phone calls to agents and players on their cell phones.

"Probably, we were all in Pat's office about five minutes just to collect ourselves and then from there it was madness," Spoelstra said. "The board was right there. So we said we better get to work and we didn't leave until after 1 in the morning."

Initially, there was panic because they received no response on the phones. They could finally relax once Chris Bosh returned a call. It was then Spoelstra realized things would calm. Eventually, they were able to exhale.

"We were talking to agents, trying to talk our guys, texting our guys and no one was getting back to us," Spoelstra said. "There were two or three hours of a lot of uneasiness. We had no idea. From that point on, it just changed. It's still the Miami Heat, still a great, proven organization, great opportunities and we started to get some calls back and the first one was CB. That one was obviously very important."
via Miami Heat: Coach Erik Spoelstra says he has no regrets about LeBron James era. - Sun Sentinel.
The Heat wound up re-signing Bosh for a max contract, then brought back Dwyane Wade and managed to land Luol Deng. The team looks to have a decent team next season, but far from the championship contender they were with James. Still, with their first-round pick owed to Cleveland, there wasn't much incentive in tanking out, especially with Dwyane Wade having only a few years left. 
But it's interesting to hear the coach admit he team was panicking; it's a nice change of pace from the constant spin. On one level, Spoelstra's job becomes a lot easier. He loses LeBron James, but he also loses the expectations that come with that kind of team. If the Heat secure a top-four seed and make the second round, it's a good season. If they make the playoffs, it's "mission accomplished." He lost the best player on the planet. As long as they don't crash and burn, they have something to celebrate. 
DH12 is picked for free throws after a teammate gets ejected. He makes both, and lets Scott...

Bell was injured defending a Robin Lopez dunk and had to be taken off the floor in a wheel...

Trevor Ariza and Gerald Green are reportedly both suspended two games
We've got all the scores, highlights and news from the night's games

Jonah Keri talks with NFL and NBA broadcaster Ian Eagle

SportsLine simulated Wednesday's Nuggets-Clippers game 10,000 times