Even in 2016, Joe Johnson significantly improves the Miami Heat
How the signing of Joe Johnson could impact the Heat this season.
Joe Johnson on a prorated minimum contract for the final two months of the season is a very different player than Joe Johnson on a deal paying him $25 million. Fairly or unfairly, Johnson has been labeled as an underperformer over the last several seasons -- even in those in which he made the All-Star team in the East -- because his agent was really good at negotiating with the Atlanta Hawks back in 2010. Since then, he's been a productive player but he hasn't been a $25 million player.
That skews perception for what he's able to do, especially as he declines in his career while his salary ascends. But put him on the Miami Heat for the rest of the season after his buyout with the Brooklyn Nets, and things look a bit different with expectations and role. That's what Erik Spoelstra and Johnson are banking on for the rest of the season. The Heat have struggled at times to find wing players who can play an extended role. Dwyane Wade has thrived at times. Luol Deng has had a solid season. Justise Winslow has been a defensive wizard in his first year. And Gerald Green can occasionally get hot from deep.
However, Wade, Goran Dragic, and Chris Bosh need more consistency around them and that's what Johnson hopes to provide. He also wants a more prominent role than he was likely to receive if he went chasing a ring with the Cleveland Cavaliers, despite LeBron James wanting him to join up in their quest for a title. So what kind of impact can Johnson have with this Heat team and how much would he have improved the Cavs?
Running the numbers with SportsLine shows us a significant improvement with the Heat, based on the idea that Green would almost not be in the rotation at all and Johnson would eat up those available minutes on the wing. These numbers also include an estimation of Bosh returning for 15 of the remaining 25 games of the season.
Miami Heat with/without Joe Johnson
 
Season Forecast
Rest of Season
Team
Wins
Playoffs
Win Div.
Conf.
Wins
Losses
Win%
Baseline
44.1
88.4%
51.6%
6
12.1
12.9
48.4%
w/ Joe Johnson
44.8
90.5%
54.5%
5
12.8
12.2
51.2%
Impact
0.7
2.1%
2.9%
1
0.7
 
2.8%
This may not seem like a huge impact looking at the data at first glance, but over the course of a full 82-game season, the addition of Johnson increases Miami's win total by 2.3 wins. For a player regarded the way Johnson has been over the last few years, that's a pretty significant win increase. He's shooting the second worst (40.7 percent) field goal percentage of his career, but Johnson has still been a very good floor-spacer -- something the Heat desperately need.
Johnson's 3-point percentage of 37 percent is much better than what Green's 31.6 percent has done for the Heat. Green was brought in to be a threat from deep, but just hasn't found the rhythm on a team making the lowest percentage from downtown in the NBA. And you're not subbing out much of a usage change on offense by replacing Green with Johnson. Gerald's usage rate of 19.2 percent is even a little higher than what Joe was doing in Brooklyn this season (17.9 percent).
The loss of Chris Bosh even for 10 of these 25 games projects the Heat to fall a bit from their current playoff positioning of fourth. Miami in this projection also move from the 6-seed, where they'd likely face the Boston Celtics (as of right now), to the 5-seed where they could end up facing Indiana or Chicago. They'd be very capable of upsetting any of these three teams, which would find them in a second-round showdown with the Cavs.
It would be there that the Cavs could see what they're missing without Johnson. We also ran the numbers on what Johnson would mean for the Cavs. In these projections, it means less Richard Jefferson, and a little bit of a dip in minutes between Matthew Dellavedova and even J.R. Smith. We switched a little bit of the criteria though.
Instead of odds they make the playoffs (100 percent across the board) and conference seeding (first across the board), we tried to forecast their odds to win the East and win the championship. We also took a look at their improvement in our Power Ratings, which measure out how teams project on a neutral site.
Cleveland Cavaliers with/without Joe Johnson
 
Season Forecast
Rest of Season
Team
Wins
Champs
East
Power
Wins
Losses
Win%
Baseline
59.8
16.0%
47.6%
68.7%
18.8
7.2
72.3%
w/ Joe Johnson
60.4
19.2%
52.5%
70.1%
19.4
6.6
74.6%
Impact
0.6
3.2%
4.9%
1.4%
0.6
 
2.3%
You see an uptick in wins, comparable to what the Heat were seeing. Over an 82-game season, the Cavs would see 1.9 more victories with Johnson. But the championship odds increase by 3.2 percent, which also feels very significant considering Johnson's reputation among pundits and fans this year. This is why LeBron was hoping to land him in Cleveland. He can spread the floor, he can hit big shots, and he's big enough to be a nice fourth or fifth defender on the floor.
But you can't guarantee him minutes and a consistent role by joining the Cavs this late in the season, so he goes to Miami where he can possibly make a bigger impact. The tricky thing though is not knowing the status of Bosh moving forward. Just in case he's not able to come back from this latest blood clot scare, the Heat still see an improvement, but the stakes become much lower.
Miami Heat with/without Joe Johnson and no Chris Bosh
 
Season Forecast
Rest of Season
Team
Wins
Playoffs
Win Div.
Conf.
Wins
Losses
Win%
Baseline (No Bosh)
43.5
80.9%
39.1%
7
11.5
13.5
46.0%
w/ Joe Johnson (No Bosh)
43.9
82.8%
41.7%
7
11.9
13.1
47.6%
Impact
0.4
1.9%
2.6%
 
0.4
 
1.6%
The Heat project to the No. 7 seed no matter what, which would set them up for a likely first-round exit against Bosh's former team, the Toronto Raptors.
Overall though, Johnson is expected to help the Heat manage the minutes of Wade and take less pressure off him mentally and physically the rest of the season. It also gives a great running mate next to Wade when Dragic is out of the game without a big drop-off. The Heat could play around with smaller lineups alongside Bosh or Hassan Whiteside, and just increase their overall talent.
Again, Johnson wasn't worth that $25 million to us, but think of him in a reduced role for a tiny fraction of his previous salary with the Hawks and Nets. That's still an impact player and should change our perception of the player he is.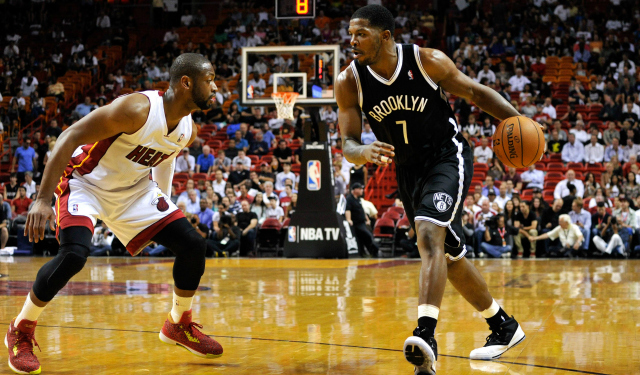 There was some explosive guard play this week in the NBA's rookie class

With half of the season in the books, there were some clear favorites for our Midseason Aw...

Zack Cimini is 12-3 on picks for or against the Pistons ATS and locked in a play for Frida...
Both Washington and Detroit will try to snap losing streaks Friday night

The Hornets are reportedly looking to move their franchise point guard

We've got all the scores, highlights and news for Thursday night