Even when the Knicks win, they play to lose
After blowing a 23-point lead to the depleted Bulls and surviving on Wednesday night, the Knicks are as big a mess as ever -- with few realistic options if they decide to make an in-season coaching change.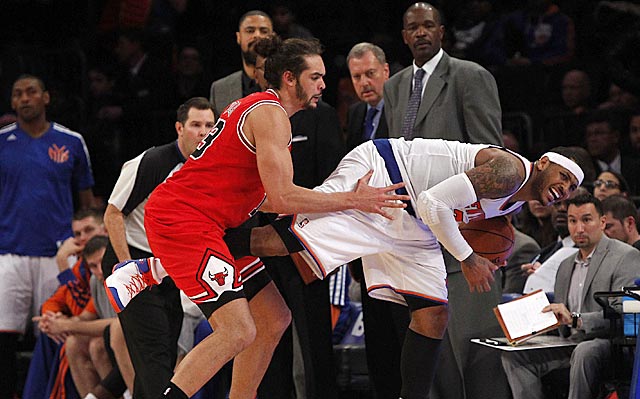 Even when the Knicks win, they lose. Even when they avoid disaster, it still feels hopeless.
The Knicks are the gift that keeps on giving, if you like acid reflux as a gift.
After blowing a 23-point third-quarter lead and a 16-point fourth-quarter lead, the Knicks survived for an 83-78 victory against the Bulls on Wednesday night and lived to fight another day under Mike Woodson.
But for what?
Without Tyson Chandler, without the mental toughness to close out a Bulls team that was missing Derrick Rose and Luol Deng, and with J.R. Smith perpetrating basketball crimes at an alarming rate even for him, what's the upside here?
As good as the Knicks were for the first 30 minutes against the Bulls, they were equally hideous over the final 18. They got another solid outing from Amar'e Stoudemire (14 points and nine rebounds in 29 minutes), including the tiebreaking basket with 2:34 left -- the Knicks' only field goal over the final 5:58. 
But coming off consecutive blowout losses and having lost 11 of 13 since mid-November, there's no other team in the league that feels like it loses even when it wins.
The most damning sequence came as the Bulls capped an 18-2 run with a tip-in by Joakim Noah with 3:37 left to tie it at 74-74. This came after a wild scramble that started with a Knicks turnover and unfolded in a surreal scramble that saw Chicago get four cracks at the rim before Noah finally finished off the possession. Moments earlier, Smith had inexplicably tossed Kirk Hinrich to the floor right in front of the official when the Knicks needed a critical defensive stop -- not a hotheaded meltdown.
So whether the Knicks are able to go to Boston on Friday and avenge Sunday's 41-point home loss to the Celtics, let's review their short-term options if they decide to make an in-season coaching change.
Slim and none, and word is slim got stuck in the notoriously slow Garden elevator.
The interim coach thing -- presumably Herb Williams or Darrell Walker -- might give them a spark for a while, but it isn't a long-term solution. Assistant GM Allan Houston coming down from the MSG suites to coach this mess? I wouldn't wish that on a mortal enemy with no coaching experience -- especially the way things are going for a certain rookie head coach in Brooklyn.
There's no shortage of capable coaches waiting for the phone to ring -- Lionel Hollins, George Karl, Phil Jackson, pick a Van Gundy -- but there is a shortage of such luminaries who would see taking over a 6-15 team that plays to lose even when it wins as a good career move.
Karl, in fact, confirmed as much in a Denver radio interview last week.
"There are days I wish it would ring, and there are days I don't want it to ring," Karl said. "I mean, I watch the Knicks play, and I wouldn't want to be in that hell for a million dollars."
Others have walked through these fires for a lot more and lived to regret it.
McCollum hurled a clever insult at the French forward

Hosts Bill Reiter and Reid Forgrave are joined by Blazers guard CJ McCollum

Check back throughout the night for the latest updates from Monday's NBA games
Garnett has worked with Maker and says he is reminded of himself

It might be a good time to place a bet on the Boston Celtics

SportsLine's Mike McClure, a DFS pro with more than $1M in winnings, gives optimal lineup...