Ex-Bucks assistant: Larry Sanders 'didn't come to play every night'
A former Bucks assistant criticizes Larry Sanders for not giving maximum effort game-to-game the last few seasons.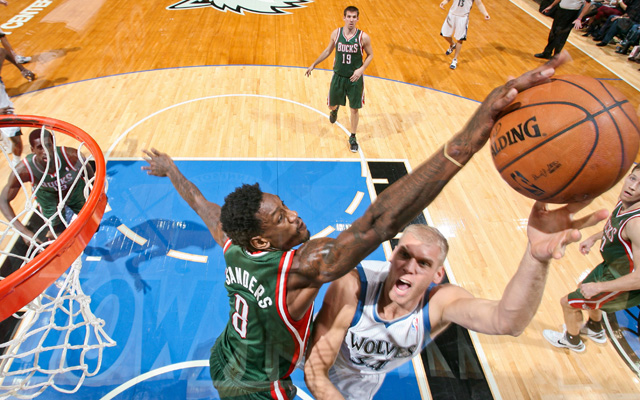 A former assistant coach for the Milwaukee Bucks told TalkinHoopz.com that Larry Sanders' effort was far from consistent last season and in years before it. Anthony Goldwire, an assistant under Scott Skiles, said in what is apparently an interview that Sanders' criticism of Monta Ellis and other players in the postseason was poorly received due to his lack of experience and his penchant for taking games off.
Last year, and the year before that, Larry didn't come to play every night, some nights he took off. Some guys felt like he didn't have the right to speak. Now, once you get in the playoffs, now you feel like you want to talk.
via Former Bucks assistant coach: Larry Sanders "didn't come to play every night" - Brew Hoop.
On May 9, Ken Berger of CBSSports.com reported: 
Monta Ellis and Larry Sanders nearly came to blows in the locker room after Game 3 of Milwaukee's first-round sweep at the hands of defending champion Miami, four people with knowledge of the confrontation told CBSSports.com.

Though the players had to be separated, the dust-up didn't get serious enough to trigger disciplinary action for either player. One source described the confrontation as "just words between teammates in the locker room." But the incident offered a glimpse into some troubling team dynamics as the Bucks navigate a critical offseason for the franchise.

After the Bucks lost 104-91 to the Heat in Milwaukee on April 25, Sanders vented in the locker room and said in a fiery speech, "We need to start playing together as a team and stop worrying about next year," according to one of the people briefed on the confrontation. "We need to stop being selfish and start worrying about right now."

Ellis "took umbrage," according to another person with knowledge of the situation. Correctly assuming that Sanders' comments were directed primarily at him and backcourt mate Brandon Jennings, who both are prospective free agents, Ellis approached Sanders and squared off with him, sources said. A teammate got between the two players and separated them before the conflict became physical.
via Ken Berger -- CBSSports.com Sources: Bucks' Ellis, Sanders almost came to blows after loss to Heat.
Sanders had a breakout season last year, landing him on lists for Most Improved and Defensive Player of the Year. He became an overnight sensation as one of the league leaders in blocks and rebounds, and changed the Bucks' defense fundamentally with his ability to challenge at the rim. 
But there were questions about his discipline and control, especially after he was ejected in a spurt of games in the middle of the season. 
The question is going to be whether this kind of thing is the sign of a young player who struggled under an organization without discipline or purpose or an inherent character trait. A lot of undisciplined players have been wildly successful in this league, just as many disciplined players never keep their spot. It's talent, behavior, ability, health, everything. But Sanders has so much promise, you hope he's able to learn a little bit about what it takes to be great, and how that relates to pacing yourself in-season without outright coasting.
It's kind of similar to the frustration of new college graduates in the job market. You can't get a job without experience but you can't get experience without a job. Similarly, you're supposed to only be able to coast (as the Celtics have obviously done over the past three years) when you've accomplished something, but you can only accomplish something if you've had the energy to do something in the postseason. 
Let us know in the comments if you think it's OK for players to take a few games off in the middle of an 82-game season. 
Cuban weighed in on the ongoing feud between the basketball dad and the POTUS

Embiid has taken his trash-talk game to the next level this season, but he's not scared

Last year Durant said returning to his old home was 'never going to be a regular game'
The All-Star forward injured his wrist during Sunday's loss to the Lakers

Steven Adams believes he's the problem with the Thunder struggles in the clutch

LaVar claims that Luke Walton has been 'soft' on Lonzo so far