Examining the Heat's matchups vs. Spurs and Thunder
The Heat will face either the Spurs or Thunder in the NBA Finals. Which team presents the tougher matchup and why?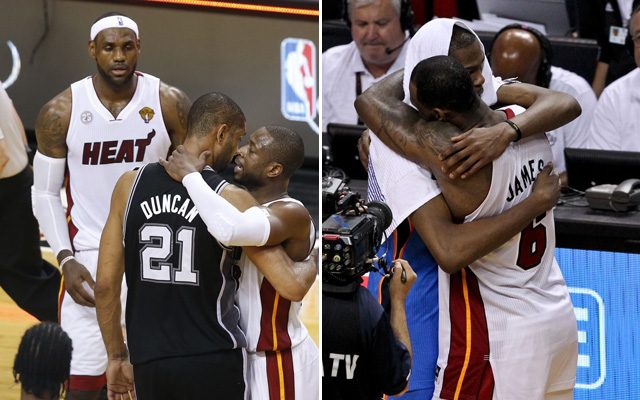 More postseason coverage: Playoff schedule, results | Latest news, notes
The Miami Heat advanced to the NBA Finals for the fourth straight time Friday with their 117-92 win over Indiana. They return to the Finals seeking to be the first team to three-peat since the Shaq-Kobe Lakers in the early 2000's. There they'll face one of the two teams they've faced in the past two Finals, with each series ending in a Heat victory. 
But who would the Heat prefer meet them when the Finals begin next Thursday? Let's take a look at the pros and cons. 
Miami advantages: Well, they smoked them in 2012. The Thunder, then with James Harden and a healthy Kevin Durant, were overwhelmed by Miami's experience and physicality. The adjustment to a tough, defensive series caught the Thunder off guard and LeBron James' work in the post punctured huge gaps in OKC's defensive schemes. 
And this Thunder team isn't that Thunder team. OKC has no one to match up with Dwyane Wade with Harden gone, and Ibaka's improvement still doesn't push him to Chris Bosh's level. Worse, the Thunder have increasingly relied on older players who now lack athleticism. Do you know what happens when players who struggle with athleticism face the Heat? 
The boom. That's what happens. The boom happens. 
Oklahoma City has struggled with small ball lineups. Kevin Durant still isn't comfortable at the four, and any attempts to counter small ball by going big has only lead to offensive limitation. 
Oh, and their deep bench is entirely made up of young players who have never played in the Finals. 
But the biggest advantage for Miami boils down to this: They do what Oklahoma City does, using top-heavy athletic star power to create full-court havoc, only they do it much better. 
Oklahoma City advantages: The Thunder are better in some ways than they were then. They're smarter. Their defense is considerably better, and they may be the only team with more defensive athleticism than Miami. Kevin Durant is a better, smarter player than he was then, and LeBron Jams hasn't been the defensive player consistently that he was in 2012. 
OKC can find open looks out of the pick and roll and can use the Heat's more experienced players against them with their younger role players. Reggie Jackson matches up favorably with anyone Miami would throw at him and Shane Battier as power forward is almost entirely useless against the Thunder's preferred lineups. 
If there's one reason why the Heat would prefer San Antonio, it's as simple as this: The Thunder are the more talented team. They may not be better, but they're more talented. And when talented gets better, that's when it wins titles. Miami knows that better than anyone. 
Miami advantages: Well, they beat them last year. Technically. Miami knows how to beat the Spurs. In reality, everyone knows how to beat the Spurs. That's the nasty secret of the Spurs' brilliance. It's not about any trickery or complexity that the Spurs employ. It's about actually doing it. And Miami can. 
Miami's athleticism, paired with their precision, means much of the same problem for San Antonio that Oklahoma City experiences. OKC wants to overwhelm opponents with speed, length, and power. The Spurs want to dissect their foes with precision and skill. Miami is a skilled version of Oklahoma City, and an athletic version of San Antonio. They're not as precise as San Antonio, nor as athletic as OKC. But their combination of both is what makes them so difficult for either team to overcome. 
Dwyane Wade's renewed health really comes into play in this series. San Antonio had success last year with Danny Green on Wade, but when Wade got going, that's when the series turned in Miami's favor. Wade can hit from mid-range and is deadly on cuts off-ball, but the Spurs can't dedicate ay of their top defenders on him. Manu Ginobili has been huge for San Antonio, but Wade's a nightmare for him to try and battle. 
Shockingly, depth may be pretty even, which is a turn from last year's Finals. Gary Neal was huge for the Spurs last season, and Marco Belinelli has been a disaster. Patty Mills has largely taken Neal's role, but he's smaller and Norris Cole's speed could give him issues. 
Finally, the elephant in the room. San Antonio is impervious to being shaken mentally. Their identity is being emotionally dead inside, lifeless, soulless executioners of the program. There's no one they don't believe they can beat. That they would make it back to the Finals after last year would be proof of their resilience. 
And yet...
Game 6. 
Those words will be bombarded upon them should the return to the Finals. They will see The Shot in every restaurant they go to, every hotel bar, every time they flip on the television. And it will be on their minds. The torture of not just losing but having come that close, and having lost. That kind of stress wears on men, and despite their legend, the Spurs are just men. 
San Antonio can overcome it, but it's also an advantage for Miami. In the back of the Heat's mind, they'll know no matter what, they're not out of it until they've lost four games. 
San Antonio advantages: They're really, really good. No team counters Miami's ability to attack the trap with reverse-side ball movement and shooting like San Antonio. No team has the ability to make Miami pay for its ball pressure. 
And San Antonio found tactical adjustments last year as well. Boris Diaw provided them with a defender strong enough to handle James in the post and they used the hybrid zone concepts that Rick Carlisle used in the 2011 Finals to make James overthink his decision making. 
The Spurs have more consistent three-point shooters. San Antonio relies on Manu Ginobili, Danny Green, Kawhi Leonard, and Patty Mills from the perimeter. Miami relies on Chris Bosh, Shane Battier, and now, apparently, Rashard Lewis. 
But if San Antonio will win, it won't be on any tactical advantage or matchup that they exploit. It will be because they are better. That's the only way San Antonio can win. Other teams can and have won titles by using matchups and specific elements to their advantage over superior teams. That's not were the Spurs are at. They have to be better. That's what it will take, if they get this far, to face the one team that's beaten them in the NBA Finals. 
Trevor Ariza and Gerald Green are reportedly both suspended two games

We've got all the scores, highlights and news from the night's games

Jonah Keri talks with NFL and NBA broadcaster Ian Eagle
SportsLine simulated Wednesday's Nuggets-Clippers game 10,000 times

Galin Dragiev has his finger on the pulse of the Lakers and just locked in a play for Wedn...

No more McNuggets allowed in the Barnes household