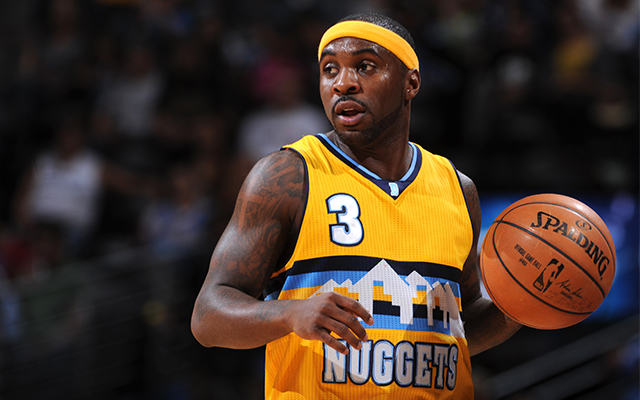 1. Russell Westbrook: The Human 3D Monster movie, master of triple doubles, the inhuman basketball terror. 
2. James Harden: MVP runner-up, a devastating individual scorer who changes the way a defense guards the opponent, best player on the 2-seed in the brutal Western Conference. 
3. LeBron James: Is LeBron James. 
4. Chris Paul: The Point God, the best pure point guard on Earth, an unbelievable competitor who just lead his team to a victory over the defending champions in one of the best seven-game series ever by hitting the clutch-est of clutch shots on a bad hamstring in Game 7 with one second left. 
5. Steph Curry: The MVP, a player who shapes the defense the way no other player, including LeBron does, the best player on the 67-win Golden State Warriors who look unstoppable and have a historic point differential. Rarely played fourth quarters this year due to number of blowouts.
6. John Wall: The best point guard in the Eastern Conference, factoring passing, scoring, defense, skillset, and athleticism -- or at least tied with Kyrie Irving. The best player on the team that has won five straight in the playoffs, All-Star starter, transcendent talent. 
The list above is a pretty great set of offensive players, right? That seems like a good subset of guys? Well, if you're wondering where I got that list from, it's a ranking 1-6 of the top players in a stat I call "Points produced." It's not fancy, it doesn't come from some complex formula (though most of the ones that do are far more nuanced and more reliable) and it's brutally simple. It's just "points per game plus points produced by assists per game via the NBA's SportVU data." (I'd rather use per possession, but this is easier.)
In short, the points produced by a player's shooting or passing, combined. It doesn't factor pace, turnovers, field goal attempts, or anything else, it's a pure production stat. But that list is a pretty good top six for the best offensive players in the league. 
No. 8 is Damian Lillard. No. 9 is Blake Griffin. No.10 is Kyrie Irving. Great, great, great. 
Here's what's interesting. 
No. 7? No. 7 on that list of producing the most points per game through scoring and assists is Denver Nuggets point guard Ty Lawson. 
---
Lawson was actually drafted by the Minnesota Timberwolves back in 2009. That's right. The Timberwolves took three point guards in the top 20, and not one of them was Steph Curry. It happens. He showed signs, and then really came into his own in 2010-2011, just as Carmelo Anthony was forcing his way out of New York. A surprisingly plucky 2011 playoffs first-round run vs. the Lakers brought the idea that he was part of the core. 
Lawson thrived under George Karl. The two were both products of North Carolina University, and while Karl was constantly searching for the aggressive alpha dog that he had to believe was hidden somewhere beneath Lawson's cool exterior, the two won a metric ton of games together, including 57 in 2013. Then came Steph Curry's rise to Human Torch status, the Nuggets' disastrous first-round exit thanks to the Warriors' impossible shooting, the departure of Masai Ujiri and the firing of George Karl. 
Under Brian Shaw, there were the same problems there have always been with Lawson. He's not a leader. He's not a "this is a two-point game with two to go, I am bringing this game home" guy. He's a "I will do what is asked of me and try to play my best, make my money, and go home." He's laid back, passive, easy going, and a phenomenal basketball player... when engaged. 
He has not been engaged since December with the Denver Nuggets. 
There are a million things you can look at as far as the slow disintegration of Lawson's relationship with the Nuggets, but you can probably start with the night that the same week the team launched a promotional campaign to get him to the All-Star Game with "I (heart) TY)" -- like "I <3 NY," get it? -- Lawson was picked up for suspicion of DUI (the case is pending) after a team charity event. He missed the next day's shootaround and game before re-joning his team. 
Then coming back from the All-Star Break, Lawson just... didn't show up. He has claimed he had a logistics issue and couldn't get a flight back in time for practice the next morning. 
The Nuggets slumped to end the year, finally mercifully firing Brian Shaw, and while the team's play picked up under interim coach Melvin Hunt, Lawson's didn't, prompting more questions about where exactly Lawson stands with the organization. Then there was last week's SNAFU, when a screenshot of a deleted Instagram comment made the rounds on the internet. The Denver Post has more on the ramifications of two little words: 
Last week on Instagram he was asked by a Dallas Mavericks fan to come play for Dallas. His reply: "I wish."

Lawson soon after deleted the post, but the damage was done, the contents already burned into the heads of Nuggets fans.

And, most important — or unfortunate, depending on your point of view in this one — it was burned into the organization's head.

Once considered an untouchable on the Nuggets' roster, the point guard's actions over the past two years have done everything to remove himself from that space. His new reality? He's as susceptible to the next good trade offer as any other tradeable player in the NBA.

If Lawson wants to remain with the Nuggets, he has an uphill battle to convince the organization there are enough good reasons to put him back on the untouchable list. And there isn't enough time to completely turn the tide by one of the biggest wheeling-and-dealing times of the year, the June draft.

So, he will have to sweat that out.
The Nuggets are a baffling organization at times from an outside perspective, they have been since Ujiri's departure. If the team believed that fast-paced basketball can't win, why did it hire a slow-it-down coach and give him the same roster that ran and gunned under George Karl without any major changes? If after it became apparent this roster couldn't play that style, why did the team keep the roster, and say it was going to go back to running in the altitude that made them such a ferocious home team, only to keep the coach who never believed in it? After the start to the 2014-2015 season made it apparent that Shaw had lost the team and wasn't the guy for the organization, why did the team hold onto him until February? 
If the team knew that this roster was full of malcontents who had contributed to the team's pitiful performance for months, and that they were going to have to commit to a rebuild, why were only Arron Afflalo and Timofey Mozgov moved before the trade deadline, both for future, conditional picks? Is the team moving towards a rebuild under young players Jusef Nurkic, Nikola Jokic, and Gary Harris? Or is it still trying to win games now? Is it some hybrid? What's the plan? 
Most of this can be chalked up to either patience, loyalty, or the simple matter of not wanting to sell on various assets low. There's no reason to believe they've bailed on Lawson completely, but there is strong reason to believe that they're very open to the idea of moving on from him as starting point guard, as reports indicate.
The Lawson Conundrum presents a very specific trap for the team. No player outside of Danilo Gallinari has more value on the open trade market. Look at those six guys above Lawson again. That's the company he keeps offensively. Defensively? Sure, he's small and limited, but he's also a willing defender when engaged. But no player has as many off-court problems on the Denver roster, which is shocking for a guy who's not exactly all fire and brimstone in the competitive department. 
Much of this would be resolved with some clarity on where Denver's going. If they want to win now, keeping Ty Lawson while adding a true superstar is the play. The question is whether the drag of Lawson's continued off-court issues, or of an incompatability with whoever the Nuggets hire as their next coach, offsets that contribution to winning. If the team's going to rebuild, then trading Lawson makes a lot of sense... but even then they might be better served waiting until his trade value has improved. So what does the trade market look like?
If you're a team needing a point guard, and there aren't many at this point with the overflow of great ones in this league, Lawson's a phenomenal asset that can be had for the right price. Finding the fit is the problem. The Post believes that the team will look to add a second pick, or possibly move up from their current seventh spot, pending the results of the lottery.
The most obvious destination for a trade is Sacramento. George Karl is thought to have wide-reaching authority on how to run the team since being hired at the All-Star Break, owner Vivek Ranadive loves making splashes, and the Kings have the pick right above Denver. Darren Collison had a good season for Sacramento before the wheels fell off and he suffered a season-ending injury, but isn't a perfect fit under Karl.  Is management willing to part with a top-six pick for Lawson? Does that change if someone jumps them and they slide back even further? 
In a vacuum, you'd say no. But the odds of that pick being better than Lawson, an average, satisfied even if not fully-actualized Lawson, are not great. 
The other teams above them present a challenge. New York is a great fit for Lawson, who would likely do well under Fisher even if it meant the ball leaving his hands for long stretches, and Lawson is comfortable playing next to Carmelo Anthony, who he played with his first two seasons in the league. But the Knicks' pick is honestly to valuable to trade for Lawson. Even if three teams jumped the Knicks, it would have to be more than just Lawson for that pick. That's when the question of whether the Nuggets would be willing to give up Kenneth Faried, Danilo Gallinari, or Wilson Chandler for the pick along with taking some salary comes into play. 
The Wolves don't need Lawson, they have Ricky Rubio, who is as good or at least less of a problem. 
The Sixers don't appear to be looking to add a veteran, and it would be shocking to see them make that kind of move. The tanked too hard to trade their pick for Lawson. 
The Lakers know they need a star. They're definitely a potential trade destination for Lawson, but that would basically mean that Lawson's value has hit rock bottom, and the Nuggets would be sending Lawson out just to get rid of him, and taking whatever dreck the Lakers are willing to send back. There is, however, the idea of a deal involving Jordan Clarkson, giving the Nuggets a talented young point guard and the Lakers an immediate upgrade who doesn't have to be an alpha dog with Kobe Bryant around. 
Orlando has Elfrid Payton, they're out. 
Behind Denver, it's more teams with established point guard situations. Detroit traded too much for Reggie Jackson to let him walk. Charlotte just gave Kemba Walker a huge extension. Miami is ever-confident in retaining Goran Dragic. Indiana's interesting, but Lawson's not a great fit with the kind of guards that do well there: long, athletic, with muscle. He'd help with their shooting, but probably not for the pick. 
Utah's settled on Dante Exum's long-term future at least for a while, and it would be surprising if Phoenix gave up on Brandon Knight, who they traded the Lakers' protected pick for, in order to make another move for Lawson, who's ball-dominant like Eric Bledsoe, and undersized. 
OKC seems pretty OK in the point guard department. 
Two other names that have popped up on potential destinations for Lawson are Boston, Houston, and Dallas. 
Boston has Marcus Smart who seems capable of eventually running point with his shooting and playmaking abilities already impressive, and has Isaiah Thomas, who the team seems invested in, even if they kept starting Evan Turner at point for some reason. Dallas has an obvious fit after the Rajon Rondo deal went off in their hands, but don't have the resources to acquire Lawson... primarily because of the Rondo trade. They can't deal this year's pick until after they make the selection due to the Stepien Rule, since they moved their top-seven protected 2016 pick to Boston. There's very little else on the roster, and certainly nothing a developing team like Denver would want to take back, unless the Mavericks are interested in doing something really crazy with their core, and even then Denver might not want to be involved. 
Houston, though... Houston's interesting. Point guard is an issue and has been for the team. Patrick Beverley is a defensive bulldog but inconsistent offensively and can't create points for himself. The Rockets' defense has exploded in the postseason, but their best days came with a great defensive effort from their wings. They struggled to score in the regular season. An up-and-down team with Lawson next to Harden, with Lawson able to take a backseat to the star power of Howard and Harden is a natural fit. And the Rockets own the Pelicans' No. 18 pick. Houston doesn't need any more rookies, they're stacked with young players as is. 
The Lakers own Houston's No. 27 pick. You'd expect that Lawson would fetch more on the market, but then, I've said that about a lot of veterans over the past 18 months (Thad Young, Brandon Knight, and Goran Dragic among them). A lot of it is dictated by situation. 
And there's always the hope that Lawson can turn it around and reach his potential again under a new coach. Alvin Gentry, Mike D'Antoni, Melvin Hunt, all would have a good shot at unlocking his basketball potential. But the problems with Lawson seem to go beyond the court, into character and leadership issues. Those things often require a change of scenery, a new environment, a fresh start. 
Lawson's criminally underrated as a point guard in this league, in large part due to his own missteps. But what's funny is that for as many problems as Lawson has with decision making, on the court, he's an exceptionally smart player. 
He's also, you know, fast.
There's a lot of question marks with Lawson. His aggressiveness, his size, his off-court issues. But look at those numbers at the top again. He's in elite offensive company as a scorer and distributor. It would make sense for the Nuggets to explore moving him, and for teams to see if in a different environment, with a different status hierarchy, if Lawson could be the difference maker a team needs.