Eye On Basketball's Elite 100: No. 10 through No. 6
Eye On Basketball's Elite 100 enters the top 10. Enter Kevin Love. Who else is among the 10 best players in the NBA?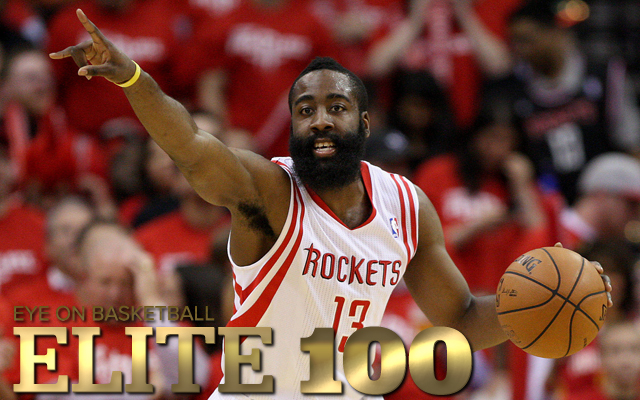 No longer a role player, an unleashed James Harden is a top 10 player in the NBA.
(USATSI)
EYE ON BASKETBALL ELITE 100: 100-51 | 50-26 | 25-11 | 10-6 | 5-1

Rankings (no particular order): 6th, 13th, 10th

Kevin Love is that band or hip hop artist that had an indie release with an exceptional amount of buzz (the 2011 season), then feuded with managemement and put out an album that was artistically brilliant but not the mainstream breakthrough it was expected to be (the 2012 season and his problems with David Kahn), then suffered through an ill-fated tour as the label situation finally got resolved (the 2012 season where he broke his hand, twice, and David Kahn was replaced with Flip Saunders).

We're all waiting for that big album, the one that's going to make your parents ask you who this person they keep hearing is, the one with the song that winds up playing on 50 movie trailers in a year, the one that makes his artistic statement. It was supposed to be last year, but the White Stripes' final year together had better luck than Love and the Wolves did last season.

So why is he 10th?

Because most scorers can't rebound and most rebounders can't score, and Love does both at an elite level. Use any dynamic analytic you want, rebounds and points are going to make a huge impact. Love's defense isn't great, at times it's downright bad, and still, he's worthy of this spot over some of the great names beneath him because his injuries were certifiably more flukish than others. (Breaking his hand doing knuckle push-ups? Who does that?) And because he's an absolute monster, wrapped in a superstar mindset, with the efficiency to boot. Love's a killer, he just needs the opportunity to get in on the hunt.

This is the year for Love. The team is healthy, Kahn's gone, he's got the reins. No more half-concept-albums or experimental forays into other genres. It's time for Kevin Love to make us sing.

Rankings (no particular order): 7th, 9th, 13th

Trying to figure out where to put Kobe Bryant was hard enough before he suffered one of the most severe injuries in basketball. Do you punish him for his atrocious effort and impact on defense last year? Do you hold him back because at some point, everyone gets old? Do you look at his usage and ask why he's not adapting?

Here's where I come down on him, and Bryant's been a divisive figure for a decade, so that's really all I can provide. Bryant last year stunned me with the fact that in a horrible, no-good, awful year in which there were a lot of egos all rumbling at the same time, he actually worked in the flow of the offense. Yes, his usage was terrifyingly high. But that's because he was their best offensive weapon throughout the year, and even then, taking a huge number of possessions is fine if you're creating them as a result of ball movement and flow.

Bryant's decision making was on point last year, even if his treatment of Dwight Howard may have cost the Lakers their franchise center.

I would have put him higher were it not for the Achilles tendon tear that he's still recovering from. Consistently I've maintained he'll be back on opening night (something I'm wavering on given team comments over the past few weeks), that he'll be the same Kobe, because in short, he's always been willing to do things no one else is willing to do. But at the same time you have to be rational. It's a 35-year-old shooting guard who needs his lift with a lot of miles on him coming back from an Achilles tear which happened six months ago.

I don't doubt him, but I can't in good conscience put him top five or seven, which is where he would have been without the injury. He needs to focus in on the defensive side once he gets his body right, he needs to continue to maintain efficiency, and he needs to accept where his body is going. But past all of it, when he drives hard right to the baseline, pulls up, bends sideways and puts up the jumper, we're all still going to believe it's going in. Sometimes the myth is powerful enough to impact reality.



Rankings (no particular order): 11th, 9th, 6th

Could James Harden really be the man? Was he actually that good or did he just benefit from playing next to Kevin Durant and Russell Westbrook? Is James Harden, really, James Harden, a star?

Yes. Hell yes. A million times yes.

The Rockets' first big-ticket acquisition backed up any contract demands he may have had that took him away from the comfortable next of the Sooner State and south to NASA town. Harden was positively electric last season and for a short time, a legitimate MVP candidate.

You want to make the argument for why Harden's the best shooting guard in the game? It's simple. He's the modern evolution of the position, able to distribute the ball, hit the pull-up three, and is efficient in every phase of the game offensively. Harden shot 44-37-85 last season, but also averaged three made threes per game and eight made free throws per game. In a league that has embraced the idea that you want shots at the rim, from the line, and beyond the arc, Harden is your Captain America.

He was a tremendous leader for the team as well. A great example, late in the fourth quarter of a tight game against Milwaukee (that they lost on a miracle Monta Ellis shot at the buzzer), Harden was laboring. He was dealing with a leg injury, and he didn't look right at all. The announcers speculated that he may have to come out. Instead Harden, who had looked terrible for much of the half, came out, busted past his man, and made an impossible shot. It was gusty, it was big time, it was what you need from your go-to guy.

Harden still has a way to go with his defense, but there's every reason to believe that next to Dwight Howard, he'll be the highest shooting guard on our list... next year.





Rankings (no particular order):8th, 6th, 11th

So this one's probably going to ruffle some feathers. The man who calls himself Three (and he should really stop that) finished exactly one ranking point above Harden. That's it. It came down to one point. Here's what that point probably says.

Yes, Wade looked like a shell of himself for long stretches of the playoffs. Yes, he constantly moans about calls while the opponent is pushing the ball in the other direction. No, he's never added a three-point shot, and no, he's no longer the lethal finisher he once was.

Here's what he is.

20-5-5 on 52 percent shooting (as a guard!) on the best team in the league.

One of the only superstar wings who could really make the adjustment from being as ball-dominant as he has been in his career to second-fiddle to LeBron James.

Still a capable defender despite age, injuries, and his penchant for whining. When he locks in, he still makes things happen. Those two steals per game don't happen on their own, even if he does gamble a bit. He can gamble, he has the Heat to back him up.

The kind of guy who puts in series-saving performances, just when you think he's dead, like 41 points, 10 rebounds vs. the Pacers, or 23 points and 10 boards vs. the Spurs in Game 7.

And in all honesty, a player who Heat personnel swear really was dealing with a serious knee injury last year that wasn't just age related, but caused by multiple knee-on-knee hits including one from Bulls guard Jimmy Butler in the second round.

I wrote in the playoffs that what's gone from Wade is not his ability to be elite, but the ability to be consistently elite. And that may slide more. But for right now, Wade remains a player who can take over the game and who enters without the inexperience questions of James Harden or the severe injury of Kobe Bryant. For one more time, for maybe the last time, Dwyane Wade stays in the top ten.

Rankings (no particular order): 4th, 13th, 7th.

Does the system make the point guard or does the point guard make the system?

That's the question with Tony Parker at this point in his career. When he was younger, you couldn't doubt that it was his brilliance that boosted the Spurs offense to the title even when the offense wasn't very good overall. But now? Parker's phenomenally better than he was then, but so's the system and personnel. Parker's the engine that makes the Spurs' car go, but that car has some serious hardware to put that engine to good use.

Parker was the dark horse/hipster favorite for MVP last season, guiding the Spurs to their eleven billionth top-three seeding and one of the best offensive outputs in the league. He surgically dissected the pitiful Lakers, took it right back to Stephen Curry and the hot-shooting Warriors, and utterly dismantled the Memphis Grizzlies in a sweep.

Against the Heat, he had, by my count, five of the best shots in Finals history no one will remember, including a step-back three late in Game 7 that remains maybe the most perfect basketball shot off the dribble I've ever seen. He was stupendous. He was brilliant. His play was beatuiful, his demeanor, cool and collected, his approach humble with a dash of pure killer.

And yet if you ask me who was better last season, Parker or Tim Duncan, I honestly don't know. If you ask me how Parker would do at this age with this many miles playing next to Tony Allen and Tayshaun Prince, or even Shane Battier and Ray Allen, I dont know. He has the perfect set of players and system to make him great, but he fulfills every centimeter of that trust.

He remains, as always, somewhere between oddly overrated and criminally underrated, one of the finest players of the new millenium, and a paradigm of how to play his position.

And for the first time in his illustrious career, he has a deep, burning bitterness to drive him forward after Games 6 and 7. Let's see what Parker's made of. I'm betting it's pretty incredible.
Porzingis is questionable for Carmelo Anthony's return to MSG on Saturday

The Spurs and Rockets will renew their in-state rivalry on Friday night

Anthony will play at Madison Square Garden on Saturday for the first time since being trad...
SportsLine's Mike McClure, a DFS pro with more than $1M in winnings, gives optimal lineup...

The Cavaliers won the much-anticipated matchup, 121-112

Two of the league's most interesting teams will meet on national TV on Friday night