Eye on Basketball's Elite 100: No. 100 through No. 51
CBSSports.com's NBA writers rank the top 100 players in the NBA. This round features Danny Granger, Manu Ginbobili, J.R. Smith, and Andrew Bynum.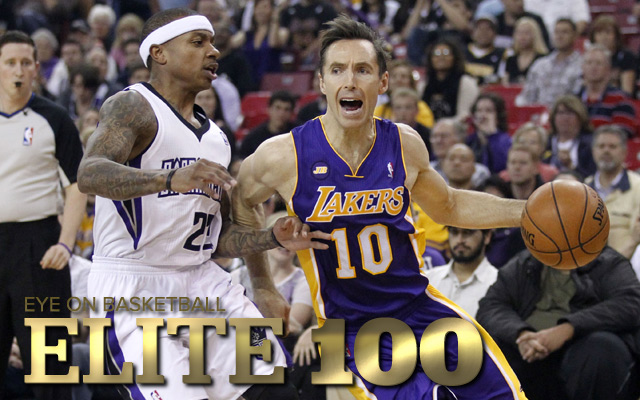 Toward the end of his career, Steve Nash finds himself among new peers.
(USATSI)
EYE ON BASKETBALL ELITE 100: 100-51 | 50-26 | 25-11 | 10-6 | 5-1
Each year we rank the Elite 100 players in the NBA. Our crew of three, who watch every NBA team on a regular basis all season, evaluated the players using every criteria we could. Past performance, recent production, injury, projected improvement, character issues, decision making, basketball IQ, advanced metrics, team fit -- everything. And now we present our 2013 edition, starting with Nos. 100-51.
There is science to this, nor a metric that trumps all others. We have as much confidence in these rankings as you can have, and we're still arguing about them even as we post them. That's what makes this fun. And that's all it is, fun.
You can win a title with a group of guys who aren't in the top 20 on our list. (It's insanely difficult and requires a lot of chanting and sheep's blood, but it can be done.) This isn't about whether or not these guys can win. Basketball relies on team chemistry, individual effort and communication. This seeks to establish the best of the best.
Basically, I'm trying to be like your third-grade softball coach. We're all winners here.
The ratings are prepared by the three writers for Eye on Basketball: Royce Young, Zach Harper and Matt Moore. The rankings are averaged.

Gortat struggled last season without Steve Nash on a foundering team. The question now is whether he's a legit best big on a team or if he needs to play clean up behind another low post scorer.

Unranked by two of our voters. The argument for: His late-season numbers when after getting back up to speed following heart surgery, he became arguably the team's best overall player once Rajon Rondo went down.

We're not sure if he's the competent role player who struggled with his shot in the regular season or the dynamic small-ball four with wrists of fire we saw in the playoffs.

Thornton has great scoring ability. You'd like to see him in a competent system to maximize his abilities.

Want a good nickname for Collison? How about "The Guy Who Should Be Starting For The Thunder At Center." A tremendous defensive player.

Athletically gifted, unpredictable, saddled with too much emphasis on his mistakes and not enough on his progress. The Nuggets have gone all-in with him as starting center and where he lands on this list next year could fortell how his career trajectory projects.

Marion remains an impactful defender and a quality veteran starter. Also, that shot is still weird and unique like your grandmother's antique collection.

Maybe last year was just a really, really, really, really, really, really bad year.

Dudley can shoot and defend, now we'll find out if he can be a major part of a contender.

The explosive guard they call "Mini-LeBron" gets a chance to prove he can be the guy with the Suns.

Gibson is a defensive game changer who dealt with injury issues last year. The Bulls need him to wind up higher on this list next year because he improves this season.

Johnson was arguably the Raptors' best player last season and combines a nitrous-boosted motor with a versatile skill set. His plus/minus numbers bear him out a tremendous role player.

The second-year wing exploded last season, showing lockdown defensive skills and the ability to actually score with the ball. That last part really confused the rest of the Bulls' offense.

Let's take this opportunity to once more admit thinking Drummond would be a head case and a disaster and that the Pistons screwed up big time with their pick. Whoops.

One of us thought he was quite the player last season. Can a non-perimeter-shooting wing combine with Rudy Gay to be effective?

Ginobili actually considered retirement going into the playoffs. The end is near for this special player, but his reputation was enough to keep him on the list.

Afflalo bottomed out on a rebuilding team last year. A change of scenery could put him much higher on this list. Another victim of the Dwight Howard trade.

Low efficiency, moderate volume, poor plus/minus impact, questionable decision making ... but he's so darned talented. Jennings stays here based on the opportunity the Pistons afford him.

Hill was singled out as the Pacers' starters' weak link last year, but he's still a quality defender and good playmaker.

Injuries have robbed Stoudemire of his explosiveness and limited an already poor defensive set. He's still an impact skill player on a title contender, though.

Evans stalled out in Sacramento, we'll see if a sixth man role opens up the potential he showed in his rookie season.

Will Granger's knee injuries deprive him of making the most of a promising career?

The man with the meanest crossover in the game seems surprisingly low here. But his up-and-down career leaves open questions about his impact.

Mayo looked headed for stardom at the beginning of last season, but fell apart when Dirk Nowitzki came back, struggled through injuries, and lost the faith of Rick Carlisle. He has to rehab his career image, to a degree.

OK, no, he can't hit free throws. But Jordan is a difference maker as an offensive rebounder and maintains a ridiculous amount of potential.

The guy is a productive, versatile forward with disturbingly strong facial features.

Clashed with teammates and coaches, struggled through injuries again. Lowry continues to confound all expectations, both good and bad year by year.

We've never seen him a. coming off serious knee surgery and b. in a traditional, non-up-tempo system. So lots of questions about the lady-killer this season.

Dazzling passes weren't enough for two of our writers as Rubio's lack of anything resembling a shooting stroke leaves questions about how good he can be.

You know who he is. A good power forward. That's it.

Jack was stellar off the bench and closing games for the Warriors last season. His role in Cleveland could be very similar.

Had injury issues again last year, but also helped the Wizards build late-season momentum.

The Brow put up bigger numbers than what his game felt like last year, but showed why so many consider him to be the Pelicans' crux going forward.

Remember ... as the man himself once said: "Monta Ellis have it all."
Came back better than he was before he left to play in Russia, re-establishing himself as a versatile forward who can defend like a shroud.

Slipped a bit statistically with the Hornets, but remains a forward who can shoot and rebound, everything you want in a stretch 4.

Played in only 32 regular-season games, looked like a shell of himself. Playoffs came and he became Godzilla. Which version do we get this year?

The reigning Sixth Man of the Year starts the year on the shelf because of a knee injury and questions about his maturity. But man, can that guy fill it up when he's on.

Operators are standing by. Please call now. Only you can save this young man's career. Call now to trade for Thaddeus Young.

Arguably the league's best perimter defender, and a sparkplug wild card on offense. A guy you want on your side when a game gets ugly.

Really don't know how to describe Kevin Martin anymore, beyond: "He shoots well."

Put up an All-Star-worthy season on a terrible team, suffered what seems like the 18th freak injury of his career. Can he stay on the floor long enough to help take the Cavs forward?

Long, can shoot the lights out and an up-and-down defender. The Golden State Warriors prototype. Sometimes as valuable as Stephen Curry.

Looked tremendous when healthy last year, but with so many players, health, health, health. Seems finally on board with New Orleans' direction.

Prolific shooter whose defense fell off in a hard season marred by losses, trade rumors, and a trade to somewhere he didn't want to be. Big things are expected for the 2006 college player of the year this season.

Still a terrific shooter, still a great passer ... but his time may have passed.

You can break down his skill set, his size, his tangibles, anything you want. In short, the guy just makes things happen.

Good luck, Cavs!

Cheap, versatile, athletic, can attack the rim and shoot the lights out. A huge part of Houston's future.

Batum is what I like to call a "confidence player." Every player in the NBA has confidence, but very few inspire it. Batum makes you confident he'll deliver.
Also receiving votes: Kyle Korver, Wilson Chandler, Omer Asik, Kemba Walker, Raymond Felton, Mario Chalmers, Michael Kidd-Gilchrist, Nikola Vucevic, Tristan Thompson, Wesley Matthews, Ray Allen, Jermy Lin, Goran Dragic, Bradley Beal, Thabo Sefolosha, John Henson, Brandon Knight, Reggie Jackson, Metta World Peace, Dion Waiters, Ricky Davis (Zach Harper, everyone!)
Barnes hits the trey with less than a second left to lift Mavericks to dramatic 95-94 vict...

Kevin Durant was once again back in Oklahoma City

Gregg Popovich has never seen an injury lead to the issues that Kawhi Leonard has been fac...
Kobe Bryant, of course, had his 81-point game against Rose and the Raptors back in 2006

Keep it right here for all your Wednesday NBA scores, updates and highlights

A season-ending injury kept the Celtics guard's time at Duke very brief before he jumped to...