Eye On Basketball's Elite 100: No. 25 through No. 11
Onward to the top 25 of our 2013 Elite 100 rankings. Spoiler alert, a few names included: Chris Bosh, Dirk Nowitzki and Derrick Rose. But where do they land?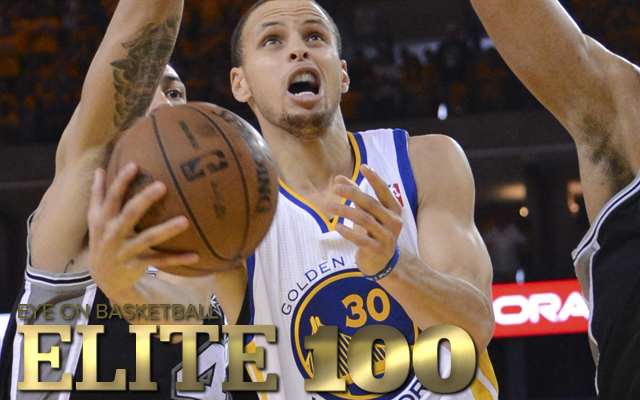 Stephen Curry is one of the biggest risers in this year's Elite 100.
(USATSI)
EYE ON BASKETBALL ELITE 100: 100-51 | 50-26 | 25-11 | 10-6 | 5-1
Each year we rank the Elite 100 players in the NBA. Our crew of three, who watch every NBA team on a regular basis all season, evaluated the players. Past performance, recent production, injury, projected improvement, character issues, decision making, basketball IQ, advanced metrics, team fit -- everything. And now we present our 2013 edition.
On Monday, we unveiled 100-51, which included Andrew Bynum , Steve Nash and Anthony Davis . Tuesday, it was 50-26, which had Rudy Gay , Serge Ibaka and Kevin Garnett . Today, we break into the top 25. 
There is no science to this, nor a metric that trumps all others. We have as much confidence in these rankings as you can have, and we're still arguing about them even as we post them. That's what makes this fun. And that's all it is, fun.
You can win a title with a group of guys who aren't in the top 20 on our list. This isn't about whether or not these guys can win. Basketball relies on team chemistry, individual effort and communication. This seeks to establish the best of the best.
The ratings are prepared by the three writers for Eye on Basketball: Royce Young, Zach Harper and Matt Moore. The rankings are averaged.
Check out who we deemed as Top 25 players in this league:

Falling 10 spots this season, Aldridge checks in as the last man in of the top 25. Why the dip? It's not really about the stats, because statistically, he was on par last season with previous All-Star years. Part of it might be the realization that Aldridge isn't the building block player he was assumed to be before. The Blazers embarked on a rebuild and Aldridge wasn't good enough to carry the team on his own. That's not a slight to him at all. It just means that like so many other players, he needs high quality teammates around him. Which is mostly the case for players in the 20-50 range. 

The consensus on Horford was pretty much consistent. Two ranked Horford 22nd, one ranked him 26th. Last season he was 32nd. So it's pretty clear that Horford falls somewhere in this range. He's a tremendous interior player that can make a team decent on his own, but has battled injuries and some limitations. 

A 14-spot climb for Hibbert, which is weird, because I honestly expected his rise to have been more drastic. Maybe that's just because we did such a good job of rating him last year. Hibbert got two top 25 votes, and one in the top 16, but the feel on him is that while trending upwards, he's not quite in the class of the top 15 quite yet. If he reverts to regular season form next year, he might actually drop, but if he can sustain his postseason play, he could find himself in the top 10.

One of the toughest players to rank, in my mind. He's clearly on the path towards superstardom, but he's not there yet. And while this season he could continue to build to being a top 10 player, he's not there yet. That's basically the message -- he's not there yet. He just got paid and he appears to be the kind of hungry player that wants to validate his contract, so George is close to the top 20. He's just not there yet.

Significant knee injuries can be a real bother, you know? Last season Rondo came in 12th, but with a recovery coming from an ACL tear, he's slipped nine spots. If Rondo heals and regains his previous form, he'll be back to knocking on the door of the top 10, one would assume. But, the Boston Celtics he's returning to aren't the same Celtics he left. Did Rondo benefit from having Paul Pierce and Kevin Garnett? Was he simply the product of playing alongside future Hall of Famers? Or did they feast off of his setup? We'll find out, and with that, we'll find out really how good Rondo is.

There's no doubt Blake Griffin is an NBA star. He's got the commercials, he's got the widespread appeal, he's got the dunking, he's got the personal branding. But in terms of a player on the court, can you see him going much higher than this? He ranked 14th last season, and a lot of that was because of the perceived potential a young athletic player like him has. But it's pretty obvious that Griffin has an offensive ceiling and even with Chris Paul helping, he wasn't able to break through that and take his game to new heights. What happens with the athleticism dips, when he's not able to bully and bruise opponents in the post? What happens then? 

Hard to picture Irving staying on the fringes of the top 20 too much longer. The talent and ability are there. Now it's about results. If the Cavs win, he moves into the top 10. It's that simple. 

Always the overlooked piece, but always the necessary one. It's funny how Bosh has become the Miami Heat 's go-to scapegoat rather than being lauded for taking a lesser role and making sacrifices to win. He gets hammered for not rebounding, for not staying aggressive enough, for not doing more. But he's a two-time champion that made the play that made Ray Allen 's 3 possible. Bosh is what he is: A top 20 player that always needed help to win. Playing alongside LeBron James and Dwyane Wade ? Pretty good help.

I fear this might be the last top 20 for Dirk as his decline is coming. He battled injury last season and didn't have enough to scrap his Dallas Mavericks into the postseason. He was ranked 10th in 2012 and another 10-spot fall might be coming for 2014. He's still elite, but he's getting older and time is a real son of a you-know-what.

At a time, we all would've argued Williams' top 10 merits and if you were feeling extra frisky, maybe even top five. But those days seem to be gone as he's settled in as a top 20 guy, still an elite point guard, but not the cream of the crop. He's become too inconsistent offensively and his Brooklyn Nets haven't performed, especially as Williams and them floundered in the opening round to the Chicago Bulls . But with a revamped roster, maybe it brings out the best in Williams and he gets back into that top 10 conversation.

Defense matters. And as the anchor for one of the league's best defenses, Marc Gasol matters. His raw numbers don't pop, but that's because they don't have to. When the Memphis Grizzlies called on him to be more of a force in the second round against the Oklahoma City Thunder , he was. He expanded his game to 15 feet, he rebounded, he passed, he did it all. 

One of the biggest risers, Curry has come up 40 spots from last season. Amazing what setting the world on fire in the playoffs can do, huh? It was honestly hard to resist placing Curry in the top six or seven, but there are still questions about his durability as well as if he can retain that level of performance from the postseason for this campaign. There's not a purer stroke in the game and when Curry lets one fly, you can just close your eyes and wait for the swish. 

Rose only drops four spots despite missing all of last season recovering from his ACL injury. The rankings on him are a bit diverse. One had him 12th, another eighth, and another 15th. It's hard to place a guy that didn't play last season. But Rose is clearly a top player when healthy and assuming he returns to be close to what he was previously, he's a top 10 player. But that's assuming. 

Can you believe it? Duncan actually rose eight spots this year. Just keeps getting better with age. 

Ask Carmelo Anthony , and he'd tell you he's a top five player. Ask New York Knicks fans and they'd probably tell you the same. They're convinced he's an equal to Kevin Durant , while ignoring relevent things like efficiency standards and shooting percentages. Anthony may have won the scoring title over Durant last season but did it by attempting 56 more shots while playing 14 fewer games. Give Anthony his average shot number and have him equal Durant's games played, and Melo would've taken roughly 370 more shots than Durant, and still scored about the same number of points. That's the difference between them. Nobody's arguing against Melo's offensive skillset. His ability to post, to shoot, to muscle, to finish -- he's the total offensive package. He's just not consistent and he's just not efficient. Still a damn good player, though. Just not good enough for the top 10.
T.J. Warren gets paid big money by the Suns in a four-year deal

Melo didn't hold back on his feelings about President Donald Trump and urges for help in Puerto...

The Wizards star says the NFL won't change until important players like Brady and Rodgers speak...
Popovich spoke at length about sports, race, culture, and politics during Spurs media day on...

Carmelo Anthony finds the idea of coming off the bench very funny

Several teams spoke about Trump's recent comments about protests and the Warriors' White House...