Eye On Basketball's Elite 100: No. 5 through No. 1
The five best players in the NBA, starring LeBron James and friends.
by

Eye on Basketball staff

• 15 min read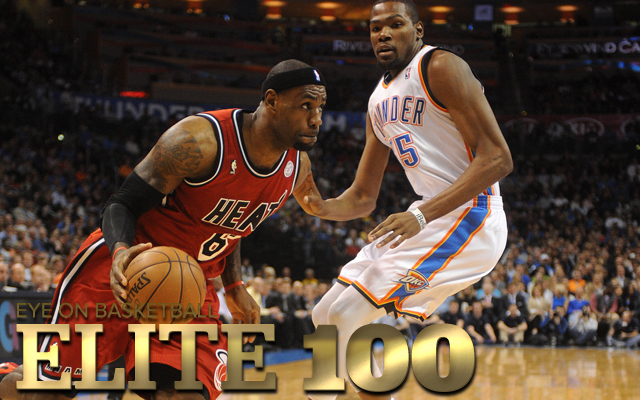 LeBron James

and

Kevin Durant

continue to be at the head of the class in the NBA.
(USATSI)
EYE ON BASKETBALL ELITE 100: 100-51 | 50-26 | 25-11 | 10-6 | 5-1
This is the end, my only friend. We've come to the top five of the Elite 100. We don't consider this list perfect, we don't take this process too seriously (it's ranking players for crying out loud), but we do try and gve you an accurate and informed perspective on who the best 100 players in the league are. 
Our crew of three, who watch every NBA team on a regular basis all season, evaluated the players. Past performance, recent production, injury, projected improvement, character issues, decision making, basketball IQ, advanced metrics, team fit -- everything. 
There is no science to this, nor a metric that trumps all others. We have as much confidence in these rankings as you can have, and we're still arguing about them even as we post them. That's what makes this fun. And that's all it is, fun.
You can win a title with a group of guys who aren't in the top 20 on our list. This isn't about whether or not these guys can win. Basketball relies on team chemistry, individual effort and communication. This seeks to establish the best of the best.
The ratings are prepared by the three writers for Eye on Basketball: Royce Young, Zach Harper and Matt Moore. The rankings are averaged.
For this edition, all three of our writers weighed in with their assessments of the top five players in the NBA.

Rankings (no particular order): 5th, 3rd, 8th
Zach Harper: Back injuries are serious business and Dwight Howard 's reputation certainly suffered because of what he went through with his back surgery. Yes, he acts like the Dane Cook of the NBA sometimes but if he were still racking up Defensive Player of the Year awards and dominating the paint like he was doing for years in Orlando, nobody would have truly cared about his antics at the end of his Orlando years or his battles with Kobe Bryant in his one year with the Los Angeles Lakers . Maybe the Lakers fans would still care, but the majority of NBA fans would just deal with it. His play suffered due to recovery from the injury and surgery; you're just not allowed to have your play suffer if you're going to act with the maturity, or lack thereof, like we've seen with Howard recently.
He's had about 18 months to fully recover and even when he was dealing with that process and the torn labrum in his shoulder last season, Howard was a monster to deal with in many ways. We just sort of overlooked it because he annoyed us and he was part of one of the biggest disappointments in NBA history. I tend to trust sports medicine a little too much, but I think he'll be fine right away in Houston and show no more lingering affects from the last couple years. When he's not dealing with that stuff, he's arguably the third best player in the league.
Matt Moore: I have the most concerns about Howard of the three of us. There was talk last year, given his raw production, that he was still good, just not "Dwight Howard good." But up until the All-Star Break, from my vantage point, Howard, especially defensively, had some empty production. He was critically off in areas and plays that were crucial for the game.
But that was last year, and Howard was hurt. Ask any player in the league and they'll tell you that when healthy, Dwight Howard is the best player in the league. He took a bold step going to Houston, and joins a coach who could bring the best out of him, as system that resembles that of when he had his best years, and the odds are that he returns to MVP-level form. I have my reservations because of the back injury, but I also can't argue with the logic that puts Howard as a top five player in this league.
Royce Young: It's all about health. That's it. Because even with the clownishness, the foolish behavior, the immaturity, there's always been a constant within Howard's game -- he's a monster. He dominates the interior unlike anyone else in the league. He's a defensive wrecking ball, controlling the game on one end of the floor simply by standing there. It's an amazing thing to defend via just presence alone.
But in Los Angeles for his lone season with the Lakers, Howard wasn't himself. He clearly was still recovering from back surgery as it looked like he was carrying three Steve Blake s on his shoulders every time he ran up and down the court. Assuming he can shake that off -- he's about a year and a half removed from surgery now -- there's no reason that he can't reestablish himself as the most dominant paint presence in the league. Plus, give him maybe the best pick-and-roll player in the league to work with in a two-man game and Howard could be headed for some kind of inaugural season in Houston.

Rankings (no particular order): 7th, 5th, 4th
Zach Harper: This looked a lot better and more reasonable before we found out about the knee injury and loose suture, but we can't change it now. Wait, can we change it now? Why didn't we change the top end of this list? You guys would have never known about it. Anyway, Westbrook is one of the most dynamic and smothering talents in the NBA when he isn't dealing with cartilage issues in his knee. Does he take some questionable shots? Absolutely. Does he find a way to swing at the defense like he's Mike Tyson in his prime? Absolutely. Westbrook benefits a whole bunch from having Kevin Durant on his team, but KD also benefits from this incredible scorer at the point guard position.
The biggest question will end up being how does he bounce back. If he's the Russ before the injury in the playoffs, he'll make this ranking look pretty good and you'll feel better about the Oklahoma City Thunder 's title contention once again. If he's slow to round back into shape and doesn't get that explosiveness back and the ability to absorb so much force on those pull-up jumpers until after a full offseason of training, this will be an egregious overrating of his talent. Remember, kids; keep your sutures tight.
Matt Moore: Derrick Rose took a massive tumble down our ranking because of a serious knee injury. Russell Westbrook stayed at the top, because we all had every indication he'd be fine. Rose will start Saturday's exhibition game against Indiana, Westbrook will miss 4-6 weeks at least of the regular season.
Whoops.
But know this. Rose's ranking was reflective of a player who missed an entire year with a tramuatic injury. Westbrook seemed totally fine and ready to go in July before a loose suture caused swelling which required another surgery. The circumstances are different, and Westbrook proved last year with his passing, scoring and overall impact how important he is to the Thunder's success. He's a top five player... we just thought he'd be a little healthier than he is.
Royce Young: Removing James Harden from his backcourt may have been the best thing to ever happen to Westbrook. It put the ball back in his hands as the Thunder's primary playmaker and Westbrook answered the call with his best season yet. He found his point guard skills once again, cranking out better than seven assists a game while still maintaining a stellar scoring average. Everything looked to be shaping up for Westbrook to continue his climb as one of the league's most unique superstars and then... Patrick Beverley happened.
For a player like Westbrook that relies so much on explosive plays, a knee injury is not to be taken lightly. Especially with the recent setback he experienced where he had to go under the knife a second time. It's hard to know how Westbrook will react to this, seeing as he's never missed a game in his career whether it be high school, college or the NBA up until Game 3 against the Houston Rockets .
Still, all accounts claim a full recovery will happen for Westbrook and assuming that's the case, at 24 years old and just now finally realizing his potential as both a scorer and playmaker, Westbrook is firmly a top five player. And as his absence in the postseason proved, he might just be the Thunder's most important, too.

Rankings (no particular order): 4th, 3rd, 3rd
Zach Harper: We keep trying to find point guards to challenge him for the top player at the position or the honor of being universally accepted as the top point guard in the league. We tried with Deron Williams years ago. Derrick Rose and Russell Westbrook both took their turns in the discussion but have ultimately been derailed by injuries. Kyrie Irving is sure to be on the door, knocking and peering through the window to see if anybody is home he can challenge. But Chris Paul still firmly holds this distinction and that's after a big knee injury that caused some people to wonder if the Los Angeles Clippers gave up too much for him when they acquired him.
Maybe the right question to ask is does Chris Paul's rank of being the top point guard make his team anymore likely to challenge for the title? It's rare that teams build around point guards and end up winning an NBA title. Perhaps his superior talent will never actually translate to what that superior talent is supposed to bring, but I have a hard time accepting that there are more than two players definitively better than Chris Paul. He's just that good and that big of a leader in this league.
Matt Moore: Chris Paul seems done with screwing around. He ragged on teammates enough last season to spark questions about his relationship with fellow star Blake Griffin . He nearly walked away in free agency over the franchise's mishandling of the release of Vinny Del Negro and their near-miss of landing Doc Rivers, the coach he wanted.
Paul has been the best overall point guard in the league for running on six seasons now, but he also developed a habit of saving himself to protect his endurance for the playoffs. We may see him go away from that. He's running out of chances to win a title in his prime, he's finally comfortable on this team with this personnel, and he has the coach he wants. No one's going to make excuses for CP3 anymore. This could be a career-defining season for Paul.
Royce Young: Dirty little secret when it comes to Chris Paul: He's not a winner. I don't mean that metaphorically, because there might not be a more competitive player in the league. But in terms of straightforward accomplishments, specifically in the postseason, Paul's resume is severely lacking. Consider this: Russell Westbrook has 26 career postseason wins; Paul has 16 in three more seasons. Now obviously there are disclaimers there such as Kevin Durant, but the point is, as an elite point guard, widely considered the best in the game, shouldn't Paul be carrying his teams deeper into the postseason? Why do we let him off the hook for this and crush other players for the same failings?
All that said, CP3 is the best point guard in the game still. His supporting cast in New Orleans was never all that great and while having Blake Griffin as a running buddy in L.A. has helped, he's still found himself as the Clippers only offensive creator at times. His brilliance is often jaw-dropping as he shows off a magician-like ability to orchestrate an offense. But enough of just being the best point guard. It's time to start winning.

Rankings (no particular order): 2nd, 2nd, 2nd
Zach Harper: I don't think we'll end up feeling bad for Kevin Durant when his career comes to a close but as of right now, he does seem to be going through some "always picked second" blues. Russell Westbrook's injury may derail his chances of challenging LeBron James for the title again and Durant just doesn't have enough weapons or help without a healthy Russ to truly challenge for the Larry O'Brien trophy. The league and Western Conference are just too good to really give him a legitimate shot without his healthy running mate.
But the talent is undeniable on a historic level. If he decided to retire tomorrow, he'd get into the Hall of Fame. That's how good his run has been in the NBA and he's only played six seasons in the league. He's going to end up being one of the greatest scorers we've ever seen. He's probably going to end up with a few MVP awards. And while we've seen all-time talents go title-less in the past, it's hard to imagine Durant not eventually winning one ring. If there just wasn't that pesky LeBron James guy stealing all of his... (sunglasses)... THUNDER. YEEEAAAAAAAHHHHHHH!
Matt Moore: The man scored the most points in the league while shooting 51 percent from the field, 42 percent from the arc, 91 percent from the line. He is the most dominant scoring force in the NBA. The evolution of the game has brought about an understanding of the importance of efficiency. It is not a fad, it is a deeper way of seeing the game for what really makes a difference, for understanding how important possessions are.
What gets missed in Durant's lethal three, though, is how much he's improved. Five assists per game last season, and his rebound numbers remain steady at seven per game. He has a 56 percent effective field goal percentage (factoring the impact of threes), despite being a jumpshooter. He has lead his team to division titles, No. 1 seeds, and is undeniably the second best player in the game.
He just turned 25.
Royce Young: Durant says he's tired of being second. But look at it this way, KD: Being second to LeBron is like being second to Ryan Gosling in a Best Looking Contest. The game was rigged from the start, but you're still in a class of your own.
Durant just turned 25 and put together his most efficient season yet, registering in the elite 50-40-90 club. And here's the thing: He's just scratching the surface. With things to improve on like his post game and ball handling, Durant could conceivably average 30-33 points a game on 55-45-90 percentages. It's true.
But everything he does is defined in comparison to No. 6 in Miami and while Durant isn't quite there yet -- he's four years younger, mind you -- his time will come. Some are saying Durant was just born at the wrong time with him having to go against LeBron. Maybe so, but with still two or three years left before Durant even hits his prime, we might not be feeling sorry for Durant much longer, but instead feeling it for the rest of the league.

Rankings (no particular order): 1st, 1st, 1st
Zach Harper: OK, we're done with the petty stuff by now, right? We can't possibly be still holding The Decision against him or his hairline and ever expanding headband against him to deny his place in history. We have no idea if he'll ever be better than Michael Jordan or considered on that level. As of right now, he's not there but his last couple years have certainly pushed him in the right direction, even if he does have quite a bit more to accomplish in order to break that fabled barrier. What we do know is LeBron James is the best player in the world. He just is. He's arguably the best defender year in and year out. He's arguably the best offensive player in the league. His talent is transcendent and his production is hard to match.
That doesn't mean he still doesn't have holes and can't improve, but that's kind of the scary thing with LeBron James. It's hard to be certain he's finally reached his peak in the NBA. I guess don't like the fact that he's not the most humble person in the world. It's hard to take people that speak in the third person seriously. And maybe he hasn't always been about winning and doing what's necessary based on the coverage and hype that have saturated his existence. After the last two seasons, it all seems justified.
Matt Moore: Millions of people play basketball every day. Take a second and consider what that means. Hundreds of thousands of people play organized basketball. Thousands of people play organized basketball on a competitive level. Hundreds of players play professionally.
The very best of those hundreds play in the NBA. Roughly two dozen players are selected each season as All-Stars. Of those only a handful get consideration for MVP.
LeBron James is the best basketball player on the planet.
At some point, we will all hit the apex of our existence on this planet in terms of productivity. We will have reached the point where we are as good at the thing we do best as we will ever be. And statistically speaking, roughly 99.9 percent of you reading this will never be as good at anything as LeBron James is at basketball. There are likely things you may value far more than basketball, you may prefer a balanced life full of success in multiple areas of your life.
But if nothing else, a we conclude the Elite 100, we should note just how elite LeBron James is at what he does, and recognize this special time in the sport's history. James has done the impossible over the past three years. He's moved people beyond their personal disgust with him with his athletic brilliance alone. How much more elite do you want?
Royce Young: At this point, what else needs to be said? I mean that seriously. What more can be said about LeBron James as a basketball player? With four MVPs and two championships, he's an established active legend. We're watching pure, unfiltered greatness just build one of the best resumes of all-time.
Eventually, LeBron's going to come down from Cloud City, but that doesn't really appear to be happening for a while. He's physically built to last and he continues to reinvent his game for the better. As long as he has proper teammates, there's really no stopping him. LeBron really doesn't have to do anything else for the rest of his career and he's going to go down as a top 10 player ever. So the question now is, how high can he climb? Is G.O.A.T. really within reason? It's basketball blasphemy to suggest, I know, but think about it: Who's stopping LeBron right now?
Trump rescinded Curry's invitation to the White House after Curry said he wasn't interested...

Silver said he was hoping Warriors would get chance to share their views directly with the...

Along with the Thunder, those were the three teams most involved in the Anthony trade talk...
LeBron said he was frustrated by the President's recent actions

A look at the various actors and elements in the latest sensational blockbuster trade in the...

Blockbuster deal doesn't change the Thunder's projected finish in the West