Eye On Basketball's Elite 100: The Also-Ran All-Stars
CBSSports.com's Eye On Basketball is unveiling its Elite 100, a ranking of the top 100 players in the NBA. Here's a look at the members of the 2011 list who didn't make the 2012 version.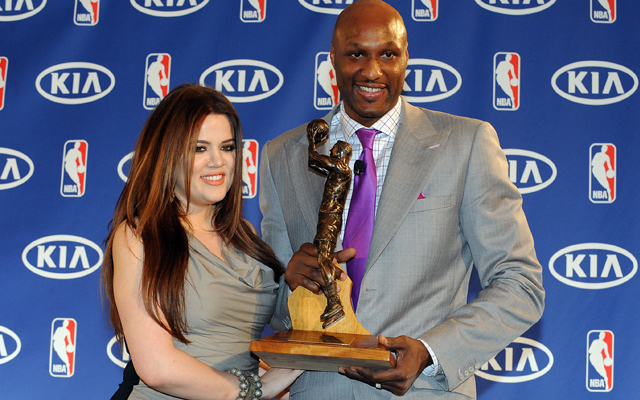 Lamar Odom's personal life outshined his professional life last season.
(Getty Images)
Admittance to CBSSports.com's Eye On Basketball Elite 100 is a big honor, but it's not a lifetime membership. Indeed, 19 members of the 2011 Elite 100, our ranking of the top players in the NBA, are not returning to the 2012 class.
The reasons behind these falls from grace run the gamut: advancing age, off-court issues, injuries, conditioning, overseas obligations, disappointing seasons and even an unexpected retirement. Although many of these nonreturners were fringe selections last season, three players fell from the top 60 and one of those, this season's most colossal disappointment, fell from the top 35.
Lest you think we are picking on your favorite player, keep this in mind: 11 of the 19 players listed here were not retained by their team from a year ago. In other words, their fall-offs were not just visible to media observers.
Without further ado, here's a look at the Elite 100 Also-Ran All-Stars, the 19 players included in the 2011 Elite 100 who were not repeat members in 2012. Note: Players are listed with their current teams and with their 2011-12 teams and 2011 Elite 100 rankings in parentheses.
1. Lamar Odom, Los Angeles Clippers -- (Dallas Mavericks, No. 33)
Lamar Odom didn't just fizzle, he imploded. The Los Angeles Lakers nearly dealt him in a three-team trade that would have landed Chris Paul. After that trade fell apart due to the now infamous "basketball reasons," Odom reportedly refused to report to Lakers camp because he was upset that he he had been on the block. Lakers general manager Mitch Kupchak quickly showed him the door, clearing out his salary and his Kardashian family headaches and netting a trade exception by dumping him to the Dallas Mavericks.
Odom's season in Dallas was filled with inconsistent play, wavering effort and reports of a locker room verbal confrontation with owner Mark Cuban that eventually resulted in Odom being sent home. His final numbers in Dallas: 6.6 points and 4.2 rebounds on 35.2 percent shooting, all career lows. From there, ties were cut with USA Basketball, where he had been a key player for the 2010 World Championship team, and he was dealt to the Clippers, where he will strive in vain to resurrect his career.
2. Jason Kidd, New York Knicks -- (Dallas Mavericks, No. 51)
Jason Kidd's fall off can be attributed to a number of factors: he just turned 39, his Dallas Mavericks were eliminated in the first-round of the playoffs, the gleam has worn off his 2011 ring, and a disastrous drunken driving arrest in July. His numbers (6.2 points, 5.5 assists, and 4.1 rebounds) all dipped last season and he is expected to transition to a back-up role behind Raymond Felton with the New York Knicks. On the upside, he was able to secure a three-year deal worth $9 million, a contract that represents a very handsome final payday.
3. Jamal Crawford, Los Angeles Clippers -- (Portland Trail Blazers, No. 58)
Jamal Crawford arrived in Portland with big shoes to fill. The Trail Blazers had hoped Crawford would help plug in the crater-sized hole left when All-Star guard Brandon Roy was released using the amnesty clause because of ongoing knee problems. Crawford never seemed to fit in Portland, struggling to generate chemistry with his fellow backcourt players, particularly point guard Raymond Felton. Crawford averaged 14.0 points and 3.2 assists but shot just 38.4 percent from the field and a career-low 30.8 percent from deep. Blazers coach Nate McMillan briefly tried him as the starting point guard, an experiment that was short-lived. After reports of a locker room mutiny, the Blazers fired McMillan and embarked on a rebuilding effort. Crawford, who had signed a flexible two-year contract with a player option, wasted no time getting out of town. 
4. Chauncey Billups, Los Angeles Clippers -- (Los Angeles Clippers, No. 61)
After being waived by the New York Knicks using the amnesty clause, Chauncey Billups was putting the pieces back together just fine in his first season with the Los Angeles Clippers. Coach Vinny Del Negro moved him to a new role, off the ball as a 2-guard alongside starting point guard Chris Paul, and he made the transition as well as could be expected, relying on his experience, court smarts and good size. After averaging 15.0 points and 4 assists per game through 20 games, Billups went down with a season-ending Achilles tear. He was forced to watch from the sideline as the Clippers eliminated the Memphis Grizzlies in an exciting Western Conference first-round series before getting swept out by the San Antonio Spurs in the conference semis. He's pledged to make a swift return to the court and the Clippers re-signed him this summer. He's 35 years old coming off of a serious injury, though, so expectations should be muted.
5. Emeka Okafor, Washington Wizards -- (New Orleans Hornets, No. 64)
Emeka Ofakor's season ended abruptly following a Feb. 10 game. After his Hornets posted their 17th loss in 18 tries, New Orleans coach Monty Williams announced that Okafor would undergo tests on a sore left knee. And that was it. Okafor never underwent surgery and never took the court again for a rebuilding team that wound up finishing 21-45 and winning the 2012 Draft Lottery, earning the right to select No. 1 overall pick Anthony Davis. Okafor averaged 9.9 points and 7.9 rebounds for the Hornets last season and was traded to the Washington Wizards in June. Known for his durability over the years, he told reporters in Washington that he would be healthy and ready to go next season.
6. Jason Richardson, Philadelphia 76ers -- (Orlando Magic, No. 65)
Jason Richardson, 31, is heading down that slippery slope of old age. After putting up fairly level production over the past three seasons as a scorer with range, Richardson's playing time and output dropped a level in 2011-12 with the Magic. He averaged 11.6 points and 3.6 rebounds -- both career lows -- during a messy soap opera of a season in Central Florida. A throw-in to the blockbuster four-way trade that sent Dwight Howard to the Los Angeles Lakers, Richardson, who is under contract through 2014-15, will seek to turn the page.
7. Wesley Matthews, Portland Trail Blazers -- (Portland Trail Blazers, No. 69)
Wesley Matthews generated some serious buzz thanks to his endless work ethic and NBA rags-to-riches tale, a journey that saw him go from undrafted to full five-year mid-level contract in the summer of 2010. Stepping into a starting role in 2010-11 as Brandon Roy missed extended time with knee injury, Matthews had a solid sophomore campaign. Unfortunately, he couldn't continue that positive momentum in 2011-12. Like Jamal Crawford, he got caught up in coach Nate McMillan's lineup juggling, briefly moving out of the starting lineup. Nothing seemed to work as Matthews struggled to deliver as a go-to scoring option and his confidence wavered. Along the way, he played through a bothersome ankle injury. As the Blazers entered their rebuild, he was identified as one of three core players -- along with LaMarcus Aldridge and Nicolas Batum -- to build around. A lot will be asked of him this season with a significantly younger group of teammates around him.
8. Jameer Nelson, Orlando Magic -- (Orlando Magic, No. 71)
Good years were hard to come by among Orlando Magic players and Jameer Nelson certainly fit that bill. He posted a career-worst shooting percentage, averaging 11.9 points and 5.7 assists as a full-time starter. His Player Efficiency Rating was 35th among point guards: by the numbers, he was a good back-up point guard being asked to start and play big minutes all season long. This somehow added up to a rebuilding Magic team giving him a three-year deal worth $25 million this summer. No one has any idea what they were thinking.
9. Devin Harris, Atlanta Hawks -- (Utah Jazz, No. 72) 
Unlike many of the other players on this list, Devin Harris didn't shoot the ball substantially worse during the lockout-shortened season compared to previous years. Still, he saw his raw scoring drop from 15.2 points per game in 2010-11 to 11.3 points per game in 2011-12 and his playing time dipped a bit as coach Tyron Corbin turned to Earl Watson and Jamaal Tinsley. The fit just didn't seem quite right on an up-and-coming Jazz team, and he was shipped to the Atlanta Hawks to make room for incoming trade acquisition Mo Williams. In Atlanta, he's expected to play for stretches alongside both Jeff Teague, last year's starting point guard, and free-agent signing Lou Williams.
10. Tyrus Thomas, Charlotte Bobcats -- (Charlotte Bobcats, No. 79)
The 2011-12 Charlotte Bobcats were a total embarrassment, posting a winning percentage of just .106, the worst in NBA history. Despite being paid like a well above-average player, Thomas wasn't even an everyday starter for the Bobcats, averaging 5.6 points and 3.7 rebounds in just 18.8 minutes per game. In April, reports of a locker room confrontation between former Bobcats coach Paul Silas and Thomas surfaced. Silas eventually exited stage left and has been replaced by first-time coach Mike Dunlap as the Bobcats continue their extended rebuilding effort. Thomas has reportedly been shopped regularly but no one is interested in taking on the $26 million owed to him over the next three seasons. 
11. Grant Hill, Los Angeles Clippers -- (Phoenix Suns, No. 80)
One of the most well-liked and classiest players in the game, Grant Hill saw Father Time catch up a little bit in 2011-12. After missing just three games due to injury during the previous three seasons, the 39-year-old Hill underwent minor knee surgery in March, which caused him to miss nearly three weeks of action. He still averaged 10.2 points, 3.5 rebounds and 2.2 assists in 28.1 minutes as a starter for the Phoenix Suns. However, he signed in the summer with the Los Angeles Clippers and likely will shift into a reserve role for the duration of his career.
12. Raymond Felton, New York Knicks -- (Portland Trail Blazers, No. 81)
Everything that could go wrong, did go wrong for Raymond Felton during his sole season with the Portland Trail Blazers. Acquired in a 2011 draft-day trade, Felton was introduced with major expectations as the team's potential point guard of the future. Instead, he showed up after the lockout out of shape, shot the ball horribly for the first two months of the season, clashed with coach Nate McMillan and gave out his home address, inviting his many critics to his house for a face-to-face showdown. Felton was able to pull together his numbers a bit after the Blazers blew up their roster at the trade deadline, but he still finished with averages of 11.4 points (worst of his career), 6.5 assists, 2.5 rebounds (worst of his career), 40.7 percent shooting (worst since 2007), 30.5 percent 3-point shooting (worst since 2009). The Blazers, who unsuccessfully shopped him at the 2012 deadline, agreed to sign-and-trade him back to the New York Knicks, where he played arguably the best basketball of his career during the 2010-11 season. There, he will look to get his body back together while stepping into the global void created by the departure of sensational point guard Jeremy Lin. 
13. Ben Gordon, Charlotte Bobcats -- (Detroit Pistons, No. 84)
Ben Gordon is so electric when he's playing well that everyone kept hoping that he would find a way to make it work in Detroit after opening his career with five solid years with the Bulls. After Gordon's third straight mediocre year with the Pistons, it's getting harder and harder to remember the good times. So hard, in fact, Joe Dumars sacrificed a future first-round pick to dump the rest of his contract to the Charlotte Bobcats. Gordon, 29, averaged 12.5 points and shot 42.9 percent from deep, and he still seems tantalizingly salvageable. Then again, it's difficult to envision Charlotte being the ideal location for a career turnaround. 
14. Wilson Chandler, Denver Nuggets -- (Denver Nuggets, No. 85)
Wilson Chandler finds himself on this list because of lockout-related logistics. With the start of the 2011-12 season looking like it might be delayed or even canceled, Chandler signed to play with the Zhejiang Guangsha Lions of the Chinese Basketball Association. China famously paid well but did not allow out clauses for players to return in the event that the lockout was lifted. As a result, he was stuck in China until March. Then, less than a month after he finally returned to the Denver Nuggets, he went down with a labral tear in his left hip that wound up ending his season after just eight games. 
15. Marcus Thornton, Sacramento Kings -- (Sacramento Kings, No. 88)
The new car smell simply came off Marcus Thornton a little bit during his second season with the Sacramento Kings. His scoring average dropped nearly three points to 18.7 points per game, his 34.5 percent 3-point shooting was a career low and he failed to meaningfully develop other aspects of his game during yet another losing season for the Kings. It's not entirely his fault: the Kings clearly have too many perimeter players with redundant skills and the need for the ball.
16. Marcus Camby, New York Knicks -- (Portland Trail Blazers/Houston Rockets, No. 89)
Another member of the Portland Trail Blazers whose season didn't go as planned, Marcus Camby was a shell of his former self before the trade deadline, flailing around on defense and concentrating all of his efforts on putting up rebounding numbers. His focus seemed to wane as the Blazers fell further out of the playoff picture and he did come back to life once he was shipped to the Houston Rockets and had a real playoff push to serve as motivation. After more than a decade as a productive full-time starter, it's definitely time for Camby, 38, to shift into a reserve role. The New York Knicks are an ideal landing place, as they should regularly compete for a playoff spot and have a full-time starting center in Tyson Chandler on the roster. To sweeten this deal, the Knicks were even willing to shell out $13.2 million over three years for Camby's services. It doesn't get much better than that. 
17. Metta World Peace, Los Angeles Lakers -- (Los Angeles Lakers, No. 97)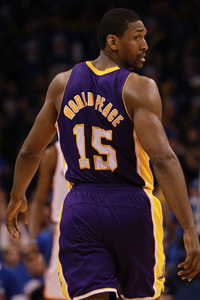 Ron Artest was an elite NBA player. Metta World Peace isn't.
(Getty Images
Like many of the players on this list, Metta World Peace posted career lows in scoring (7.7 points) and field goal percentage (39.4 percent). Unlike anyone else on this list, or in the league for that matter, World Peace disgraced himself and his team by clocking Oklahoma City Thunder guard James Harden in the head with an elbow. World Peace's track record of on-court incidents contributed to the NBA's decision to hit him with a seven-game suspension and his casual attitude and joking manner in dealing with the aftermath once the punishment came down undercut his quick apology. Of course, all would have been forgiven and he would have been remembered as a valuable role player had the Los Angeles Lakers won the 2012 title. That didn't happen, and World Peace's slide out of this list reflects, in part, the disappointment the Lakers felt in their second-round elimination by the Thunder.
18. Udonis Haslem, Miami Heat -- (Miami Heat, No. 98)
Udonis Haslem simply wasn't as useful to the Miami Heat as he has been in the past. Sure, he came up big at times during the Heat's title run, but coach Erik Spoelstra's small ball approach de-emphasized Haslem's rugged toughness and rebounding in favor of more athletic and interchangeable lineups. As a result, Haslem averaged a career-low 6 points and shot a career-low 42.3 percent, although he did average 7.3 rebounds per game. One of the most respected voices in the Heat's locker room, he's still a useful piece at 32 for the Heat, even if he's now four years removed from his best season numbers-wise.
19. Brandon Roy, Minnesota Timberwolves -- (Portland Trail Blazers/retirement, No. 100)
It's difficult to make a top-100 list if you don't play a single game. In a stunning and heartbreaking turn for Portland Trail Blazers fans, the team announced in December that Brandon Roy would be released using the amnesty clause because of ongoing problems with his surgically repaired knees. Roy then announced his retirement from basketball and stayed almost totally off the radar throughout the 2011-12 season. Roy, now 28, showed significant slippage in 2010-11, just one season after he made his third straight All-Star Game, but got the itch to make a comeback this summer. He began training in his hometown of Seattle, underwent a blood-spinning procedure in both of his knees, and eventually signed a two-year contract with the Minnesota Timberwolves. He's since professed a desire to return to playing at a "high level" and has said that he hopes he can handle starter's minutes in Minnesota. A return to his All-Star form is unlikely, but basketball junkies are still rejoicing at the thought of watching Roy's smooth, deliberate game again.
We've got all the scores, highlights and news from all of Sunday's games

The Rockets beat the Warriors 116-108 on Saturday night

The Cavaliers gave up 148 points in their loss Saturday afternoon to the Thunder
Blatt made the comment before coaching in the All-Star Game in Turkey

Is this rock bottom for the Cavaliers because it sure feels like it is

Wade, as he's done so many times in his career, threw it up to LeBron for the thunderous f...