Facing moment of truth in Game 5, Spurs (of course) deliver
Facing a moment of truth for a run of greatness that has touched three decades, the Spurs delivered on Thursday night -- just like you knew they would.
More postseason coverage: Playoff schedule, results | Latest news, notes
SAN ANTONIO -- The Thunder knew this was coming. They talked about it before the game, bracing themselves for the Spurs to put forth a dominant performance in this moment of truth for their waning dynasty.
You knew it was coming, too.
You knew the back-to-back beatings the Spurs absorbed in Oklahoma City were not going to be the outcome in Game 5 of the Western Conference Finals. Not here; not in San Antonio, where the Spurs have reigned as the model for championship-level basketball for so long.
This was a defining moment for the Spurs, much like Game 6 in the NBA Finals a year ago (which they should've won) and Game 7 (which they could have, too). This entire season of brilliance from the Spurs has been about getting back there and trying this championship thing one more time. Lose Game 5 at home, fall behind 3-2 going back to Oklahoma City against the MVP, Kevin Durant, and his ruthless running mate, Russell Westbrook, and that opportunity would've been lost.
"You know, we talked about that, all the things to expect," the Thunder's Caron Butler was saying in the locker room, after the Spurs dismantled Oklahoma City 117-89 to take a 3-2 series lead. "Nothing's going to be given to us, and we don't want it that way. We know it's going to be a fight, and uphill battle."
It always is against the Spurs -- at least in the three home games they've played in this series.
This was the fifth consecutive blowout between the top two teams in the Western Conference, the home team dominant every time. That changes soon -- maybe on Saturday in Oklahoma City -- because before a winner is crowned here, they will both be at their best on the same night.
When that happens, who's better? That is the compelling drama of the West, the anticipation of getting a brilliant performance from not one or the other in this series, but both.
"Obviously, it seems like the home court motivates both teams pretty well," Professor Gregg Popovich said. "That's one thing I guess you could say. They both look like they feel pretty comfortable playing at home. So that's why we've opted not to go to OKC."
No, no, the Spurs will show up. And Tim Duncan, who reached into the archives and pulled out a 22-point, 12-rebound performance, said there's "no reason" San Antonio can't win Game 6 on the road. If he puts forth the kind of effort and results that he did in Game 5 -- as he's been doing for 17 years -- that's a pretty good place to start.
Popovich said you saw "what you usually see from Tim" Thursday night. And what we won't be seeing from him for much longer, if Father Time, indeed, remains undefeated in the NBA.
"He never does anything amazing, except in the fundamental nature of the way he plays," Popovich said. "It's amazing because so many people don't. He takes great pride in doing everything he can to anchor the defense. He's not going to leap out of the gym or move as quickly as he used to, but he still is the basis for what we do."
As opposed to the reminiscent tone of his ode to Duncan, Popovich was forward-looking when he spoke about Durant and Westbrook. They have their basketball lives ahead of them, while the Spurs try to delay their own expiration date once more.
"We're going to be hearing from those guys for a long time to come," Popovich said.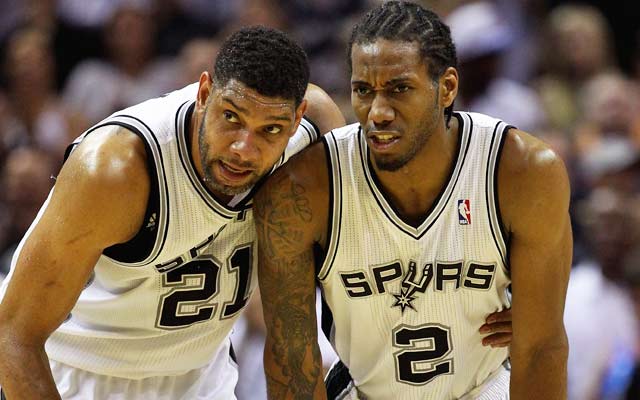 They'll hear plenty more from them in this series, too, and it's Popovich's unenviable task to fire up this basketball machine again on Saturday night and find a way to slow them down.
"We need to keep that same energy going into the next game at their place," Tony Parker said.
Popovich tinkered with the lineup, inserting Matt Bonner in place of Tiago Splitter to spread the Thunder defense out and minimize Serge Ibaka's impact. Parker didn't have a great night statistically, but that isn't his job. His job is to get the Spurs into their offense, create tempo and put pressure on the defense, and he did all three marvelously.
When the Spurs play like that -- moving the ball side-to-side, moving their bodies with precision -- it's looks like they're playing 6-on-5. In Game 5, it looked that way on both ends of the floor.
"I couldn't even set a screen tonight," the Thunder's Kendrick Perkins said. "They were busting through screens and doing all the little things."
Facing a moment of truth, the Spurs did what the Spurs do. They always live for one more day, strive for the next 48-minute snapshot of this incredible run that has touched three decades.
They delivered on Thursday night, just like you knew they would.
If the Bulls buy him out, Wade could reunite with his former Heat teammate this season

West was a huge piece in building the Warriors into the super team they became

The annual rookie survey is in, but if previous years are any indication it won't mean muc...
Annual NBA rookie survey yielded some surprising results, but none more stunning than this...

Iverson says the King always has a shot to win it, and gives him the upper hand in 2017

Could be an awkward meeting, whether Melo suits up for the home team or the visitors