Female fan who flipped off Noah in photo identified as Filomena Tobias
The media has identified the female fan who flipped off Joakim Noah in a photo taken Wednesday night during the Bulls-Heat game.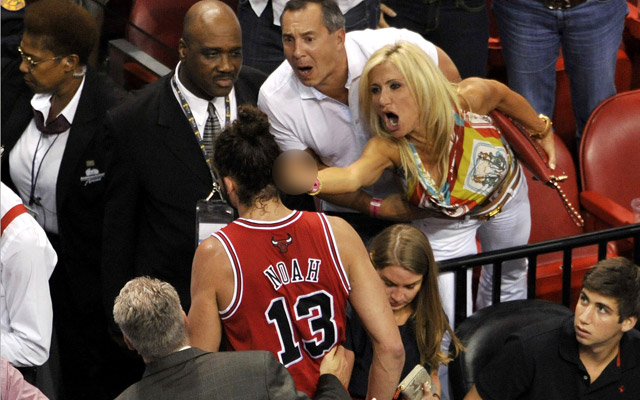 The lady who, ahem, gave the Birdman to Bulls center Joakim Noah after he was ejected Wednesday night has reportedly been identified, and she's ... er ... quite the character. 
The Miami Heat fan who gave the one-finger salute to Chicago Bulls center Joakim Noah has a message to the world of Internet trolls: Get a life.

The woman whose one-finger salute has become an Internet sensation overnight is Filomena Tobias, the widow of former CNBC commentator and financial wizard Seth Tobias, said Filomena Tobias' daughter, Victoria Racanati, when reached by phone by the Sun Sentinel.

"She's embarrassed, but she is being a good sport," the daughter told the Sun Sentinel on Thursday. "She was having fun just like any other fan. All she has to say is that people need to get a life."

The daughter said her mom did not want to comment.
via Filomena Tobias is Miami Heat fan giving middle finger to Bulls' Joakim Noah - South Florida Sun-Sentinel.com.
Oh, so she's just your average rich ticket holder, then. I got it. No problem. 
Not quite. And if the name seems familiar, it's because Tobias is no stranger to national headlines. From the New York Times: 
A life of private jets and black-tie balls ended with Seth Tobias, a wealthy investment manager and a familiar face on CNBC, floating face down in the swimming pool of his mansion here.

It was just after midnight on Sept. 4 when Tobias's wife, Filomena, frantically called 911, the emergency telephone number. "Please send somebody, please!" she screamed. "He's not breathing!" By the time the police arrived, she had pulled her husband's body to the edge of the pool, where she cradled his head in her arms, sobbing.

Seth Tobias was 44 years old. He had apparently suffered a heart attack, his brother Spence said at the time. The police did not consider his death suspicious.

But now an unfolding drama over Tobias's estate is providing a lurid account of fast money and faster living in the volatile world of hedge funds. Tobias's four brothers and his widow are locked in a legal battle over the estate, which is worth at least $25 million. And, in a civil complaint, they have gone so far as to accuse her of murder.

The brothers, Samuel, Spence, Scott and Joshua, claim that Filomena Tobias drugged her husband and lured him into the pool, where he drowned. A former assistant to Seth Tobias has told the police that Filomena Tobias confessed to him that she had cajoled her husband, who was on a cocaine binge, into the water, promising him sex with a male go-go dancer known as "Tiger." A lawyer for Filomena Tobias has called the claims outrageous.
via A case of fast money and even faster living - The New York Times.
Of course, that was six years ago, and Tobias was never even accused by police or charged with anything: 
After a five-month investigation into the bizarre death of CNBC commentator Seth Tobias, Florida police closed the case Monday, clearing his wife of any suspicion and setting her up to inherit $25 million.

"As of yesterday our case is closed," said Sgt. Scott Pascarella, spokesman for the Jupiter Police Department. "We reviewed the evidence and toxicology and there is no indication of criminality concerning the death of Seth Tobias."
via Police Clear Wife in Death of CNBC's Seth Tobias - ABC News.
It just makes the story behind the photo a little weirder, in a pretty weird place, Miami. 
T.J. Warren gets paid big money by the Suns in a four-year deal

Melo didn't hold back on his feelings about President Donald Trump and urges for help in Puerto...

The Wizards star says the NFL won't change until important players like Brady and Rodgers speak...
Popovich spoke at length about sports, race, culture, and politics during Spurs media day on...

Carmelo Anthony finds the idea of coming off the bench very funny

Several teams spoke about Trump's recent comments about protests and the Warriors' White House...