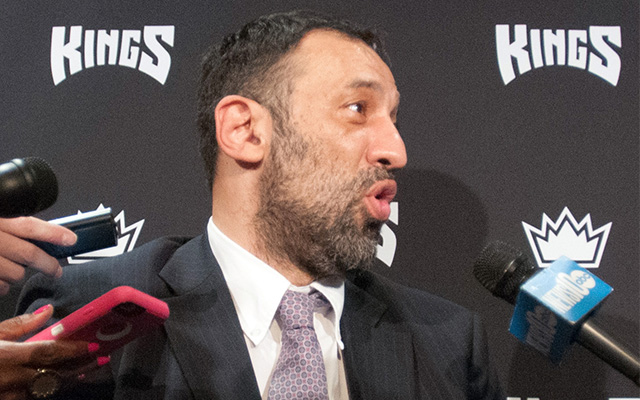 When you look at the Kings and the mess -- or at least the perceived mess -- they're becoming, it's all about process vs. results. The actual results of their offseason, to be honest, haven't been bad. You could argue they've been pretty good, actually. They've made smart signings like Kosta Koufos and Marco Belinelli, withstood the hurricane of the DeMarcus Cousins trade rumors, nabbed Willie Cauley-Stein in the draft and overall they have a better roster than they did last year. 
This, again, is all good stuff.
The way they've gotten here -- trading a first-round pick and Nik Stauskas for the cap space to try to sign free agents they were unable to land, the Cousins-George Karl circus, just the general chaos surrounding the team as new president of basketball operations Vlade Divac has tried to herd the cats back into the barn -- however, has been a disaster. 
And now we've apparently got another red-nosed, high-wire attraction to showcase, as CSN California reported this Sunday. 
Confirmed Dean Oliver & #Kings parting ways #NBA

— Bill Herenda (@billherenda) July 26, 2015
If you're wondering who Dean Oliver is, he's perhaps the foremost authority on basketball analytics. Kings owner Vivek Ranadive hand-picked him last season as the team's director of player personnel and head of analytics on the advice of now-departed GM Pete D'Allessandro, which no doubt had something to do with his departure. He had multiple years left on his deal. And now, out of nowhere, he's gone. 
So, to summarize, in the spirit of continuing an offseason laced with pure turmoil and confusion, Ranadive, who is about the most analytics-focused, hyper-progressive owner you're going to find, has gone and fired the guy who literally wrote the book on basketball analytics. There was almost immediate talk out of the local guys (with local sources no doubt) that the Kings are still interested in analytics, that the problem was just Divac and Oliver on the same page. Which is entirely possible. The question will be who they hire to replace Oliver -- again, one of the most respected analytics voices in the field -- and what kind of role that person or persons have. 
Divac, like a lot of former players, doesn't seem too high on the idea of analytics as a major tool in the box, but it's largely too early to tell. That's an interesting belief if accurate, considering teams like the Warriors, Spurs, Rockets, Heat, Hawks and a host of other contenders are heavily invested in analystics, while teams like the Lakers and Knicks are not, but hey, the man has a right to his opinion. 
The bigger question is if this philosophical clash is to blame for Oliver's dismissal, or if it was just an old-fashioned personality clash with Divac. Either way, this mess, as so eloquently laid out in the tweet below, is only getting messier.
None of Kings "moves," from coach swaps to Sixers trade to front office Game of Thrones is backbreaking on its own, but together = yikes.

— Conor Dirks (@ConorDDirks) July 26, 2015
And Kevin Draper at Deadspin nailed the overarching issue.
Yo-yoing from a Pete D-Alessandro/Dean Oliver front office to a Vlade Divac/Peja Stojokavic one within the span of a few months, and firing a coach his star player loves and hiring one he does not, are clear signs that Vivek Ranadivé has no overarching organizational philosophy that guides his decision-making. Rather, he lurches from one sage to another in search of The Answer.
Source: Let's Talk About The Sacramento Kings. 
In essence, the Kings seem to have no compass. First they were an analytics-driven team with a slow-it-down, defensive-minded coach (Mike Malone). Then they were a fast-break team with a coach hardwired to push the boundaries of offensive basketball (George Karl). Now? With Oliver gone? I suppose they're aiming to be some semblance of a traditional-model NBA team -- which is to say heavy on post play, low on analytics. 
To be fair, any of these models, at least in theory, can prove effective with the right personnel. The secret of the NBA is that there isn't one way to skin the championship cat. You can be a defense-first, grind-it-out team (2004 Pistons, 2007 Spurs) or a move-the-ball, hyper-versatile, fluid fast-paced team (2014 Spurs, 2015 Warriors). 
One way or the other, you have to figure out which one you are.
Ranadive's book is about how business adapts to changing technology, and trying to remain ahead of the curve. However, you can't be constantly adapting in the NBA. There wasn't time to fairly judge the Mike Malone era. There wasn't time to fairly judge the Pete D'Allessandro-George Karl team-up. There wasn't time to fairly evaluate the Kings' analytics approach. And now they're changing it up again?
Listen, the Kings might be better next season. The talent has improved, and if their record improves along with it, the narrative around the team will as well. But the teams that win consistently -- teams like the Spurs, Heat and the Mavericks (despite their issues this summer) -- have been built around solid plans, cohesive front-offices and consistent approaches. 
The Kings, instead, are like the teenager taking a driver's test. If they knock over all the pylons but somehow manage to barely pass the test anyway, do you really want them on the road?