Five great moments from Dwight Howard's 'Inside the NBA' appearance
The Rockets big man opened up about his relationship with James Harden, about free agency and about how he feels about the public perception toward him.
Dwight Howard appeared on TNT's Inside the NBA Tuesday night following the Thunder's win over the Spurs in Game 5 and things got real. The Houston Rockets (for now) star engaged in a very serious and emotional conversation with Charles Barkley and Kenny Smith about his game, and how he's perceived by critics. Take a look: 
Here are five moments that define the exchange:
1. "Why do you think people have a negative perception of you?"
"People see the success he had in Orlando and they see me now and they're disappointed," Howard said. He admitted that people tend to think he's a diva, and that that hurts him. He said he feels that people liked him better in Orlando. 
This is notable, in that Howard has an opt out for this summer, and there's been talk of a possible reunion with the Magic. In time, Howard seems to have learned that the grass isn't always greener on the other side, that he had a good thing in Orlando with Stan Van Gundy and that his departure in a drawn-out debacle of a trade demand hurt not only his public perception and career, but his team and his chances of winning. 
2. "My heart and my attitude towards the game has always been the same. My drive has always been there." 
Howard admitted to being "pissed off" at the perception of him now. He mentioned that Charles Barkley told him early in his career he wouldn't make it in this league, that Magic Johnson told him he'd never reach the NBA. Howard was genuinely pained at the idea that he cared more about himself than his team. 
3. "I'm always interested in winning. But as a big, you want to feel a part of what's going on."
James Harden's name was never brought up in this entire exchange, but that's what this was about. Howard basically said that he's not able to be involved offensively the way Harden is, so he needs Harden to involve him. He only referenced teammates, but the context made it pretty clear. 
"If I could bring the ball up the court, go between the legs and shoot threes?" Howard said. "That'd be great, but I have to rely on my teammates in certain aspects to get the ball. Now there are times when I've been upset and taken myself out of games and situations and that's on me. I have to grow and be a better player than that."
At the same time, Howard's offensive game has simply not been good enough since Orlando to just feed him the ball in the post. He's always maintained that he can be great in the post, but after the 2010-11 season, which he really was terrific in, he's never been the same. He's a limited scorer in that situation, which means that pick and rolls are the most effective way to use him. But with diminished mobility due to injury, that suffers as well. But the bigger issue in pick and rolls is that the guard has to make the read based on how the defense defends him. And that's where things can get contentious. 
Is the ball not passed on the lob because the pass was not there, or because the guard wanted to shoot? 
This entire exchange leads you to think Howard's time in Houston is done. 
4. "Do I smile, do I not smile?" 
Howard really got to the frustration that he suffers from in regards to how people regard him. Much of this stems back from a situation earlier this season where when Howard wasn't smiling, people suggested that he was unhappy. 
"I've had the problem with smiling too much, people saying I smile too much or I play too much on the floor, so when I'm not smiling people say I'm not interested in the game. So it's like a thin line, where I'm like 'Man, do I not smile? Or do I smile and have fun?' That's been an issue for me personally."
Howard was frustrated with this at a shootaround all the way back in November at Denver. It's a fair thing for him to feel. He gets criticized no matter what he does. He's either not taking the game seriously, or he's pouting in-game. But sometimes he is pouting, and sometimes he's just not engaged because of what's going on. And it's awful late for that in his career. 
However, Howard shouldn't have to apologize for who he is as a person. He's a happy, laid-back guy, and that shouldn't preclude him from being a great player.  He's right that this double standard exists that he can't win. 
5. "That part hasn't even crossed my mind."
Good job by Matt Winer to press him on this. Howard said that he hasn't even thought about his opt out for this summer, and Winer tried to get him to at least admit that he's thought about it. Howard said he took a week's vacation in Mexico to get away, and asked himself what he can do to come back and be a better player. 
Howard has clearly thought about his opt out, and no one expects him back in Houston next year. There were such high hopes for this tandem of Harden and Howard, but in the end, it just didn't work. Howard said that he and Harden could play together, but they both have to sacrifice. Howard said, in response to Barkley saying you don't have to get along to win, "but you have to have chemistry." 
The interview was awkward at points, but it was also really insightful. Howard was honest and opened himself up to the world in a tough situation with Barkley, who has been critical of him. Howard came off as the most endearing guy he's seemed like in five years. It was great television. This may be the start of what is a pretty common turn of narrative where the player that was reviled for so long turns the corner and starts to be appreciated, but he's got to get healthy and be productive for a winning team first.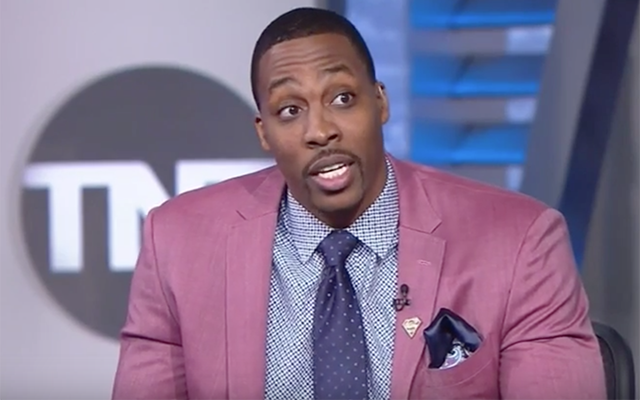 CBS Sports HQ Newsletter
We bring sports news that matters to your inbox, to help you stay informed and get a winning edge.
Please check the opt-in box to acknowledge that you would like to subscribe.
Thanks for signing up!
Keep an eye on your inbox for the latest sports news.
Sorry!
There was an error processing your subscription.
Mark Cuban is ready to revolutionize the NBA schedule

The Wizenard Series: Season One" is the second book in a series Bryant coauthored

The former No. 1 overall pick finally had a fully healthy season while proving he wasn't a...
The 14-year NBA veteran said he learned about the charges after his card was declined

Some teams are going to wind up at the bottom of the West next season, and these six are the...

Marbury is facilitating the delivery of masks to the city from China at a significant discount
The Lakers beat the Clippers for the first time this meeting on Sunday afternoon

Giannis and the Bucks failed to best Los Angeles in their matchup LeBron and the Lakers