Five interesting things from the third round of All-Star returns
The NBA announced the third round of balloting for the 2014 NBA All-Star Game. We take a look at the interesting developments.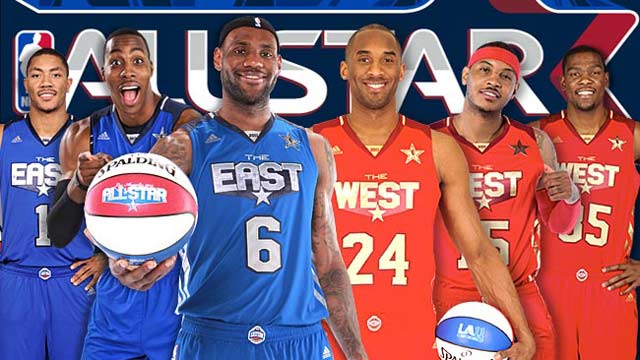 With the NBA's release of the third and final All-Star Ballot returns before starters are announced January 20th, there have been some interesting developments. Though there haven't been any seismic shifts in the probable starters, there are some trends worth pointing out. 
First, here are the results. 
EASTERN CONFERENCE
FRONTCOURT
BACKCOURT
1.        

LeBron James

(Mia) 1,076,063
1.        

Dwyane Wade

(Mia) 718,109
2.        

Paul George

(Ind) 899,671
2.        

Kyrie Irving

(Cle) 652,522
3.        

Carmelo Anthony

(NYK) 702,869
3.         

Derrick Rose

 (Chi) 323,099
4.         

Roy Hibbert

 (Ind) 385,964
4.         

John Wall

 (Was) 278,516
5.         

Chris Bosh

 (Mia) 304,986
5.         

Ray Allen

 (Mia) 190,086
6.         

Kevin Garnett

 (BKN) 164,021
6.         

Rajon Rondo

 (Bos) 133,448
7.         

Joakim Noah

 (Chi) 128,201
7.         

Deron Williams

 (BKN) 95,309
8.         

Andre Drummond

 (Det) 120,844
8.         

George Hill

 (Ind) 89,428
9.         

Tyson Chandler

 (NYK) 101,637
9.         

Lance Stephenson

 (Ind) 77,364
10.       

Jeff Green

 (Bos) 96,336
10.       

DeMar DeRozan

 (Tor) 68,985
11.       

Luol Deng

 (Cle) 90,730
12.       

Carlos Boozer

 (Chi) 80,271
13.       

Paul Pierce

 (BKN) 72,581
14.       

David West

 (Ind) 61,612
15.       

Brook Lopez

 (BKN) 58,477
So
WESTERN CONFERENCE
FRONTCOURT
BACKCOURT
1.        

Kevin Durant

(OKC) 1,054,209
1.        

Kobe Bryant

(LAL) 844,538
2.        

Dwight Howard

(Hou) 509,116
2.        

Stephen Curry

(GS) 677,372
3.        

Blake Griffin

(LAC) 500,964
3.         

Chris Paul

 (LAC) 651,073
4.        

Kevin Love

(Min) 483,031
4.         

Jeremy Lin

 (Hou) 471,980
5.         

LaMarcus Aldridge

 (Por) 404,793
5.         

James Harden

 (Hou) 338,788
6.         

Tim Duncan

 (SAS) 385,342
6.         

Russell Westbrook

 (OKC) 260,499
7.         

Anthony Davis

 (NO) 223,956
7.         

Tony Parker

 (SA) 195,328
8.         

Pau Gasol

 (LAL) 207,213
8.         

Damian Lillard

 (Por) 162,363
9.         

Andre Iguodala

 (GS) 192,616
9.         

Klay Thompson

 (GS) 108,404
10.       

Dirk Nowitzki

 (Dal) 156,792
10.       

Ricky Rubio

 (Min) 97,265
11.       

DeMarcus Cousins

 (Sac) 148,604
12.       

David Lee

 (GS) 141,509
13.       

Chandler Parsons

 (Hou) 135,387
14.       

Omer Asik

 (Hou) 101,372
15.       

Kawhi Leonard

 (SA) 91,859
1. Hello there, Stephen Curry. Curry moves past Chris Paul into the starting lineup for the All-Star Game, which is a testament to his growing star power. It's also enough to make you wonder about Chris Paul's popularity. The guy has commercials everywhere, is regarded as the best point guard in the league, plays for a team in LA, and has a team with more wins. 
So why would he fall off? Well, for starters, Curry is more fun to watch right now. Paul has evolved past the lightning and flash guard he was in 2008. He's smarter, wiser, stronger. He makes the right play 90 percent of the time. Curry on the other hand is a turnover machine because he's always looking for a flashy dribble or pass. Throw in the insane shooting, and a fanbase that yields the internet like a Gatling gun, and here you are. 
2. Kevin Love's making a run at Blake Griffin. Paul isn't the only Clipper struggling in returns. Love has shortened the gap to just over 17,000 votes. You have to think Griffin's attemped murder of dunk on Kris Humphries will get him a push in the next few days, though. Love is the more deserving candidate, however. He's been the best power forward in the league, and if he's not, it's LaMarcus Aldridge, who is 80,000 behind Love. You have to think those three plus Anthony Davis are splitting votes from each other. 
3. This one's not surprising, but Kobe Bryant remains the top West guard by a huge margin despite having played six games. Fans gonna fan, y'all. Even after Bryant publicly implored fans to vote for another guard like Damian Lillard, Bryant picked up over 120,000 votes since the second returns. So if playing in LA isn't enough, apparently being a Laker is. Bryant has said he's unlikely to play, but then, Paul's also injured. This sets up a tricky situation for the coaches, with Russell Westbrook the next best candidate... but he's also out with knee surgery. You'd have to think the coaches would select Tony Parker or James Harden over Jeremy Lin, despite the vote gap. 
4. Paul George's gap over Carmelo Anthony continues to swell and is essentially a lock, now. George leads Melo by nearly 200,000 votes, an insurmountable amount. Anthony will have to be selected as a reserve. He's a lock on that front, but it's still jarring to see Melo get boat-raced by a guy from Indiana. 
5. Omer Asik has over 100,000 votes. Welcome to the NBA All-Star ballot process. 
Trump rescinded Curry's invitation to the White House after Curry said he wasn't interested...

Silver said he was hoping Warriors would get chance to share their views directly with the...

Along with the Thunder, those were the three teams most involved in the Anthony trade talk...
LeBron said he was frustrated by the President's recent actions

A look at the various actors and elements in the latest sensational blockbuster trade in the...

Blockbuster deal doesn't change the Thunder's projected finish in the West