Five must-watch and must-avoid League Pass teams for 2013-2014
Which five teams should you absolutely check out on NBA's League Pass this season? Which five should you avoid like the plague? We break it down.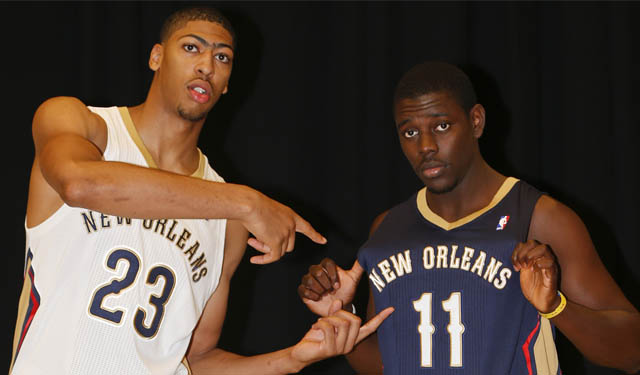 With NBA season right around the corner, it's time for us to handicap NBA League Pass games -- contests not featured on national television. The League Pass Broadband option has provided a cheaper option where people can choose five teams instead of paying for the whole 30. And even those who select the option for the full slate of games online or on television, there are always decisions to be made throghout the year as to how to prioritize one's viewing.
We've got you covered. 
What follows is a guide to the top five best and worst league-pass watch teams. This is not based on the quality of the team. That plays a part, but the big factors to consider are: 
1. How fun is the team to watch on a nightly basis?
2. How good/bad are the announce teams and television production?
3. How many national television appearances are there? You don't want to spend your time or money on a team that you see consistently on other outlets, or at least don't get to watch with the package you paid for. 
4. How many close games will they be in? The Miami Heat don't appear because they'll blow out a lot of teams. Same with the Oklahoma City Thunder . You don't want a team you're going to get a lot of 18-point wins over, even with the star talent. 
5. Division balance: You want to make sure you target divisions with good teams where you get to see them as part of your package. For example, a Pistons selection means you get to see four games from the Bulls and Indiana Pacers . You don't want to load up within the division, and you want a balance across conferences as well. 
So with that, here are the teams you must check out, and must stay far, far away from, on League Pass this season. 
Other rankings: Grantland | SI.com | USA Today
MUST-WATCH
1. New Orleans Pelicans : Gotta tell you, I hated the name when it came out. Loathed it. I generally still only refer to them as "NOPE!" And that affected my initial reaction to their uniforms. But seeing them in action? They're actually pretty smooth.
Anthony Davis , a pterodactyl with a jetpack, is emerging in his second year. Jrue Holiday very quietly, almost subliminally, erupted as a playmaker and defensive demon. Eric Gordon can fill it up when healthy, Tyreke Evans is still devastatingly intriguing, Ryan Anderson is basketball joy and Jason Smith and Greg Stiemsma comprise maybe the most badass frontcourt this side of wherever Nikola Pekovic lives.
Throw in Joel Meyers on play by play, the Mardi Gras uniforms, and the low number of national television appearances and here you are. Your best League Pass team. Plus, you get 15 games against the Rockets, San Antonio Spurs , Mavericks, and Memphis Grizzlies .
2. Golden State Warriors : You lose 17 games to national television appearances, so that's a bummer. But only five of those come after January, so when the playoff rush is really on you get a steady diet of the Warriors.
Stephen Curry is an easy one. But don't sleep on getting to watch Klay Thompson , who shoots like Curry and defends like, well, someone better than Curry. Andrew Bogut 's intensity is worth the time as well, and you get David Lee 's smooth offense. Also, coming in and out of timeouts, there's a chance you get Mark Jackson's huddle speeches.
A pleasing color scheme and the NBA's most raucous atmosphere outside of OKC throw in a benefit as well. A great announce crew and a team with a lot of swagger make this the second best bet, despite its heavy exposure this season.
3. Detroit Pistons : Entertaining regardless of result. If they play well, it's good basketball by a team of talented players which features veterans and young bucks both. If they play poorly, it's a trainwreck you can't pull your eyes from. I'm a strong believer in the idea that your league pass team shouldn't be elite all the time. Good basketball teams aren't always entertaining (see our worst LP teams list below).
The Pistons are just bipolar enough with Brandon Jennings and Josh Smith to balance on that line between being rewardingly good and frustratingly flawed. You want the team to tease you a bit. The Pistons will go full-on "Some Like It Hot" in that regard.
Andre Drummond is a bonus factor, so is George Blaha, arguably the best announcer on League Pass. Throw in the vintage uniforms, the history at the Palace, and "Deeeeee-troit-Basket-baaaaaallll" and this is a no-brainer.
4. Houston Rockets : I get why you wouldn't go this route. There are question marks. If you're tired of Dwight Howard, that's enough. Their announcers tend to grate on some people, though I will say that generally speaking, the crew credits good players on the other team (a big bonus with me) and will provide breakdowns of strengths and weaknesses on both sides.
But look, this team has fast, talented wings who can light it up, a center who looks like Judge Reinhold, a legendary big man as a coach and Jeremy Lin and Chandler Parsons' handshakes. There's a lot of win here, if you can get past the things that bother you.
5. Toronto Raptors : If it weren't for the division crossover, I'd put the Cavs here. 78 games of Kyrie Irving is worth the investment alone. But the Pistons take precedent, and so the Raptors fill in.
First off, you need a team you can watch grow, and this team will likely be very different in April than October. Second, you have the young star in Jonas Valanciunas few know, so you can tell your friends at the bar about him. Rudy Gay is the kind of star you want to watch and track, even if his summer eye surgery doesn't result in a dominant offensive season.
Their announce crew is top notch, and while the baseline 3-D figures are disconcerting, they're also at least unique. Toronto has a young roster with some fun players on it, you get the occasional Saturday and Sunday early afternoon games to switch it up, and being in the Atlantic, you get multiple games to see New York and Broolyn.
MUST-AVOID
1. Chicago Bulls : I know what you're thinking. "ROSE!" And yes, Derrick Rose is exceptionally fun. He's shown no signs of rust from the injury and should be lighting up defenses.
But the offense, Marty. Something's got to be done about the offense. This is not to say that the Bulls don't have an effective or efficient offense. But this thing is about as smooth as an '89 Buick rumbling down an unpaved road. Most of it comes down to "Pick and roll, point guard shoots or passes it to mid-range shooter, miss, offensive rebound, putback." Again, the Bulls are vey good on both sides of the ball. But it's not fun to watch, it never has been under Tom Thibodeau, even with Rose.
They're on national television a ton, and will get picked up more for NBA TV. They feature a lot of blowouts. You've got some good things, great things really, like Rose, Joakim Noah and his finger gunz, Carlos Boozer yelling, Taj Gibson dunks, and a fun drinking game around how many minutes Thibodeau overplays his stars.
But this doesn't make up for the overall television watching experience. Stay away. You'll see the Bulls enough, and they're a must-watch in the playoffs. But keep 'em off the list.
2. Boston Celtics : A train-wreck rebuilding process. There's no telling how long Rajon Rondo will be out. Gerald Wallace is already unhappy. They have no legit center. Your best reason to watch this team are Kelly Olynyk and if Jordan Crawford does something crazy.
They're likely to be undisciplined because of all their young players, and they lack an offensive presence. They all know this team won't contend and that's going to mentally hit them.
The Celtics were relevant for five years. The run is over.
3. Philadelphia 76ers : Or as I like to call it, "American Horror Story: Thaddeus Young ." The absolute worst team in the league is making no effort to win this season. There's just no reason to watch these games. They're going to lose, and lose badly. There are some players to watch, but no one who is must-watch TV.
They are trying to be bad. They're not asking for your viewership. Don't provide it.
4. Los Angeles Lakers : Another divisive pick. Kobe Bryant is must-watch TV and he'll likely be back by December. Pau Gasol still has some left in the tank, and Steve Nash is a joy to watch when healthy. You've got celebrity sightings and everyone (but me) loves PA announcer Lawrence Tanter.
So why not?
Well for starters, you're counting on a team with a guy coming off an Achilles' tear, a guy coming off a year with a leg fracture and a degenerative back condition, and Gasol's beat-up body to stay healthy, which is kind of tough at their age.
They're on national television a lot, this season based on popularity. You'll get to see them if things turn out great for them, so there will be no shortage of Kobe moments. But if you sucbscribe, you are going to get a lot of Nick Young 's shot selection and Chris Kaman pick and roll. You get Wesley Johnson as the wing shooter and Xavier Henry as the bench weapon.
Their overall telivision experience is over the top, and the defense could be downright atrocious. The Lakers' popularity is does not make good viewing on a Tuesday from Milwaukee.
5. Dallas Mavericks : I went back and forth on this one. I always want to watch Dirk Nowitzki . I always want to watch Shawn Marion . I always want to watch Rick Carlisle coach.
But man, if things don't get right, this gets rough.
The Mavs have eight national television appearances. Play your LP card right, and you can watch them up to 11 more times. Nineteen games is going to get you a pretty good idea of who they are if they're good. Meanwhile, Monta Ellis is referring to something called "Monta Ball," Jose Calderon  can't defend, and Nowitzki has battled injuries the past two years.
Dallas has a great announce crew, a terrific arena experience, and a team with some talent. But the downside risk is too much to support signing them up.
A look at who came out ahead after Tuesday's megadeal swaps the point guards on the East's...

How the addition of IT changes the Cavs and where they go this summer depending on LeBron's...

Ainge said that he expects the start of Thomas' season to be delayed, but he'll be 'fine'...
The NBA MVP odds have shifted quite a bit following the blockbuster Kyrie Irving - Isaiah Thomas...

It's debatable whether Boston gets better right away with Irving, but the future is definitely...

Kyrie Irving was set to grace the cover of this year's video game in a Cavs jersey -- whoo...