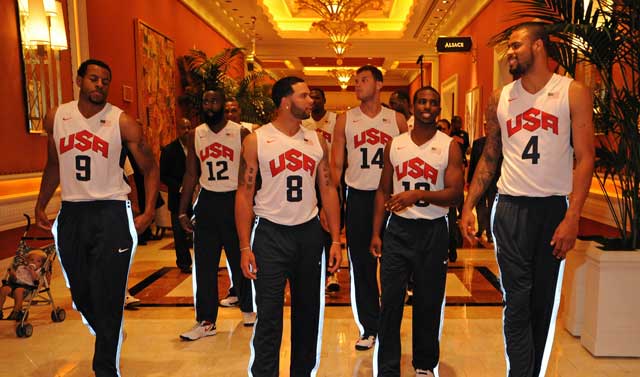 Team USA's roster is full of versatility.
(Getty Images)
LAS VEGAS -- The roster is set, the first weekend of practice is now in the books and Team USA's opening exhibition in advance of the 2012 London Olympics is only days away. In other words, let the nit-picking and hand-wringing begin.
The early buzzwords for this group -- Carmelo Anthony, Kobe Bryant, Tyson Chandler, Kevin Durant, Blake Griffin, James Harden, Andre Iguodala, LeBron James, Kevin Love, Chris Paul, Russell Westbrook and Deron Williams -- have been versatility, camaraderie and speed. And they've wasted no time setting the bar high: USA Basketball chairman Jerry Colangelo called this team more mature, deeper and better than the 2008 Beijing gold medal winners.
More on Team USA
Related links
But there's no such thing as a perfect squad and nobody is unbeatable in the modern international game, where Spain pushed USA to the final quarter of the gold medal game in Beijing and the USA slipped up in both the 2004 Olympics and the 2006 World Championships. 
"There's no margin for error here," James said on Saturday, contrasting the do-or-die nature of the medal rounds to the best-of-7 format used in the NBA playoffs.
It's probably going too far to say that this team has any true "concerns" heading into the Olympics, but here is a rundown of five top questions facing Team USA.
Are they big enough?
Many fans and media members have immediately seized on the fact that the 12-man roster has just one true center -- Chandler -- as the team's greatest weakness.
Indeed, if there is one injury absence that hurts this team the most, it's that of Dwight Howard. It's easier to sustain the loss of Derrick Rose when both Paul and Williams are ready, willing and able to run the show, and Westbrook is on call behind them. You can get by without Dwyane Wade if Bryant, Westbrook and Harden can provide backcourt scoring, and Iguodala can be selectively employed as a defensive specialist. But Howard's absence does leave a hole and Team USA isn't able to call on the rehabilitating LaMarcus Aldridge to help fill it, either.
With that said, Team USA has been adamant that the current roster won't be lacking in the interior. In addition to Chandler, who happens to be the NBA's reigning Defensive Player of the Year, USA plans to employ Kevin Love as a makeshift five. What Love lacks in quickness and length, he makes up for in big-time rebounding ability and outlet passing. He also is a match-up nightmare, thanks to his range on offense. 
The bigger picture plan defensively will likely be to use James as a jack-of-all-trades. He's significantly better defensively than he was during the 2008 Olympics and he proved during the 2012 playoffs, particularly when Chris Bosh was sidelined due to injury, that he's capable of defending bigger opponents one-on-one on the block while also being an incredibly effective low-post help defender. James' instincts for reading passing lanes and predicting opponent behavior allow him to close down the court as well as almost any traditional center, and the roster has plenty of wing defenders to allow him to swing up positions without creating match-up concerns.
If there's a real concern on this topic, it's foul trouble for Chandler. There would be a meaningful drop off if USA found itself needing to go to Griffin for extended minutes in the middle of a close game.
What's the ideal starting lineup?
The 2012 team is missing two players -- Howard and New York Knicks guard Jason Kidd -- from its 2008 Gold Medal starting lineup. Of the other three returners, Bryant and James figure to be no-brainer starters while Anthony is on shakier ground thanks to the emergence of Durant.
"We haven't even talked about starters yet," was all Anthony would say on Saturday.
Looking back at the 2008 gold medal game as a guide, Kidd was just a nominal starter, with Paul playing starter's minutes off the bench and Williams seeing solid rotation minutes. Without Kidd, it would seem to make sense to simply promote Paul and Williams in the rotation.
While just a preliminary guess, the early favorites for a starting five would seem to be Paul, Bryant, Durant, James and Chandler. That group is about as traditional as this team can get while still putting the roster's four best players (James, Durant, Paul and Bryant) and three biggest stars (James, Bryant and Durant) on the court to open. 
Another option would be a Paul, Bryant, Durant, Anthony and James look, which would avoid any demotions from the 2008 squad and provide a hyper-offensive approach that would create match-up nightmares across the board. But that group would seem to throw off the balance with the second unit, as Chandler, Love and Griffin would all have to be worked in off the bench. The more you think about it, the more desireable the traditional approach appears.
Are there enough minutes for all the wings? 
The previous question has created a related one: Will there be enough minutes to go around between James, Durant and Anthony? 
The short answer: yes.
Now is a good time to stop for a bit of perspective. While much of the media focus has been on the seemingly inevitable showdown with a very talented, deep and big Spanish team, the 2008 team spent the vast majority of the Olympics enjoying very cushy leads. The 2008 team won all eight of its games by double-digits. Seven of those eight wins came by 20+ points. Four of the eight wins came by 30+ points. 
In other words: All 12 guys are going to get to play in London. And play a lot. There will be more than enough time to go around.
And that's true even at the small forward position, where USA is 3-deep with All-Stars. The easiest solution to the minutes crunch is to swing James and/or Anthony up to to the four. In turn, Griffin, a newcomer, will likely find himself deeper in the rotation and Love can see most of his minutes at the five.
How deep will the rotation go?
Now that we're on the subject of the rotation, might as well go all the way in.
In 2008 against Spain, Coach Mike Krzyzewski opted to play eight players the bulk of the minutes in addition to Kidd in the smaller-minute starting role. His main rotation of eight guys was "small" as it included four guards (Bryant, Dwyane Wade, Paul and Williams) and three forwards (James, Anthony and Chris Bosh), plus Howard as the only center.
On Friday, Bryant said that he expected Westbrook to step in to Wade's role as the off-the-bench scoring threat, and Krzyzewski has praised Westbrook's abilities on multiple occasions this week. Keeping the other three -- Bryant, Paul and Williams -- and calling it a solid four-guard rotation makes all the sense in the world.
Up front, Love would seem to slide into Bosh's rotation role fairly smoothly and Chandler stands in for Howard. Each will likely play fewer minutes than their predecessors to ensure that Durant and Anthony can get their minutes.
The ideal gold medal game rotation, then, likely looks like this: Paul, Bryant, Durant, James and Chandler starting plus Williams, Westbrook, Anthony and Love off the bench. Nine guys with just one true center, just like in 2008.
Which teams are the biggest threats?
While Spain is seen as the USA's stiffest competition, the Americans will first face both Argentina and France in the group stage. 
On Saturday, Paul called San Antonio Spurs point guard Tony Parker of France the toughest cover in the tournament. At EuroBasket in 2011, a French team led by Parker, Chicago Bulls center Joakim Noah and Portland Trail Blazers forward restricted free agent forward Nicolas Batum made it to the final, where they ultimately lost to Spain. Unfortunately for France, their status as a true Olympics contender took a major blow when Noah went down with a significant ankle injury during the 2012 NBA playoffs.
As for Argentina, they will be led by Spurs guard Manu Ginobili, Houston Rockets forward Luis Scola and forward Andres Nocioni. The trio has all turned the corner past 30, though, so it would take something truly special from Ginobili for Argentina to repeat its 2004 Olympics upset.
In all likelihood, the 2012 Olympics will come down to the same two teams as the 2008 Olympics: USA and Spain. Not only do the Spanish have a trio of talented big men in Pau Gasol, Marc Gasol and Serge Ibaka, but they boast the best pure scorer not in the NBA: Juan Carlos Navarro. The loss of Minnesota Timberwolves point guard Ricky Rubio to a knee injury took some of the fun out of this group but Spain's backcourt still has quality and depth thanks to recent NBA defector Rudy Fernandez and Jose Calderon. The Spaniards enter the Olympics coming off an impressive first place finish at EuroBasket.
Still, even with all of these questions, the London Olympics are clearly the USA's to lose.