Five things we learned about NBA Draft at championship game
Shabazz Napier makes a case, Julius Randle does his thing, and the Harrison twins need another year.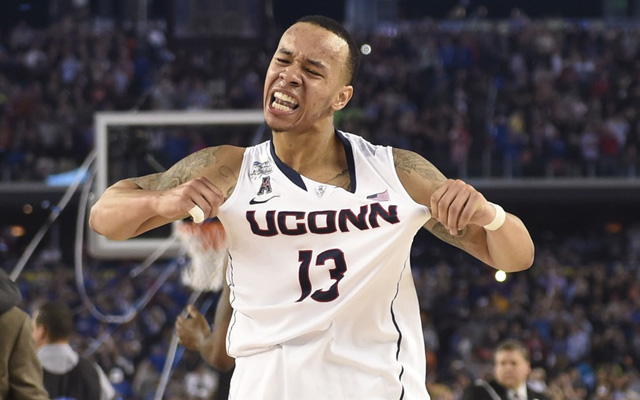 More NBA Draft: Power Tankings | NBA Draft Coverage |
The dust has settled, and the UConn Huskies have earned the title "NCAA Champions" once again. We've chronicled the rise and fall of prospects throughout the draft, but what did the championship game tell us about the prospects. Here are five things we learned Monday night.
1. Shabazz Napier will be intriguing to some teams
I didn't have Napier on my latest mock which was done before the tournament began when UConn looked like an easy out and Napier's questions were louder than ever. And while the tournament doesn't rise or sink anyone's boat, Napier's likely cemented himself as not only a pick, but you can argue an early second-rounder.
DraftExpress.com, for instance, the standard bearer when it comes to the draft, has Napier as the first pick of the second round Tuesday. Gregg Doyel of CBSSports.com compared him favorably with top-ten pick Trey Burke. There are reasonable comparisons there, though Burke's ability to run an offense was much more established at the time. Napier's damage primarily came as a result of his mastery of the pick and roll, something expected for an upperclassmen, though it's nice he's got that in the bag already.
He's much more of a shooter though, torching the Wildcats Monday by rising up behind the screen and launching from deep. That gets harder in the NBA, especially with the range differential, and teams will be able to trap him more effectively than Kentucky did, as they primarily went under since... you know, it's college and no one can shoot.
Still, Napier's toughness, pedigree, resume, and skillset is going to get someone to bite. This draft's depth makeup, regardless of what you think of its quality, means things can get very slippery in a hurry. But someone's going to take a bite on the line.
2. Julius Randle is what you thought he was
What did you expect to see? You got it. He showed flashes of the spin move, the hustle, the rebounding power and ability to burst through defenders. He looked lost on defense and was outhustled in full-court play. He showed the handle and strength that make him a top five pick, nearly guaranteed. He was blocked at the rim several times because of those T-Rex arms of his.
That may not have been the Julius Randle we've seen, but it was enough to reaffirm what you wanted to. We weren't going to learn anything new about Randle this late in the season, the very last game. He wasn't going to silence all doubters or convert all the optimists. There are real concerns with Randle, and he is a legitimate beast. He had a bad game that showed flashes. Let's see what he can do with a pro level strength and conditioning program and a few years to develop.
3. James Young is someone to watch
The kid has the kind of frame for a wing you want. He can dribble, pass, shoot. He kept Kentucky in the game, forcing it into more than a certainty in teh second half. He rotates well, and his aggressiveness throughout the tournament and especially Monday night when he attacked the teeth of the UConn defense was palpable. If he decides to jump, which he should, he should go in the lottery.
4. Alex Poythress did the right thing by coming back
Poythress struggled to a crazy degree last season and was still a borderline mid-first-round pick by some mocks. What's surprising is that Poythress didn't raise his stock but this may still have been the best decision.
Let's say he's not a fist rounder this season, either. Poythress still showed that he has the makeup to be a professional basketball player far more than last year. He showed up in the tournament and Monday night in a way a player that has progressed would. He's a stronger player, a more well-rounded player, and if he were to decide to stay another season, he would add even more.
There's your draft stock and then there's your career prospects. Poythress is a better player for having come back to UK.
5. The Twins need another year
Aaron Harrison made some incredible shots in this tournament, and tried for the same heroics Monday night. But making big shots in a one-off tournament doesn't mean that they legitimately have made the leap in-season. Aaron and Andrew need another year to develop understanding of how to play as a guard in the NBA.
The two improved a great deal from early season where they looked lost on so many possessions, but everything from decision making to shot creation and reading a defense needs to improve. If they were to declare for this year's draft they're still late first round/early second-round picks, but the best thing would be to take the "done" out of "one and done" as they were expected to be.
Word got back to Irving that the team was discussing options, and he didn't like it one bi...

An ongoing investigation continues to reveal details about the Mavericks' workplace

Larry Hartstein has his finger on the pulse of Kings basketball and just released a play for...
One reported proposal has seeds 7-10 playing for the final two spots in each conference

The longtime Maverick says he's disappointed by all the negative news surrounding his beloved...

Larry Hartstein has nailed 17 of his last 22 NBA against the spread picks and locked in a play...