Flip Saunders: Kevin Love has no right to be frustrated
Minnesota general manager said on the radio on Saturday that Kevin Love has no right to be frustrated.
• 2 min read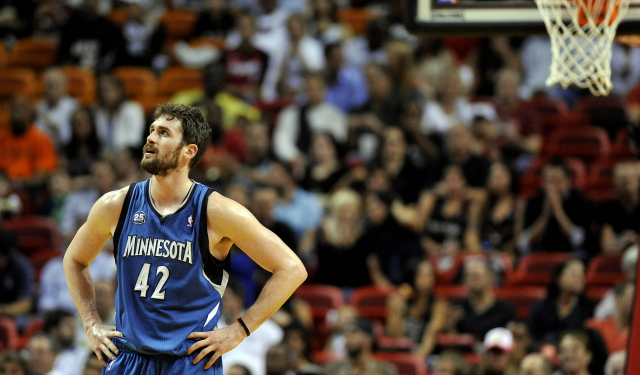 More Offseason Analysis: Coaching changes, news | Free Agency | Draft
Minnesota Timberwolves president and head coach Flip Saunders spoke with KFAN 100.3 on Saturday and was asked if star forward Kevin Love has a right to be frustrated. Saunders responded with a flat no, then invoked the name of another Kevin who was once the Wolves' franchise player, via ESPN:
"Just like I told Garnett, he didn't have a right to be frustrated," Saunders said during an interview with KFAN 100.3 in Minneapolis-St. Paul. "Why does any player have a right to be frustrated? You're either part of the problem or part of the solution.

"Should the team be frustrated? Yeah, the team can be frustrated. But I don't think any one individual should be frustrated."

Saunders pointed to a moment early in Garnett's career that stood out to him.

"I tell a story about -- we were in the locker room when KG was in like his third year in the league, and Sam Mitchell was sitting in the locker room," Saunders said. "KG was in there, and we had lost a couple games, and we were all sitting there talking.

"KG started going, 'Hey, you've got to start doing more.' And he's talking to some of the bench guys. 'You've got to start doing more.' And Sam said, 'Hey, hold it, hold it. Let me tell you something. You're making all the money. Hey, it's your responsibility. You make the money, you've got to live up to that.' So, that was the mentality, and from that time, KG never ever from that point, he always took responsibility."
In theory, that's all fine. The player who makes the most money can't point fingers; the player who makes the most money should want to turn things around. If this was just a couple of seasons into Love's career, or if he hadn't been producing like an MVP candidate, that statement would hardly be problematic. The issue is that Love has improved every facet of his game and become a truly elite player, while Minnesota has failed to surround him with the proper supporting cast. Six years into his career, with no playoff apperances, that's a pretty valid reason to want a change. 
Love is expected to carry a huge load when he's on the court, but it's not his fault that the Wolves absolutely fall apart when he goes to the bench. It's not his fault that the team's half-court offense basically crippled them in fourth quarters this season, either. Saunders does have a point, in that Love could try to stick it out in Minnesota like Kevin Garnett did for 12 seasons, but the reality is that he is not required to do so. Regardless of where anyone stands on his right to be frustrated, Love does have the right to become a free agent next summer and start somewhere new. Saunders and the Wolves have to deal with it. 
Miami is on Irving's list, but this package still wouldn't be enough to get a deal done

Some teams want to fight the Warriors, others want to 'fight' for the right to draft Michael...

Oklahoma City has reportedly offered the MVP a five-year extension worth over $200 million
The big man was a big part of the Warriors' championship run last season

The Cavs jokes were out in full force after Golden State reportedly agreed to sign Antonius...

New York seems to be at the top of Irving's list of preferred destinations