Flip Saunders: Kevin Love trade gives Wolves an identity
Minnesota president and head coach Flip Saunders addressed the media after the official announcement of the blockbuster Kevin Love-Andrew Wiggins trade.
• 3 min read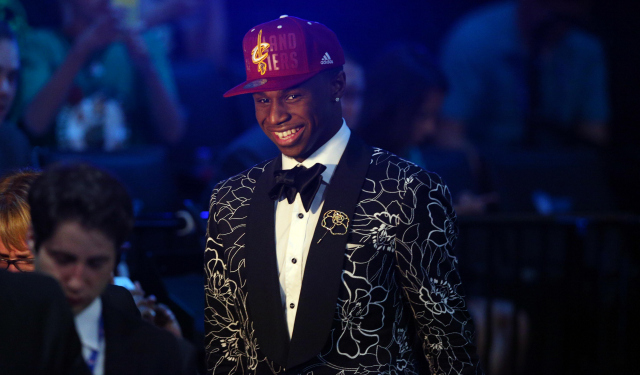 Flip Saunders said Saturday was a bit of a letdown. The Minnesota Timberwolves president and head coach been exploring his options for four months, and finally his franchise-altering decision to trade Kevin Love to the Cleveland Cavaliers was official. After all the negotiation and speculation and rumors and reports, Saunders stood at a podium for a press conference. 2014 No. 1 overall pick Andrew Wiggins will be in Minnesota next season, he confirmed, but we've known that for a long time. So will 2013 No. 1 pick Anthony Bennett, and so will veteran forward Thaddeus Young. The Love fest -- or whatever you want to call it -- is over.
"It's almost like when the season ends," Saunders said. "You have all these practices and games and the next day is like, 'What am I going to do now?' It's kind of one of those."
Wiggins texted Saunders earlier in the day. He told his new coach he had just finished a workout and he had to start another one soon. They'd speak afterward. 
While the completion of the deal might have seemed anticlimactic for everyone, including Saunders, the Wolves boss sounded psyched about the group of guys who will be coming to town to take their physicals on Monday. He said Wiggins had the potential to make All-Star, All-Defense and All-NBA teams. If Minnesota was going to trade Love, it wanted somebody who could eventually replace him as the face of the franchise.
"Usually in this situation, a lot of times in the history of it, people have gotten good players back but maybe not what you consider a guy that has the opportunity to be a superstar-type player. You're talking, in Wiggins, [about] a player that since he was in high school, people thought he was the best player to come out of high school since LeBron James. So he's been compared to those. And he's got phenomenal ability. He's got a lot of work to do, but I know that he's a willing learner."
Saunders had Wiggins No. 1 on his draft board because of the way he projects on both ends of the court. Like Kansas head coach Bill Self said, the 19-year-old will have a chance to make the Timberwolves his team. The man who once coached a young Kevin Garnett plans to give Wiggins a role as big as he earns.
"I expect him to accept a lot of responsibility from the beginning, and see where that goes," Saunders said. "I do know that he's extremely excited about coming here. He's not afraid of the weather. He's from Canada, so he knows what the weather's like."
The most exciting part of the deal to Saunders was bringing two-way players to Minnesota. He said that last year's Wolves didn't have an identity. Now, with Wiggins, Bennett, Young and rookie Zach LaVine, they should be fast, athletic and fun.
As for Love, Saunders reiterated that he would have been comfortable bringing him back to training camp if no good trade came together. He credited the newest Cavalier on becoming a better facilitator and improving on defense, and he called him "maybe the most unique player in the league." For both sides, though, the timing was right to move on.
"Kevin, over his six years, he kept on saying, 'I want to win, I want to win,'" Saunders said. "And unfortunately, over these last years, both him and the team hasn't been able to do that. So he felt it was best for him to go elsewhere."
This means Love is off to chase championships alongside the best player in the world, while the Wolves have to hope their rebuilding process works out better than after they dealt Garnett. Success is far from guaranteed, but Minnesota has the right kind of building blocks.  
"We wanted to not hit doubles, but try to hit home runs," Saunders said.
LeBron and Durant both responded to a newswoman's recent comments, telling them to 'shut up...

Mitchell's Slam Dunk Contest win was the icing on the cake of an incredible run of success

Dennis Smith Jr. had a great dunk contest, but the judges didn't feel the same way
Mitchell was awesome, but Larry Nance Jr. and Dennis Smith Jr. had some serious moves of their...

Silver noted that there are many factors at play with the issue affecting both the NBA and...

Jazz rookie Donovan Mitchell came in as a replacement and ended up winning the whole thing