Floyd Mayweather visits the Heat to deliver title-defending message
Floyd Mayweather is a boxer that has successfully defended his titles every time he's had to. He decided to share some inspiration with the Miami Heat on their latest title defense.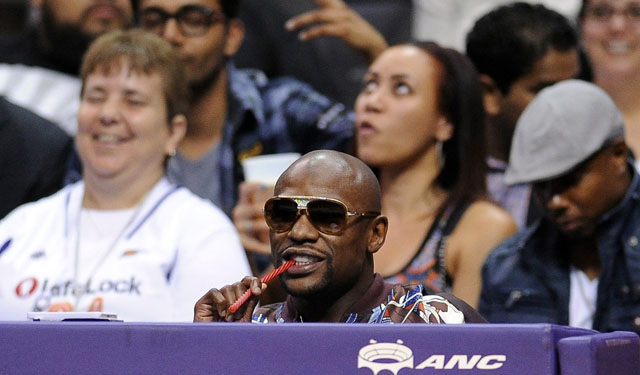 Floyd Mayweather is an all-time great when it comes to his boxing acumen and ability to defend every championship belt he's collected during his perfect career. He's never lost a title fight; in fact, at 45-0 he's never lost a fight, period. There are certain mental hurdles you have to be able to clear when you're defending a championship, no matter what sport you end up earning that championship in.
With the Miami Heat looking to win their third straight championship this season, Mayweather decided to visit the team's practice session and deliver a message about how proud he is of the Heat and how he understands what it means to be the champ, which puts a target on your back when everybody is trying to take you down. It was a rare outsider visit allowed by the Miami Heat, but one Pat Riley apparently felt was a necessary thing. From ESPN.com:
Mayweather was seen exiting the Heat's practice facility just as reporters were entering to interview players. By then, he had already gotten a power message across to an awed LeBron James and several of his teammates.

"With him being 17 years-and-0 -- we're trying to defend two titles -- he's been defending for a long time," James said. "He definitely knows where we're coming from. It's definitely exciting to have someone, one of the greatest of all time, to be in your presence. It's something you can talk about years from now when you look back on the history of sports. That guy was at our practice."

Heat players said Mayweather, who is 45-0 and has won titles in five different weight divisions, talked to the team about remaining on top in the face of what is expected to be stiffer competition from much-improved contenders across the league.
The fact that LeBron James, who is quite respectful of history when it comes to the NBA and sports in general, sounds like he's in awe of being in Mayweather's presence shows you the type of cachet the champion boxer has with athletes. This can seem like an overblown news item on the surface, and maybe it even is after you dig deeper into the ebb and flow of an NBA season, but the littlest things can help refocus a team looking to defend a championship and every bit of motivation counts when you've won two straight titles.
The Heat will attempt to be the fourth franchise in NBA history (Boston Celtics, Chicago Bulls, and Los Angeles Lakers being the others) to win three straight championships when they kick off the 2013-14 season. They stand to earn a big place in history if they do it and Floyd Mayweather stands to possibly win a lot of money by betting on them, which he has been known to do. 
Stephen Oh is on an NBA heater using his data-driven approach and locked in his pick for C...

Even an NBA coach needs a bit, and Steve Kerr seems to have found his

Asked about Reggie Jackson's tactics towards Jimmy Butler, LeBron said he's 'all for it'
This stat line is in no way an indication that Ball has turned any kind of corner

All of Simmons' 3-point attempts have come from well beyond half court

The No. 1 overall pick has not played since Oct. 23 due to a shoulder injury