For Lakers, post-Dwight Howard backup plan isn't half bad
Dwight Howard leaving would cripple most teams, but the Lakers land some talent for 2013-14 and clear cash for the real Summer of LeBron.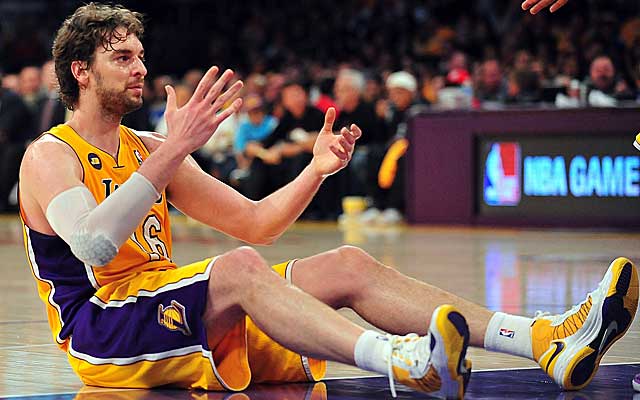 Plenty changed across the NBA landscape this summer, and in that way, the league got just what it wanted out of this collective bargaining agreement it engineered two years ago.
Having seen how good the free-agent summer of LeBron was for business, the powers that be decided they wanted every summer to be like that. So in the Summer of Dwight, we had Dwight Howard leaving the Lakers, Celtics stars going to Brooklyn, Doc Rivers changing coasts and a good portion of NBA teams changing coaches, GMs or both.
All this "player sharing," as David Stern and Adam Silver like to call it, merely served as an appetizer for another actual Summer of LeBron, which is barely 11 months away. But before we get to James potentially opting out of his contract with Miami on July 1, 2014, let's back up for a moment.
Dwight Howard leaving the Lakers ... so, that really happened?
It did, and we've been over the reasons for it and the potential risks and rewards for Howard more than enough. As far as where Howard's decision leaves the Lakers, that, to me, is by far the most interesting part.
To me, the Lakers are way more interesting than Dwight Howard.
More to the point, I also believe that the Lakers are a lot more interesting without Dwight Howard than they would've been with him.
Come to think of it, I'm not sure I would've been able to stomach another season of Howard as a Laker. It always seemed so forced; just never felt like a good fit. So while the Lakers' plan unquestionably was to keep Howard -- a move that would have possibly kept them in the championship hunt next season and undoubtedly would have sent their payroll and tax bill soaring toward a stratosphere occupied only by Mikhail Prokhorov's Nets -- they obviously had to have a backup plan.
To be perfectly honest, their backup plan wasn't bad at all.
Nobody is suggesting that Chris Kaman, Nick Young and Wesley Johnson joining Kobe Bryant (coming off an Achilles injury and turning 35), Pau Gasol and Steve Nash (coming off an injury-plagued season at, respectively, 33 and 39) is going to inspire fear in the hearts of the Spurs, Thunder, Warriors, Clippers or even the Rockets. But the fact is that each addition will be helpful in a specific area of need, and all signed one-year deals that preserved the Lakers' enormous stash of cap space for next summer -- when James and Carmelo Anthony can become free agents.
Whether the Lakers will be able to finagle two max free agents is debatable; that will depend largely on what it takes to re-sign their own free agent, Bryant, who has a $30 million cap hold on the books next summer. But if LA uses the "stretch" provision to spread Nash's $9.7 million contract over the ensuing three seasons and retains Bryant at a reasonable number, the Lakers have a shot at clearing the most cap space in the NBA during the biggest free-agent summer since 2010.
As I said, the backup plan wasn't bad.
Even assuming the Lakers can only add one veteran free agent at a max-level salary, the punitive CBA may have finished doing its job by then of rendering three-star teams extinct. (The chances of the Heat keeping James, Dwyane Wade and Chris Bosh beyond next season under a tax system that owner Micky Arison voted against are somewhere between slim and none.) The Lakers will have clean salary books as far as the eye can see. They'll also have their brand, their desirable city, the best weather in the country, a championship tradition and all of the spending exceptions necessary to add complementary players if they play their cards right.
Remember, LeBron and Melo aren't the only players potentially hitting the free-agent market next summer. So are Dirk Nowitzki, Paul Pierce, Wade, Bosh, Rudy Gay and Luol Deng. Rising star Paul George will be a restricted free agent if he does not agree to an extension with the Pacers. In 2015, his teammate, Roy Hibbert, has a player option.
The point is, when you're the Lakers and you have so much to offer besides cap space, the possibilities of a Dwight-less future aren't so daunting.
What about the present? I'd argue it isn't that bad. The Lakers saved a few bucks by amnestying Metta World Peace, and they got younger and more athletic with the additions of Young and Johnson. When healthy, Kaman is capable in the post. Jordan Farmar left millions on the table in Turkey to return to the Lakers on a one-year, $1.1 million deal. Throw in the capable Steve Blake, and Mike D'Antoni has multiple options as he tries to ease the workload on Nash, who seriously broke down last season and will turn 40 before the All-Star break.
Speaking of D'Antoni, remember that his biggest strength as a coach is getting more out of less. His offensive system doesn't need stars, it needs shot-makers who can get up and down the floor and share the ball. In some ways, underachievers like Young and Johnson are perfect fits.
Also, D'Antoni didn't just agree to Kurt Rambis being added to his staff; he was the one who approached Rambis about coming aboard. This, after Rambis had been hypercritical of D'Antoni last season in his role as a TV analyst. Nonetheless, perceptions surely will persist about how rigid and ego-driven D'Antoni is as a coach. (If Anthony, who famously clashed with D'Antoni in New York, decides he wants to leave the Knicks for the Lakers next summer, well, that's another matter.)
So, are the Lakers, as currently constructed, contending for a championship this season? Nope, not a chance. But I defy you to find another team in the NBA that could lose a player of Howard's talent and stature and feel as decent about it as the Lakers do.
Answer: There is none.
Our advanced computer model simulated Saturday's Thunder-Cavs game 10,000 times

The Jazz are reportedly looking into trading Rodney Hood before the Feb. 8 NBA Trade Deadl...

The Cavaliers are ready to reset everything if they have to. Their interest in Lou Williams...
It sounds like the Cavaliers are going to be active before the NBA trade deadline on Feb....

We've got all the scores, highlights and news for Friday night

George Hill, who is unhappy in Sacramento, could be a solution to Cleveland's backcourt si...