For LeBron, Decision 2.0 could be about sustainability
After going for the quick-fix superteam in leaving Cleveland for Miami four years ago, LeBron James must now consider how best to sustain success with his next free-agent decision.
More free agency: Riley, LeBron to meet | Lebron's agent likes Cavs? | FA Tracker
There are many factors inherent in LeBron James' free-agent decision, some of which he can't fully assess yet and all of which only he will know how best to weigh.
With the Cavaliers positioning themselves to have max room to be a serious contender for a possible homecoming for James, here is a fascinating thread of the story: sustainability vs. the quick fix.
James left Cleveland for Miami four years ago with no championships on his resume, seeking top-tier talent to bolster his title chances. With four consecutive trips to the Finals and two championships, his plan -- and Heat president Pat Riley's execution of it -- worked.
Things have changed. The Big Three have gotten older (with the wear and tear most evident on 32-year-old Dwyane Wade), and the rules are different now. The formation of the Miami superteam was followed a year later by a five-month lockout that fundamentally changed the NBA's financial and competitive landscape. With shorter contracts, free-agent movement restrictions and massive luxury-tax penalties for big-spending teams, forming a team of free-agent superstars isn't as easy as it used to be.
Keeping such a team together, Riley is learning, is even more difficult.
James just lost in the Finals to the Spurs, a team that has sustained success for nearly two decades. As their stars have gotten older, the Spurs have been fortunate to keep them together at salaries below what they could've obtained on the open market. They've also valued draft picks and used them well; maintained flexibility to add free agents and done so wisely; and had consistent leadership throughout this period.
With Riley, coach Erik Spoelstra and a low-key and underrated basketball operations staff, the Heat surpass most of James' free-agent suitors in consistency of leadership. As for the tools and flexibility necessary to maintain long-term success, the Cavs present an intriguing alternative.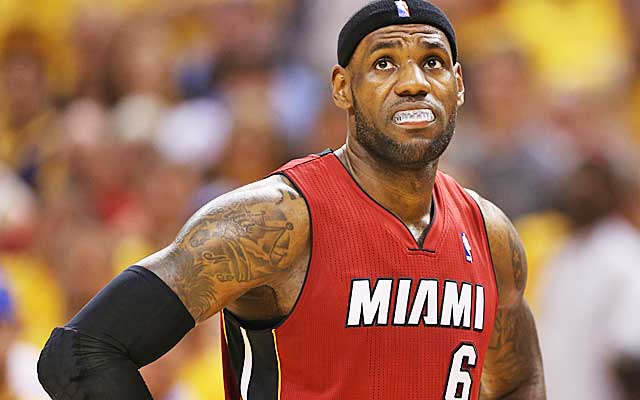 They just locked up point guard Kyrie Irving to a five-year deal and have 2014 No. 1 pick Andrew Wiggins under their control for the foreseeable future. They potentially will have three first-round picks in 2015, which can be used to add youth or in trades to import complementary veterans. They have the means to create room to be significant players in free agency in each of the next two summers.
We've addressed this before, but it's worth repeating: It is interesting that the sign-and-trade deals that got James and Chris Bosh six-year deals with max raises in 2010 stripped the Heat of draft picks that could've been used to infuse the roster with young talent -- talent that may now be ready to contribute on a championship team. Under the more restrictive CBA, significant veteran talent costs more than a Heat team with the Big Three intact would have to spend.
On Monday, Riley finally got his first free-agent commitment, beating out the incumbent Charlotte Bobcats for forward Josh McRoberts, who agreed to a four-year, approximately $23 million deal. If Miami winds up over the cap, as expected, it would be the full mid-level exception starting at $5.3 million. If the Heat have defections, they could use cap room on the deal. Riley then used the Heat's two-year, $4.2 million bi-annual exception to sign Danny Granger, league sources confirmed.
At 29, James now understands that his decision isn't just about next season or the season after that. It is about how he can best assure he will be in the championship mix on a yearly basis with tools at the front office's disposal to continually fortify the roster.
He may well decide, after meeting with Riley this week, that Miami is still that place. Too much is in flux to rule the Heat out. If Bosh leaves for Houston, James would be down one star but Riley would have more flexibility to be in the game with the likes of Luol Deng, Trevor Ariza and others.
It's important to remember that there remain too many ifs for James to decide anything yet. That's why he opted out, gave Riley time to survey the market, and appointed his agent, Rich Paul, to gain knowledge on the alternatives with the Cavs, Lakers, Rockets, Mavs and Suns. This is exactly how it's supposed to work.
But Bosh can't get to Houston with a four-year max until the Rockets trade Jeremy Lin. The Cavs don't have a max slot for James -- or, it's crucial to point out, any other top-tier free agent -- until they offload Jarrett Jack's $6.3 million obligation for next season. The Hawks are among the teams Cleveland has tried to recruit to take Marcus Thornton from the Nets in a three-team deal that would accomplish their goal, a league source told CBSSports.com. Atlanta, which has its sights on Cavs free agent Luol Deng, has demonstrated little interest in that plan.
After going for the quick-fix superteam four years ago, James now surveys the landscape and must consider how best to sustain success. The rules have changed, and so must James' priorities.
Priorities, by the way, that only he will set and only he can factor into a decision that he alone will make.
It was an ugly finish as the Warriors fell to 1-2 on the season -- both Curry and Kevin Durant...

Mirotic was hospitalized with facial fractures after an altercation with Portis during pra...

Irving had some choice words for a fan who heckled him in Philadelphia
Several teams were reportedly interested in Nelson after he was waived by the Nuggets

Cousins got into a heated exchange with a fan during the Pelicans' season opener

Mike McClure, a DFS pro with more than $1M in winnings, gives optimal DraftKings and FanDuel...