For Tim Duncan and the Spurs, the Finals have become personal
The franchise that prides itself on never getting emotionally involved finds itself facing demons from a year ago in Finals rematch.
NBA Finals: Series Preview | Playoff Assist: LeBron | Wade vs. Ginobili key
For the better part of 17 years now, the San Antonio Spurs have taken the same approach to every series, every battle, every game. They make it about what they do, not about what you do. They focus on themselves. It's a game, you have to have perspective. This isn't their whole lives.
Gregg Popovich told the Spurs last year after their devastating Game 6 loss to the Heat: "If this is the worst thing that they face, life is going to be quite easy for them." The Spurs are never dragged into rivalries, they're never spitting invective across the media toward the other team.
It's never personal.
Except, maybe, this time.
As San Antonio gets set to meet the Heat in a rematch of the 2013 Finals against the Heat, the Spurs' feelings on the matter have slipped out the corners, spilled from the edges of their tightly bound container, which offers no sunlight into their feelings on ... well, anything.
It began as far back as training camp, with the team admitting it was hard coming back to work after the heartbreaking loss in seven games last June. It carried through to the playoffs, where they admitted being pleased with having recovered so well. And then after their Game 6 triumph in Oklahoma City, Tim Duncan could not contain himself, which is a sentence I never thought I would write.
In a postgame TV interview, Duncan said, "We wanted the Heat." Then later, "People keep talking about it like we weren't close to winning it," he said. "We were ready last year, and we just couldn't get over that hump. We're happy to be back here this year, we're happy to have another opportunity at it. We're happy that it's the Heat again. We'll be ready for them.  We've got some experience, obviously, from last year against them, and we'll go back and look at some film. And we've got that bad taste in our mouths still. Hopefully, we'll be ready to take it this time."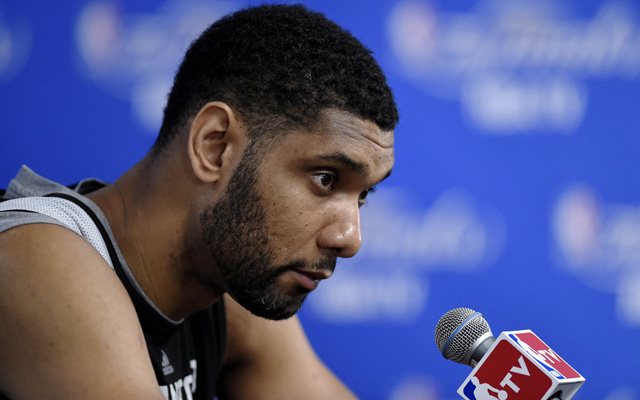 On Wednesday after Spurs practice, Danny Green was reluctant to admit it, but finally relented. For the team that never takes it personal, this is personal.
"It's probably a little more personal since the loss last year, because this is our lives. This is what we do. Win or lose, off the court it's not personal. I do sense a different vibe from Pop on down, I think that's just Tim being confident.
"The game is personal to us every night we step on the floor. It's what we do, it's what we're passionate about. Winning for us, being competitive is a big part of our lives."
Starting center Tiago Splitter was more forthcoming in discussing how this is personal, not going against the Heat, but in finding redemption for San Antonio.
"After the Finals, the way we lost was hard," Splitter said. "You have to go back to work all the year. And here we are again. And all we want is to wash away what happened and take that off our minds, play well, and win.
"But we know we're against Miami, a great team, a great organization, who have done well for years. It's something we have in our mindset. Our mindset is to win and clean that out of our mind."
As for the Heat, both Dwyane Wade and LeBron James admitted to feeling "slighted" at talk of the Spurs having given away Game 6 last year. James also dismissed how much of an impact motivation will have for either team.
"They are motivated," James said. "I think motivation can only go so far. How much motivation can carry you to a championship, I'm not sure. At the end of the day, five, ten guys on the floor, three refs, and one basketball. You gotta make plays. I can't shoot the ball and say motivation will make it in. I can't sit in the lane and take a charge and say, 'Motivation, get me this call.' "
James said on Monday that from Duncan's comments, he could tell that the Spurs don't like the Heat. Several of the Spurs backed away from that idea this week. Duncan, for his part, was bamboozled by how what he said could have been misconstrued as disrespect.
"I don't know what I said that was so bad," Duncan said, bewildered Wednesday. "I said I wanted to win the Finals. We're back here now and I wanted to win. If they need to find fuel in that, so be it."
But even then, there's an edge to this whole thing was not present a year ago. The misnomer is that this has anything to do with Miami. For the Spurs, it's not about Miami. It's about themselves. It's about having the things go right to afford them the chance at that fifth title, being 28 seconds away, and it falling through their grasp. They are desperate, hungry, bitter in pursuit of reclaiming what eluded them last year.
But in Miami's mind, it's not San Antonio's to take.
The Spurs' success has always been built on an impassionate, cold-hearted approach to the game. But this is different. Not to go all "voodoo" on you, but the vibe from San Antonio was entirely different on Wednesday than it was a year ago. Last year there was the same level of quiet confidence, replaced this week by a kind of teeth-grinding tightness. Tim Duncan wasn't lying.
The Spurs wanted Miami.
LeBron James wasn't lying either with his reply earlier this week.
"They wanted us. They got us."
Leonard's relationship with Spurs also reportedly strained because of how injury has been...

San Antonio hasn't missed the playoffs in 20 years, but the road is rocky this season

Last year's MVP finalist has missed all but nine games this season
The design for the patch is still being worked on

The explosive forward and upcoming free agent is having a career year

Cuban said on Dr. J's podcast that losing is Dallas' 'best option'