Forbes Magazine finds the most loyal fanbase is... Miami?
A study by Forbes Magazine finds that the Miami Heat have the top fanbase in terms of loyalty, which is some weird science.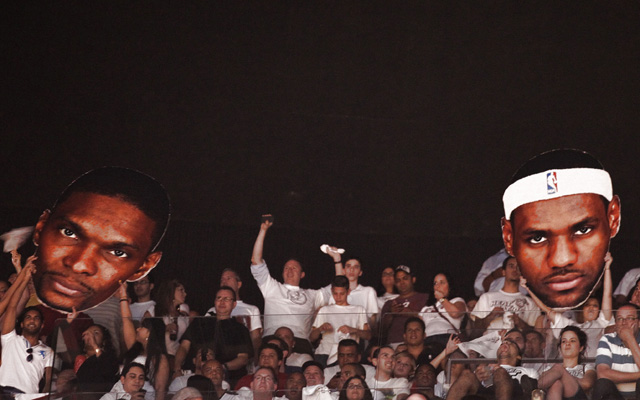 Forbes Magazine every year puts together the NBA list for what they call the Brand Keys Fan Loyalty Index. It's supposed to measure who the most engaged and loyal fans are at that particular moment. They released their 2013 listings this week ... and, well, this is a bit odd: 
Top-5- 2013                                2012

1. Miami Heat                                 #6

2. San Antonio Spurs                    #1

3. New York Knicks                       #10

4. Boston Celtics                            #2

5. Oklahoma City Thunder/Brooklyn Nets                                #5 and #14 

Bottom-5 2013                          2012

30. Charlotte Bobcats                   #30

29. Sacramento Kings                   #29

28. Minnesota Timberwolves      #27

27. Washington Wizards              #26

26. Cleveland Cavaliers                #22
via The Most Loyal Fans in Basketball - Forbes.
Wait, sorry, back up. Miami?
Look, Heat fans get an especially bad rap, considering that they get bagged on for empty or late lower bowl seats when the Lakers and Celtics have the same problem. Big cities with lots of fun things to do and lots of traffic tend to have that issue. But the fact remains. And it's not just the absences. The arena lacks loudness and intensity. I'm not talking OKC-levels. I'm talking a Pearl Jam concert. 
And it's not just at the games. There's a pervasive attitude around the fanbase that makes this surprising. 
San Antonio might shock you a bit, but that can be attributed to their insane television ratings. Say what you want for their attendance even in Conference finals series over the years, but the Texans are watching the silver and black on the tube. 
But of course the common thread is winning. The low teams are suffering through rebuilding, the higher-ranked teams include the top two teams in both conferences, the Nets who just moved into a new building in the borough and Boston. And we all know Boston. 
The Nets also kind of show how the study is flawed though. Can a team that has existed in its current form for less than six months really have a top-5 fanbase? Maybe they paid for it. Who knows. 
Anyway, little odds, this index. 
T.J. Warren gets paid big money by the Suns in a four-year deal

Melo didn't hold back on his feelings about President Donald Trump and urges for help in Puerto...

The Wizards star says the NFL won't change until important players like Brady and Rodgers speak...
Popovich spoke at length about sports, race, culture, and politics during Spurs media day on...

Carmelo Anthony finds the idea of coming off the bench very funny

Several teams spoke about Trump's recent comments about protests and the Warriors' White House...