Former exec: Nuggets player was 'stoned' at 2010 playoffs practice
Rex Chapman says a player was too high from marijuana to maintain focus and he had to pull him aside to speak to him.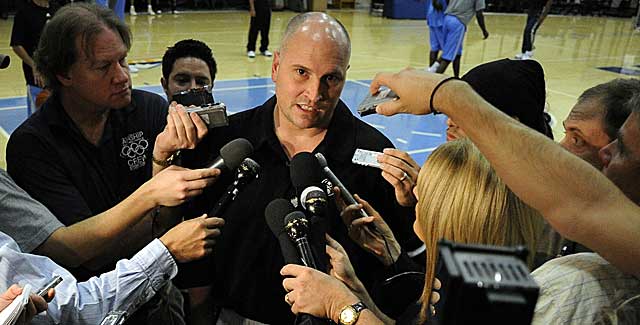 The Denver Post shares this anecdote from a Denver Nuggets practice in 2010, courtesy of fomer executive Rex Chapman: 
It was the morning of a 2010 playoff game, and one of the Nuggets had just smoked some nuggets. As the team practiced, the player was so high that Rex Chapman, a team executive at the time, said he had to pull the player aside to get him to focus.

"Across all walks of life and in every profession, people smoke (marijuana). This is no secret, and pro sports are not exempt," said Chapman, who played 12 years in the NBA. "But employers deserve and pay for A-plus employees. There is a time and place for everything. As a member of a team, guys owe it to their teammates to put their best foot forward."
via Athletes and Pot: Legalized marijuana in a league of its own -- The Denver Post.
The story comes as part of a wide-ranging and fascinating story on the status of marijuana as the substance prepares to become legal for retail sale in Colorado after a ballot initiative passed last year. Professional sports leagues have made no indication they intend to change their stances on it being a banned substance they test for. 
Here's the roster for the 2010 Nuggets if you'd like to take a guess at who the chronic offender was.
The NBA didn't start officially testing for marijuana until 1999. 
Trail Blazers guards Damian Lillard and C.J. McCollum have been pushing for Anthony to join...

Anthony reportedly gave the Knicks an expanded list of teams he'd waive his no-trade clause...

The Suns will also receive a second-round pick in the deal
Kerr noted Warriors are deeper than the NBA championship team of last season

The Dubs will make a decision as a team on visiting the White House, but Steph would vote...

Wolves are an up-and-coming NBA squad, but this region knows heartache too well