Former NBA journeyman Shawne Williams facing drug charges
Shawne Williams, a veteran of five NBA seasons after playing for the University of Memphis, was arrested in Memphis on Thursday night.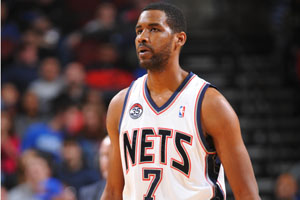 Williams was arrested Thursday night.
(Getty Images)
Former Pacer, Maverick, Knick and Net Shawne Williams was arrested in Memphis on Thursday night on charges of intent to manufacture, sell, or deliver a controlled substance and possession of a controlled substance, marijuana. 
From the Memphis Commercial-Appeal: 
An officer was on routine patrol outside a Cricket wireless store in the 3400 block of Austin Peay near the Raleigh Springs Mall. The officer approached Williams in his nearby Porsche Panamera after smelling marijuana, according to a police affidavit, and the 26-year-old Williams was asked to exit his vehicle.

Williams then said, "Officer I ain't gonna lie to you, there's a blunt in the car and some syrup," according to the affidavit.

Police reported finding inside the car a partially smoked marijuana blunt, another blunt that had not been smoked, and a bottle containing 83 grams of codeine cough syrup, for which Williams did not have a prescription.
via Former Tiger basketball player Shawne Williams arrested on drug charges » The Commercial Appeal.
Bond was set at $10,000 and as of Friday morning, Williams remained in the Shelby County (Tenn.) jail.
Williams most recently played in the NBA last season for the Nets, averaging 4.5 points and 2.7 rebounds in just 25 games. Williams played at Memphis and coach John Calipari, and was a first-round pick of the Pacers in 2006.
Westbrook's late layup gave the Thunder a 109-108 victory

LeBron became the seventh player in league history to reach the milestone

There were a few things that stood out from Tuesday's All-Star selections
Here are three players from each conference who had legitimate claims to make the game

LeBron achieved the milestone in the first quarter Tuesday

Here are the full lineups for the 2018 NBA All-Star Game