Former Raptors GM Bryan Colangelo admits to tanking
Former Toronto Raptors GM Bryan Colangelo admitted Friday that he has set his team up to tank before.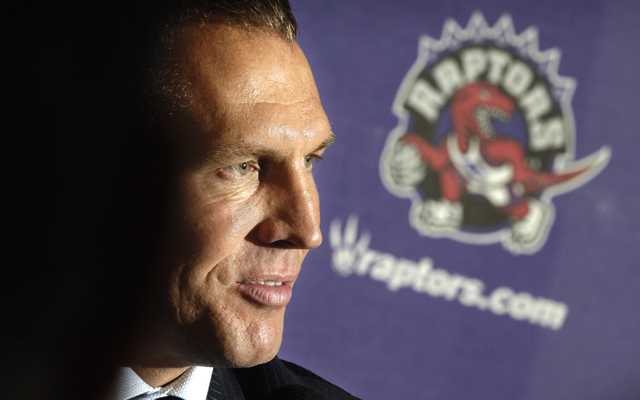 Tanking has been a cantakerous issue over the past few years. It's looked at as a disingenuous way to set your team up if you're hoping they fail while trying to sell season tickets to a fan base that wants wins. While it may end up being better for the future of your ball club, a lot of people don't accept this as an honest tactic. That doesn't stop general managers from putting together bad teams in the hopes of securing top draft picks. Just ask Bryan Colangelo. 
From 2006-2013, Colangelo was the general manager of the Toronto Raptors. After experiencing immediate success there that included a 47-win season in 2006-07 and an executive of the year award from the NBA, the magic in Toronto eventually wore out. Colangelo apparently set his team up to tank in the 2010-11 season after Chris Bosh left via free agency for the Miami Heat. 
Former GM Bryan Colangelo: "Admittedly, I will say I tried to tank a few years ago."

— Jeff Goodman (@GoodmanESPN) February 28, 2014
Colangelo added that he never told the coach of the team, Jay Triano, to lose games. He just didn't give Triano much to work with in his final season as the Raptors' coach. The team went 22-60 that season and ended up with the fifth pick in the draft. They used that pick to grab Jonas Valanciunas out of Lithuania, who is now looked at as a cornerstone for that franchise.
Some of the moves Colangelo made prior to the 2010-11 season were a sign-and-trade that allowed Bosh to easily go to the Heat. He received the Raptors' pick that was traded away in 2009 when Toronto traded with the Heat for Shawn Marion. He also received the pick that would become Norris Cole, which was moved for James Johnson of the Chicago Bulls. The Bulls later moved Cole to the Wolves who moved him to the Heat. Colangelo also traded Hedo Turkoglu to the Suns for Leandro Barbosa and Marco Belinelli to the Hornets for Julian Wright. 
Colangelo was fired this past offseason after being replaced by Masai Ujiri.
Wade, as he's done so many times in his career, threw it up to LeBron for the thunderous f...

The Warriors coach added there should be no shame in being picked last since everyone's an...

We've got all the scores, highlights and news from all of Saturday's games
The two teams have reportedly not had any substantial discussions to this point

Oladipo may be getting most of the shine, but this second-year big man has been phenomenal...

SportsLine's Mike McClure, a DFS pro with more than $1M in winnings, gives optimal lineup...