Four teams OK 'agreement in principle' on Dwight Howard to Lakers trade
A four-team trade that would send Orlando Magic All-Star center Dwight Howard to the Los Angeles Lakers is reportedly "complete".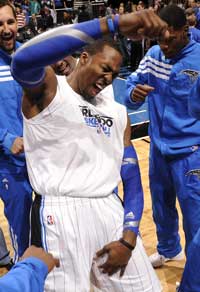 Dwight Howard is reportedly heading to the Lakers.
(Getty Images)
Update 8.10.12 12:00 p.m.: Ken Berger of CBSSports.com reports that the pick from Philadelphia going to Orlando is lottery protected for two years, top-11 protected in three year, and top-8 protected in four years. After that it turn into second-round picks. 
SI.com reports that the Magic also get the lower of the Nuggets' two picks in 2014, and the Lakers' pick in 2017.
***********
Are the Los Angeles Lakers about to win the summer of 2012 in spectacular fashion?
ESPN.com reported on Thursday evening that a 4-team trade involving the Orlando Magic, Los Angeles Lakers, Philadelphia 76ers and Denver Nuggets that would send Dwight Howard to the Lakers is "complete."
A source with direct knowledge of the talks told ESPN.com's Marc Stein the Lakers will receive Howard, the Denver Nuggets will acquire Andre Iguodala, the 76ers will receive Andrew Bynum and Jason Richardson, and the Magic will get Arron Afflalo, Al Harrington, Nikola Vucevic and one protected future first-round pick from each of the other three teams. In addition, the Magic will be getting other pieces, including 76ers No. 1 draft pick Moe Harkless, a source told Stein.
Ken Berger of CBSSports.com reported on Thursday night that the four sides had reached an "agreement in principle" on the deal, citing three league sources. Berger further reported that multiple sources urged "caution" because they had "not heard directly from Orlando management" that the Magic were in on the final deal and that "some pieces could continue moving in and out of the deal" prior to it going official. However, Berger reported, "the framework sending Howard to the Lakers is in place."
Acquiring Howard without giving up Pau Gasol represents a major coup for the Lakers, who earlier acquired point guard Steve Nash from the Phoenix Suns without sacrificing any major pieces of their 2011-12 team, which was eliminated in the second round of the Western Conference playoffs by the Oklahoma City Thunder.
More on Howard trade
Related links
Also Thursday evening, ESPN.com reported that a phone call with the NBA league office to "process" the deal had been scheduled for Friday morning and that Howard would not be agreeing to an extension with the Lakers as part of the deal, making him eligible for free agency next summer.
Shortly thereafter, the Philadelphia Daily News confirmed the trade's details, noting that it could be completed as early as Friday morning. The Denver Post also confirmed the trade's details on Thursday night, as did the Los Angeles Times, who reported that an "agreement has been reached." Yahoo Sports reported that the sides were "finalizing" the trade on Thursday night, citing "three agents with players in the deal."
Berger reported earlier Thursday evening that the 4-team trade talks were "progressing" and that there was "guarded optimism" that the complicated "could be consummated," although the complicated, multi-team framework and past history of trade scenarios collapsing meant that this remains an exercise in caution. Berger also confirmed that Bynum would be sent to the 76ers in the "most likely scenario" and reported that Lakers Gasol would not be headed to the Magic.
Earlier Thursday, Yahoo Sports reported that the 4-way talks had opened but that a deal was "[not] imminent."
Howard publicly requested a trade last season and even gave a list of preferred destinations to Magic management. He later underwent season-ending back surgery that forced him to miss the playoffs and Orlando opted to fire coach Stan Van Gundy and part ways with GM Otis Smith. In their place, the Magic hired Jacque Vaughn and Rob Hennigan.
Howard, 26, is a 6-time All-Star, 3-time Defensive Player of the Year, 5-time All-NBA first-team selection and 4-time All-Defensive first-team selection. He averaged 20.6 points, 14.5 rebounds, 2.1 blocks, 1.9 assists, 1.5 steals and shot 57.3 percent from the field in 54 games last season.
Butler didn't put any pressure on his right leg as he was helped to the locker room on Fri...

We've got all the scores, top plays and news from a busy NBA Friday

Our advanced computer model simulated Saturday's Magic vs. 76ers game 10,000 times
Several playoff contenders could use the services of Ilyasova, who's nearing a buyout agre...

Durant says he probably wouldn't have gone to college because he 'needed the money'

Ball, who has missed the last 15 games with a sprained MCL, will be on a minutes restricti...