Frank Vogel drives Pacers' revival through direct, humble leadership
The 49-17 Pacers have a deep and talented roster, sure, but they also have one of the game's brightest young coaches. Frank Vogel gets it done with strength and humility.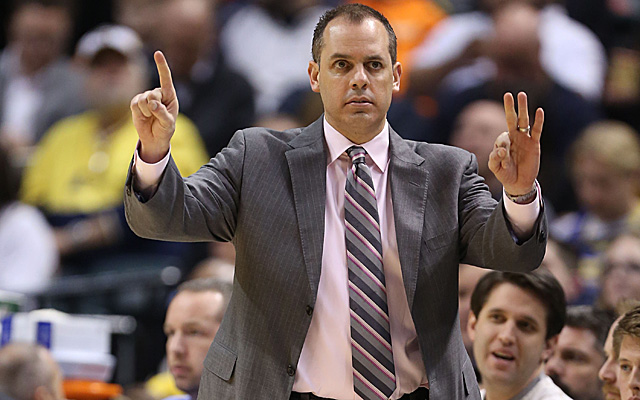 More NBA: Power Rankings | Expert Picks | Latest news, notes
INDIANAPOLIS -- Less than five years ago, Frank Vogel was a relatively obscure assistant for frankly, a pretty bad NBA team. Now, he's steering the ship of one of the NBA's best teams. He is also starring in a March Madness ad campaign -- for Dove Men + Care, along with Villanova's Jay Wright -- that we'll be seeing during the NCAA tournament madness the next several weeks on CBS.
The combination of myriad factors and a lifelong development process coming to fruition led to Frank Vogel becoming one of the NBA's best head coaches in between. He's a great decision-maker, sure, but that's only part of the equation when it comes to describing him as the excellent leader he is.
Comfort
Under previous head coach Jim O'Brien, the Pacers were 32-50 during the 2009-10 season. The 2010-11 Pacers were 17-27 before O'Brien was fired and replaced with Vogel. Vogel had been an assistant with the team since 2007, and while he was learning on the fly how to deal with different personalities as the head coach, he knew it was a good situation for him. He was comfortable going into the role.
"Every team is different, every player is different," Vogel said, in discussing how he deals with different personalities. "I don't think it's something you have in your first year, don't have in your 10th year, or vice versa. I just think every situation is different even within the same player. He might be different as a rookie than as a sixth-year or seventh-year player. I do know that when I took over here that the job felt comfortable to me."
And the success came rather quickly as a result. The Pacers would close the season 20-18 under Vogel and make the playoffs for the first time since 2006. They'd follow it up by going 42-24 the next season, their best winning percentage since the franchise-best 61-21 record in 2003-04. That team also advanced to the conference semifinals in a series that saw the beginning of a budding rivalry with the eventual champion Heat in a six-game series.
There was again improvement last season, as the Pacers won the Central Division for the first time since 2004 and this time took the Heat all the way to the brink of elimination in an epic seven-game Eastern Conference Finals.
And now, the uber-talented Pacers appear destined to square off again with Miami in the Eastern Conference Finals. They might even grab the top seed and home-court advantage (entering Monday, the Pacers hold a three-game lead over the Heat).
Managing talent
A team that has a shot to beat out the mighty Heat for the top seed in the East -- not to mention the likes of the Thunder and Spurs for the NBA's best record -- has to be supremely talented. And the Pacers are.
Paul George is a legitimate superstar, Roy Hibbert is one of the league's premier defenders, Lance Stephenson might be the best player in the NBA who wasn't an All-Star and David West is a two-time All-Star. Throw in point guard George Hill and the Pacers have five starters averaging at least 10.9 points per game.
And that isn't even the half of it. Evan Turner was the second overall pick in the 2010 draft and was averaging over 17 points a game for the Sixers. He's now joined the fray along with former All-Star Andrew Bynum. The duo combined for 35 points and 14 rebounds in the Pacers' huge comeback victory in Detroit Saturday.
Luis Scola had started 410 of his 488 career games before joining the Pacers and is now strictly coming off the bench. C.J. Watson and Ian Mahinmi are quality bench contributors. Even down the line, Chris Copeland averaged 15 minutes a game for a playoff team last season, but now he's been relegated basically to trash-time duty.
So how does the head coach keep all these guys happy? Well, it's actually more content than happy, to hear it from Vogel.
"All NBA players want to play the whole game," he said with a laugh. "One of the biggest challenges of being a head coach in the NBA is making sure everybody is not only understanding of their roles, but excited about their roles. That can be a challenge when you have so many talented players -- to make them excited about coming off the bench or playing less minutes, but I think everyone understands what we're doing here and is willing to make the sacrifice for the sake of being team-first guys."
The point the humble Vogel continued to stress was that he's been dealt a pretty sweet hand. Even with all the talent on the roster, egos have not been an issue in the locker room.
"With this team it isn't [an issue]," he said. "It can be with a lot of teams, especially at this level. Not just egos, but individual agendas or goals can derail a lot of team performances. The great thing about our team is we have such selfless guys -- team-first guys -- top to bottom. Because of that, this element for me has been very easy."
Much of that credit has to go to the front office for the roster construction. It starts with the homegrown talent, like George, Hibbert and Stephenson.
"You never know what you're gonna get, but the fact that they started here, we were able to shape them how we wanted them to be shaped into our culture. It is definitely a strength in what we do around here," Vogel said of his homegrown trio.
And, of course, when making a big signing from the outside, West's professionalism was a perfect fit along with Hill's well-publicized hometown ties to Indianapolis.
"You have to blend the young guys with the veterans," Vogel said. "It can be good or bad if they come from somewhere else. They could be happy somewhere else and not happy with how we do things here -- or they could have been unhappy somewhere else and find we do it so much better here."
In the cases of Hill and West, they blended perfectly with George, Stephenson and Hibbert to form perhaps the most well-rounded starting lineup in the NBA.
From a young age
Vogel grew up in Wildwood Crest, N.J., serving as the starting point guard for Wildwood High and graduating in 1991. It was in his time as a floor general that he started to realize he could coach this game.
"When I was in high school my coach would always praise me for how well I thought about the game and how well I acted as a coach on the floor," Vogel said. "When you're a coach on the floor, you're thinking of where everybody's gotta be, not where you have to be -- now you're thinking as a coach. Establishing that identity as a player made me start thinking about being a coach."
"You're an extension of the coach and a coach on the floor. I certainly think that becoming a point guard in the game of basketball sort of expedited my desire to be a leader."
Vogel then went to Juniata College to play Division III basketball, though he didn't stay through completion as the level of commitment wasn't enough to quench his basketball thirst.
"[The head coach] had a day job and would come in and coach in his spare time," Vogel explained. "I wanted more of a commitment and that's the only time I questioned what the coach was bringing to the table. Not necessarily x's and o's, I just wanted it to be full-time basketball."
So he transferred to the University of Kentucky and began serving as a student manager for Rick Pitino. Little did he know at the time what a huge career move that would eventually be.
Influences
Upon graduation from Kentucky, Vogel would accept a job with Pitino -- then the Celtics head coach -- as a video coordinator. It was there that Vogel was heavily influenced by then-assistant Jim O'Brien.
"You always pick up things from each person you're around," Vogel said. "Rick Pitino inspired me to get into coaching and gave me my first opportunity, but I later became tied at the hip with Jim O'Brien. Even when I was working with Rick, Coach O'Brien and I were in the film room, preparing our work for Rick. So [O'Brien] is the one who shaped me most."
Vogel noted that every coach is at least in some way a hybrid between his original personality and different bits and pieces of those he grew under. It was very clear, though, that O'Brien was his biggest influence and he still looks back at his time with O'Brien very fondly.
It was O'Brien who made Vogel an assistant coach in Boston in 2001, took Vogel with him to Philadelphia and then again took Vogel with him to Indiana. In fact, O'Brien was a major part of getting Vogel on as a student manager at UK, so the tie isn't hard to figure.
Humility
Despite having taken over the job as Pacers head coach from his mentor and thriving in the ensuing seasons, Vogel maintains a humility about himself. He didn't second guess his authority figures as a youngster and that mentality hasn't changed.
"As a player I actually did very little of that, but I had some teammates that would do that from time to time," Vogel said.
He admits he often does second-guess one person, however: Himself.
"You make decisions every day, every game," he said. "You make decisions, you hope they work out. If they don't, I've got to figure out how I could have done it differently."
That lack of ego was particularly refreshing instead of a heels-dug-in, how dare you question my decision approach to never admit a possible flaw -- a trait sometimes seen in professional or collegiate sports coaches. Vogel is nothing more than a human being who makes mistakes just like the rest of us and he's quick to acknowledge as much. After a loss, the first place he looks is the mirror.
"I'm a look-inward kind of guy," Vogel explained. "When things are not just right or not perfect -- like when we lose a game -- I'm always looking at some of the things that I could have done differently. I was that way as a player and I'm that way in real life, outside of basketball."
It's an approach that has served him well as his Pacers try to climb that next step to become the team that can knock off the mighty Heat this coming postseason. They possess a deep and talented roster, of course, but they also possess one of professional basketball's best and most humble leaders.
The 76ers star doesn't see a bright future for Jon Snow

Valanciunas played professionally in Lithuania before joining the Toronto Raptors

SportsLine's advanced computer model simulated Tuesday's Cavaliers-Hawks game 10,000 times
Larry Hartstein is 14-6 on Sixers picks and 16-8 on Timberwolves picks and has a strong play...

The kid just about lost his mind after getting Durant's game-worn sneakers

The revamped Thunder lost on Monday night, dropping to 12-14 on the season