Frank Vogel says bulkier Roy Hibbert looks to be physical presence
Indiana Pacers coach Frank Vogel has noticed the increased bulk of his center Roy Hibbert and says the big man is excited about being more physical.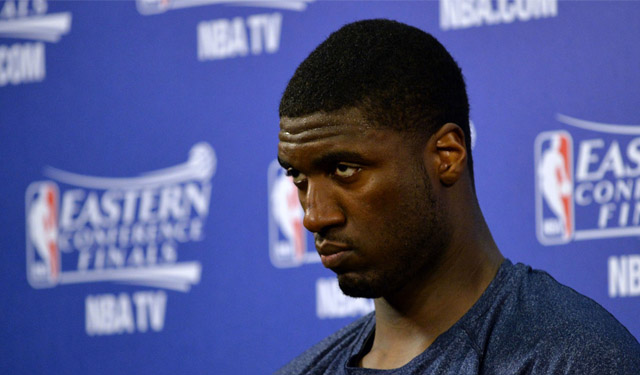 After signing a four-year, $58 million contract in the summer of 2012, Roy Hibbert struggled coming out of the gate for the Indiana Pacers. In the first month of the season, Hibbert made only 38.4 percent of his shots in 16 games. That number slowly improved throughout the season, some feel because a wrist injury that stopped bothering him as much, and by the time the playoffs came around, Hibbert was looking to show a dominant presence in the paint for a Pacers' team with lofty goals of taking down the Miami Heat.
Perhaps a taste of being a dominant presence inside against the Miami Heat in the Eastern Conference finals is what's motivated him to become even more of a giant than he already is. After posting a photo on Instagram that made him look to be Gheorghe Muresan's size, everybody has taken notice of the bulkier version of Hibbert, even his coach Frank Vogel. From Pacers.com:
"I think he's got some photographers from Men's Fitness on there doctoring them up or something because he looks pretty big in those pictures, doesn't he? Naw, I'm just kidding. I saw him yesterday in my office. He's really bulking up and really excited about just being even more of a physical presence, especially on the offensive end — really pounding defenders down low and playing our identify of smash-mouth basketball."
Hibbert was a monster against the Heat in the ECF when he averaged 17.0 points and 9.9 rebounds. He made 51.1 percent of his field goals and nearly doubled his per game free throw attempts (2.8 to 5.4). The Heat went small against Hibbert, hoping to use their quickness and team defense to make up for the lack of size and create mismatches on the other end. It ended up working with the Heat winning in seven games before winning their second straight title, but I'm sure the feeling of pushing people around and dominating with size and power was inspirational for Hibbert.
He's improved in nearly every season of his career since joining the league. Although his offense struggled in the early parts of last season, he didn't let it affect him from leading the top defense in the NBA by being a great paint protector, allowing his teammates to defend more aggressively in front of him. If he can keep that defensive presence while adding a powerful post game to play the type of bully ball that his teammate David West shows on a nightly basis, this could be a huge year for Hibbert -- both in impact and physical appearance.
Lorenzen Wright's ex-wife has been charged with his 2010 murder

Hayward, free of his walking boot as of Wednesday, says his mind is open to a return before...

The former Knicks star returns to New York for the first time since joining the Thunder
Former longtime Knick Carmelo Anthony makes his return to New York

Mirotic and Portis combined for 49 points as the Bulls won their fifth straight game, beating...

Gobert, who missed 11 games earlier this season with a knee injury, will have an MRI