Free-agency grades for Wednesday, July 2: Lowry returns to Toronto
Kyle Lowry re-signs with the Raptors, Avery Bradley goes back to Boston, and there are two C.J.'s in Indiana.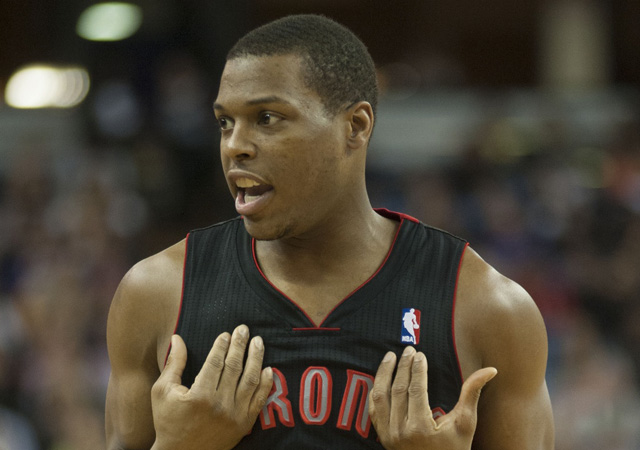 More Offseason Analysis: Updating Free Agency news | Top 40 free agents
A look at the deals from Wednesday, July 2 in NBA free agency, where Kyle Lowry returned to Toronto, and Ben Gordon got $9 million, somehow. 
Free agent ranking: 5
Team: Raptors | Deal:  4-years, $48 million
Comment: Lowry was the fifth-best free agent on our Top 40 and the Raptors managed to not only retain him, but retain him as an unrestricted free agent, for multiple years. The deal reportedly has an opt out after the third year. That gives Lowry an ejection button in case the Raptors backslide and for him to pursue another big, long-term deal.
The Raptors keep their best player, and keep together the core of the team that made the playoffs. It's a big moment for the team to simply retain a player of this level. They're not second-best anymore. They have a legitimate star in their fold. That's a big deal. Lowry is the rare star who's as good defensively as he is offensively. He can get to the rim, hit from the outside, body and bully ball-handlers and interrupt passing lanes. He can do it all.
Coach Dwane Casey isn't left trying to find answers with an inferior point guard. Management and marketing have a star to push to season ticket holders. Fans have a star and get to be excited about the possibility of two straight years in the playoffs.
Step outside whatever biases you have and ask yourself: Can Kyle Lowry be the best player on a championship team? Eastern championship team? Eastern Conference finalist team?
Second-best? Yeah, you can make that argument. Third, absolutely. But first? Beyond that rather simplistic element is the fact that Lowry's contract, combined with DeMar DeRozan's extension and impending extension for Jonas Valanciunas is going to lock them in for a high-priced core. But here's the trick: The Raptors can afford it. Even with a $10 million extension for Valanciunas and after filling out the roster this year, the Raptors could still have as much as $20 million in space in 2015. They can absorb another star in trade. They can sign a series of high-value free agents. They have maneuverability. And they have two stars to build around.
It's an investment in now from Masai Ujiri, but it's also a bet they could afford to make. It's on the Raptors' core to keep the momentum going. But they can improve and manage to give the fans some fun in the meantime. Everyone wins. Grade: A+
Free agent ranking: 27
Team: Spurs | Deal: 3 years, $12 million
Comment: The deal is reportedly "$12 million-ish" according to ESPN, so we'll go with that number. It's a great deal for San Antonio. They get a sparkplug who knows the system and has made big shots for really cheap. They're losing essentially a season on this deal with Mills out for seven months with a shoulder injury, but they're paying $12 million for two years and likely three playoff runs. That's excellent value.
It sucks for Mills, though. On the open market, he might have seen his value really percolate and boil. Championship credentials as a backup point, young, great shooter? That's a pretty great combination. He may not have gotten much more, but he likely would have gotten some.
But then again, who knows if he'd be successful outside of San Antonio. Not many are as successful outside the Alamo's reach as they are within it. Meanwhile, the Spurs look like heroes, a team that re-signed their guy on faith, based on his previous work despite a significant injury. Didn't wait to see how he rehabbed or force him to pay for it out of pocket. It's classy. It's sensible. It's very San Antonio Spurs. Grade: A-
Free agent ranking: 22
Team: Celtics | Deal: 4 year, $32 million deal
Comment: Bradley on this deal a year ago would have been a D. He was a defensive specialist who was useful primarily for his ability to attack and harass ball-handlers and get away with it without fouling. But he was an offensive zero with injury issues.
A year later, he still has the injury issues and his defense slipped last season. But Bradley did the one thing he needed to do, he learned how to shoot. Bradley shot 39.5 percent on 3-pointers last season, eight percentage points higher than the season before. Bradley became an offensive plus last season, and for that, you have to expect a decrease in defensive energy. There has to be a balance between the two sides. Bradley's not someone you can give the ball to and ask to create points, but just being a 3-and-D guy changes his value.
Furthermore, this deal, like so many like it, isn't about what he is now. It's about what he'll be in two years. We've seen deals for players like Bradley look foolish at the time of investment turn into absolute steals.
One interesting note about this? Re-signing Bradley only makes some sense if you have Rajon Rondo and Marcus Smart . But if you trade Rajon Rondo ... keeping Bradley makes a lot more sense. Beyond all that though, is this: For a 3-and-D guy, where are you going to find a better young, long-term option? Grade: B
Free agent ranking: 34
Team: Pacers | Deal: 4 years, $18 million
Comment: The Pacers now have the two best C.J.'s in basketball, Watson and Miles. Miles fits several needs for Indiana. It needs guards who can shoot. Miles is a great floor-spacer. It needs guards who can create for others, and Miles can work as a combo-guard. If Lance Stephensonleaves, Miles can fill in capably in the two-guard spot. If the Pacers keep Stephenson, Miles comes off the bench and provides floor balance.
The money is incredible, too. They got a capable veteran who has been on teams that have won games for less than what the Pistons got Jodie Meeks for. That's terrific value. Indiana may be cap strapped and dealing with the fallout from their chemistry apocalypse last spring, but they landed a very nice addition at a role they need help with.
Additional plus: He's not Evan Turner. Grade: A-
Free agent ranking: NR
Team: Magic | Deal: 2 years, $9 million
Comment: Gordon's deal is only guaranteed for one year. He has been in the worst locker rooms in the league for several years and has clashed with four coaches in five years. When he did play he looked out of shape and unengaged. It comes down to this: If the Magic can connect with Gordon and get him to invest himself, he can be the shooter they need on a team that has almost none. If not, he's a trade chip or at worst, just empty salary for a team that's just trying to hit the floor.
It's effectively a no-cost move. They have the roster spot to spare. They can gamble on Gordon. Oh, by the way, Gordon's agent is the same as Victor Oladipo's. Grade: C-
The Cavaliers and Celtics might look different next season, but Vegas sees them the same w...

We expected Kyrie to be traded, but not many people, including NBA Twitter, saw this comin...

Cleveland gets an All-Star point guard and a bevvy of assets in return for Irving, including...
If the Bulls buy him out, Wade could reunite with his former Heat teammate this season

West was a huge piece in building the Warriors into the super team they became

The annual rookie survey is in, but if previous years are any indication it won't mean muc...